Everything You Need to Know About Ethereum, Bitcoin's Biggest Rival Cryptocurrency
Money is not a client of any investment adviser featured on this page. The information provided on this page is for educational purposes only and is not intended as investment advice. Money does not offer advisory services.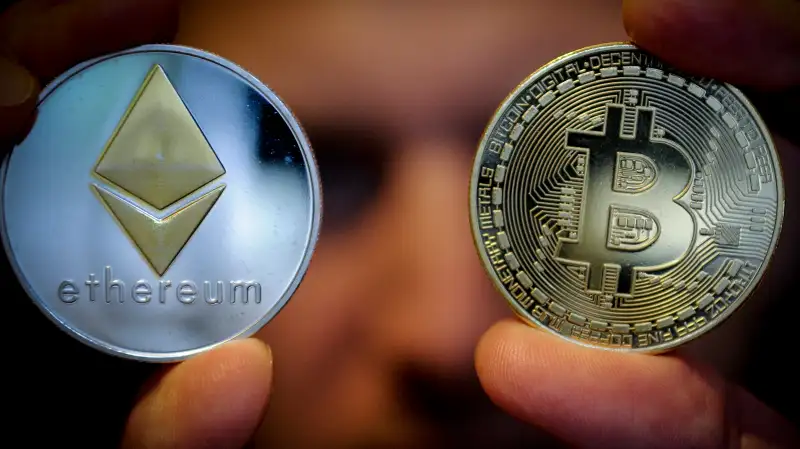 NurPhoto—NurPhoto via Getty Images
Bitcoin gets the lion's share of the attention in the cryptocurrency space.
But Bitcoin isn't even the best-performing cryptocurrency around — especially now that it has lost 40% of its value from its peak at the start of this week to around $12,000. That means Bitcoin is up around 12-fold this year.
By comparison, rival Ethereum has seen its value jump more than 60 times from $8.40 at the beginning of the year to around $530, and that's counting Friday's big across-the-board slide in cryptocurrency prices.
What is Ethereum? And does it deserve the same exuberance (rational or otherwise) that Bitcoin is garnering today? Here's everything you need to know.
1. Ethereum is the second-largest cryptocurrency in the world.
The total value of "Ether" in the global marketplace is more than $53 billion.
While that still pales in comparison to the $205 billion value on Bitcoins circulating around the world, ethereum is well ahead of other major digital currencies such as Ripple ($21 billion), Litecoin ($10 billion), and IOTA ($9 billion).
2. Ether can be "mined" like Bitcoin, but with a key difference.
Both Ethereum and Bitcoin rely on so-called blockchain technology, a system in which transactions are not recorded and verified by a central bank or institution but rather by a decentralized network of cryptocurrency users.
As incentive for those users to serve this function, they are allowed "mine" for new Bitcoin or Ether to create wealth.
However, the total number of Bitcoin that is allowed to circulate in the system is capped at 21 million. And right now, it's estimated that there are roughly 16 million Bitcoins in circulation.
So from that perspective, Bitcoin is maturing fast.
Ethereum, on the other hand, does not have a similar overall cap. There is, however, an annual limit on new issuance of Ether at roughly 18 million, which helps keep inflation at bay.
3. Think of Ethereum as digital currency on steroids.
Bitcoin revolutionized digital currencies in 2009 with the introduction of blockchain technology to record, verify, and protect basic financial transactions using Bitcoins as tokens. Emphasis on the word "basic."
Ethereum launched in 2014 with the notion of creating a smarter blockchain.
For instance, "smart contract" capabilities are built into Ethereum's blockchain, allowing transactions to be held until contractual agreements or terms are met.
Say, for instance, you hire a developer on a blockchain, with set terms. The contract built into Ethereum would ensure that the agreed-upon requirements are met before payment via Ether tokens are released to the developer — without the need of a third-party institution or legal entity to approve the transaction.
4. Ethereum is the crypto for business.
The contractual features built into Ethereum's technology is a big reason why so many big corporations are investing in the Ethereum blockchain technology.
Among the founding members of the so-called Enterprise Ethereum Alliance are J.P. Morgan Chase, Microsoft, Intel, Accenture, UBS Group, and Credit Suisse.
The alliance is designed to bring together Fortune 500 companies with startups and academics to build on existing blockchain technology to enhance its suitability for business transactions as well as its protections (like other cryptocurrencies, the Ethereum network has not been immune to hacking.)
5. Ethereum is gaining use in addition to value.
Ethereum's rise has matched its use. Over the past six months, the rate of transactions using Ethereum has gone from around 300,000 per day (similar to Bitcoin's back then) to over 875,000. Bitcoin's transaction rate, by contrast, is stuck under 400,000 per day.
That's partly because Bitcoin's use is reliant on its acceptance by merchants and other service providers in the open market. To this day, very few retailers accept Bitcoin as a form of payment.
Ethereum's advantage is that it's not dependent on mass consumer adoption. Instead, it requires a business class, one that already includes shipping giant Maersk and Walmart, which uses it to track part of its supply chain in China.
But like all cryptocurrencies, Ethereum faces obsoletion at any moment. Cardano, which has been dubbed the "Ethereum of Japan" launched in October and has already become the sixth-largest cryptocurrency by overall market value.