Why Are Gas Prices Going up Again? And When (if Ever) Will They Fall?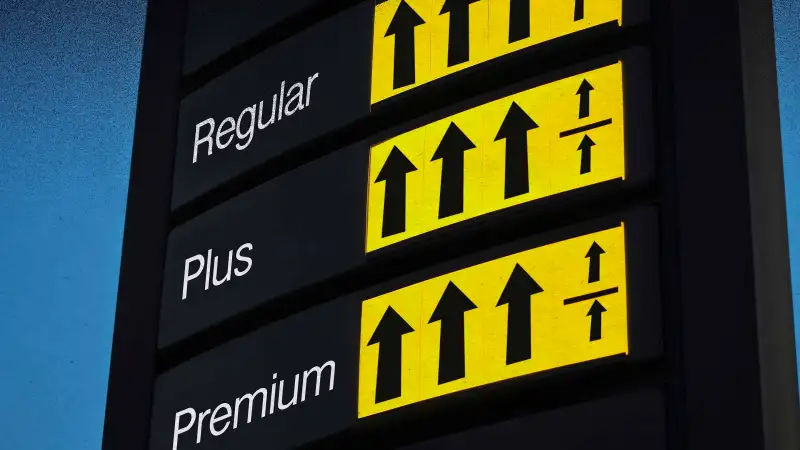 Average gas prices are back above $4 in a dozen U.S. states as higher oil costs coincide with the last few weeks of the busy summer driving season.
The price of crude oil, which accounts for about half of what you as a consumer pay for a gallon of gas, has climbed more than 20% since late June, pushing pump prices to their highest prices in 2023, according to AAA.
The national average has increased 31 cents in the past month, rising to $3.88, which is within 7 cents of the price at this time in 2022. Since February, gas prices have been below year-ago levels, but that may not last much longer.
Gas prices have increased for five consecutive weeks, and the gas price-tracking app GasBuddy reports that they may not even be at the peak yet as gasoline demand is expected to be high through Labor Day.
Why are gas prices going up?
High oil prices are the main reason for the spike in consumer gas prices.
According to a recent report from the International Energy Agency (IEA), "World oil demand is scaling record highs, boosted by strong summer air travel, increased oil use in power generation and surging Chinese petrochemical activity."
Lower oil supply from OPEC+ is also keeping oil prices high. An oil production cut from Saudi Arabia went into effect last month and will remain in place through at least September. That cut came on top of supply reductions from OPEC+ that were announced in April.
Oil was trading at around $81 per barrel on Wednesday, according to the West Texas Intermediate measure, a benchmark used widely by analysts. Gas prices usually move by about 25 cents with a $10 swing in the price of oil.
Rising oil prices aren't the only factor in play, though. According to GasBuddy, earlier-than-expected maintenance at the largest refinery in the Midwest has pushed gas prices up in that region. Drivers in Illinois, for example, are looking at an average of $4.18 per gallon, according to AAA, compared to $3.85 a month ago.
That's not as bad as the prices in parts of the West Coast. The average gallon costs $4.42 in Nevada and $4.70 in Oregon, while Washington and California are both above $5 per gallon, compared to prices from a month ago of $4.94 and $4.91, respectively.
Nationally, more than 10% of gas stations are charging above $5 per gallon, according to the GasBuddy report.
This summer, gas prices have been impacted by extreme heat, which disrupted refinery operations. While AAA says these issues have subsided, weather may continue to impact prices, especially with the threat of hurricanes being highest through September.
Will gas prices ever go down?
In all likelihood, gas prices won't always be as high as they are today, but Americans may need to get used to higher prices in general.
Sean Snaith, director of University of Central Florida's Institute for Economic Forecasting, expects gas prices to drop heading into the fall and winter. "We're getting at the end of the summer driving season," he says. But the "wildcard" is whether there will be more supply restrictions like further OPEC cuts.
Goldman Sachs updated its retail gasoline forecast earlier this week, forecasting a national average of $3.60 through 2024. Some relief is expected to come as temperatures cool, with prices expected to average around $3.40 from October to December.
Driving activity has been high in recent weeks, but when that drops after Labor Day, there should be less pressure on gas prices.
Also, the recent growth in global oil demand is likely to slow going forward "with the post-pandemic recovery having largely run its course," according to the IEA.
Of course, it's always very difficult to forecast gas prices. They usually decline in the fall due to seasonal trends, but that's not guaranteed to happen in any particular year.
James Williams, energy economist at WTRG Economics, says limited oil supply makes a major decline in gas prices unlikely. "I think we're going to get a little bit of respite," Williams says, "but not enough to make you jump up and down and celebrate."
More from Money:
10 Best Auto Refinance Companies of 2023
This Map Shows Where Drivers Are Paying the Highest Gas Taxes