Why Germany Is So Good At Soccer (and the U.S. Is So Mediocre) in 2 Charts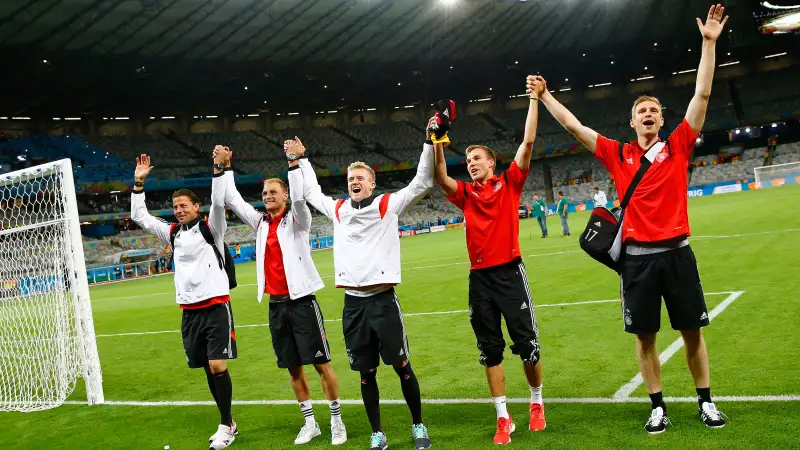 As Germany takes the pitch Sunday, fresh off crushing Brazil's World Cup hopes in a historic 7-1 blowout, it's worth reflecting how Germany got there. Not the team; the country.
See, this isn't Germany's first grab at the sport's brass ring.The German national team is one of international soccer's most consistent powerhouses. German teams—including those from the Nazi era, post-war West Germany, and reunified Germany—have qualified for 18 of 20 World Cup tournaments and missed the quarter finals of those only once. The team has also made it to a mind-blowing seven finals -- a 35% appearance rate -- winning three of them.
On the other side of the Atlantic, the United States has not exactly replicated Deutschland's success. The U.S. has zero titles and zero finals appearances, and reached the semi-finals only once, at the first World Cup in 1930. This year, we were eliminated by Belgium in the round of 16, and finished 15th overall in the tournament. Not bad by our standards, but not great. And certainly not befitting of a country with the world's largest economy, 300 million people, and an extremely competitive national team in almost every other team sport.
So why is Germany is so good and the U.S. so mediocre? Following America's most recent loss, many theories have been offered. We over-coach our players; our college system doesn't mirror international play; we don't have a soccer "culture." There's likely some truth to all of these answers, but there's one I find most convincing: competition from other sports. The U.S. has only so much athletic talent, and unlike many other nations, we tend to spread it around. Germany, on the other hand, concentrates the vast majority of its athletic talent on soccer—and they've certainly reaped the rewards.
In order to visualize this, I've assembled pie charts showing the revenue breakdown of the most popular professional sports leagues. The numbers aren't perfectly analogous—updated figures on smaller German team sports are hard to come by, sports seasons don't coincide and sometimes span more than one calendar year, and we're including only major team sports. But as a rough proxy for each nation's athletic focus, they are offer a clear picture of the sports the two nations care most about and to which they dedicate the most resources and, as economists and others would argue, talent.
In the two charts below, the green pie slice represents the percentage of major team sports revenue that goes to soccer. As you can see, it's not even close.
Soccer eats up the overwhelming majority of German team sports revenue, while in the US, it barely makes up a sliver. Germany's three major soccer leagues each take in over €100 million, and their combined revenue is €2.8 billion—the equivalent of over $3.8 billion. There's really only one major sport in Germany, with a few second-tier leagues running far behind.
In comparison, America's MLS teams have a combined revenue of about $494 million, as estimated by Forbes in 2013 (the MLS does not release total revenue figures). That's about 1/7th of the NHL's revenue, and 1/20th of the NFL's total income.
So next time you're wondering why the U.S. isn't good at soccer, remember: the American people are not exactly focussed on the "beautiful game." All things considered, it's surprising we aren't worse.
Sources: BBL: Deloitte via SportsBusinessDaily; DEL: Deloitte via SportsBusinessDaily; 3. Liga: DFB official figure; Bundesliga: 2014 report; 2. Bundesliga: 2014 report; NFL: Forbes via Statistica; NBA: Forbes via Statistica; NHL: CBS Sports; MLB: Forbes; MLS: Forbes