Why You Should Hope That Amazon Really Does Buy Target
Money is not a client of any investment adviser featured on this page. The information provided on this page is for educational purposes only and is not intended as investment advice. Money does not offer advisory services.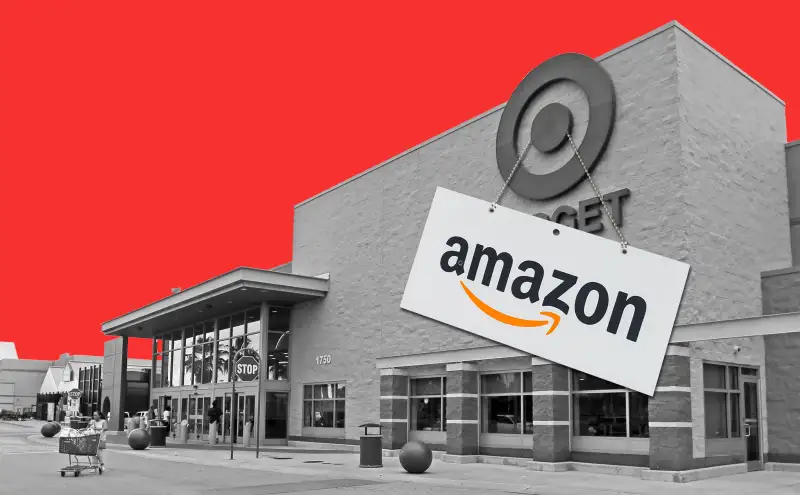 Photo illustration by Sarina Finkelstein; Shutterstock (1); Alamy (1); Getty Images (1)
Usually, consumers are turned off by big mergers as it can often lead to less competition and higher prices.
But if predictions that Amazon.com may be interested in acquiring rival Target are true, it could be a big win for online shoppers.
The notion of Amazon buying Target was raised earlier this week by influential tech investor Gene Munster, who predicted in an online post that Amazon would pay $41 billion to purchase Target in the next 12 months.
This makes Target the latest company that's supposedly on Amazon's shopping list, joining other recent names like Abercrombie & Fitch, Bed, Bath & Beyond or potentially even the department store, Kohl's.
But Target in particular could be the real deal for Amazon consumers.
For starters, "Target is the ideal offline partner for Amazon for two reasons, shared demographic and manageable but comprehensive store count," wrote Munster, co-founder of the research firm Loup Venture. "As for the demographic, Target's focus on mom's is central to Amazon's approach to win wallet share."
Also, keep in mind that Amazon has a massive market capitalization of $572 billion, and its only true competitor is Walmart.
Any acquisition Amazon makes will have to be a large one (larger than, say, Abercrombie & Fitch) to both move the needle and compete with the bricks-and-mortar behemoth Walmart.
If such an acquisition were to go through, it could create drastic changes to the way we shop. That's worth imagining.
The Price Advantage
Last year, when Amazon purchased Whole Foods for nearly $14 billion in order to gain access to groceries, this led to a massive price cut at the organic grocer.
For instance, during Thanksgiving, Whole Foods cut prices on turkeys by $1.00 a pound and by $1.50 for Amazon Prime members. This came after cutting prices on regular items, like kale and bananas.
These price cuts had a greater effect on stand-alone grocers such Kroger and Sprouts than Walmart.
However, Walmart might start to feel broad pricing pressure if Amazon could supply more of its online booty in stores. That would cut into Walmart's advantage of allowing customers to buy online and return in-store, if needed. Even without such a real-world presence from Amazon, Walmart reportedly required many of its wholesalers to cut prices by 15% last year.
The Delivery Advantage
Beyond price, there's some interesting intrigue from Amazon obtaining a large bricks-and-mortar presence because of same-day delivery.
Same-day delivery is a logistical nightmare. For instance, Credit Suisse recently looked at the future of shipping, and found that to service 80% of same-day delivery orders, an organization would need to have 12 "optimally located ship locations." By comparison, to achieve the same rate for two-day shipping, you need just two locations.
Having 2,300 Target stores to send and ship from would benefit Amazon, especially if it chooses to handle some of the same-day delivery itself.
And it just so happens that last month, Target acquired same-day delivery service Shipt for $550 million. At the time of the acquisition, Moody's retail analyst Charlie O'Shea told CNNMoney that it "is yet another example of a brick-and-mortar retailer leveraging its physical assets to improve its online offerings."
If Amazon takes notice, it could make same-day delivery viable for a broad spectrum of goods — opening another front in the e-commerce battles.