The High Cost of That Draft Under Your Door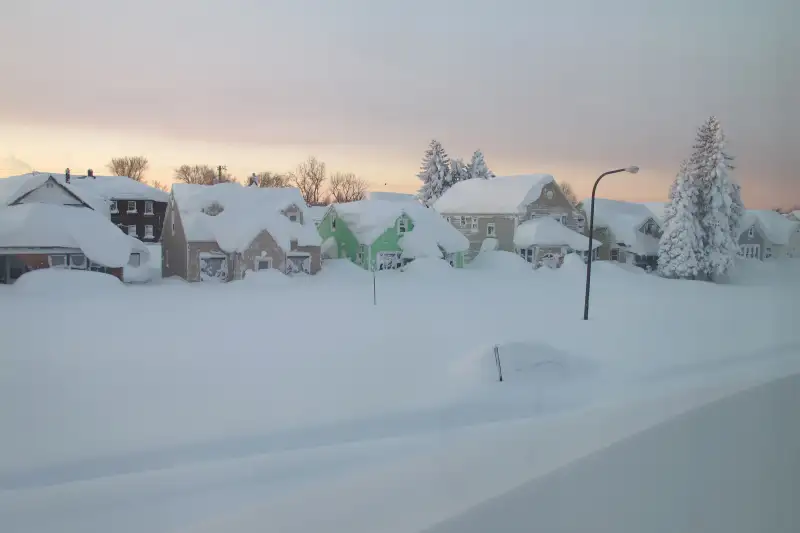 Carolyn Thompson—AP
It may not be winter yet—the season doesn't officially start until December 21, of course—but the weather doesn't care. Temperatures across the country are plummeting, and a new "polar vortex," otherwise known as a cold front, is already upon us. And the "lake effect" has hit Buffalo with a vengeance.
That frigid weather is bad news, and not just because many will soon be forced into a coat and hat. The change in season also means more heating expenses, and it can put a chill on your finances if you're not careful about managing the thermostat. Here's the costs of winter, by the numbers.
45% — The portion of your energy bill that goes to heating. According to the Department of Energy, heating is the largest expense in the average American home.
$649 — The average cost of heating a home with natural gas from October through March. Roughly half of Americans use natural gas to heat their homes.
$938 — The average cost of heating a home this winter with electricity. About one-third of American homes have electric heating.
$1,992 — The average cost of heating a home with heating oil. According to the Energy Information Administration, heating oil is used by about 6% of households, mostly in homes with older (and less efficient) heating systems.
$362 — How much heating oil households will save compared to last year because of lower prices. Natural-gas users will save just $11.
6 feet — The amount of snow that has fallen in Buffalo since Tuesday. Another 20 to 30 inches of snow is expected.
220,000 tons — The estimated weight of the snow that has fallen in Ralph Wilson Stadium, home of the NFL's Buffalo Bills. The team is offering fans $10 an hour and free game tickets to help clear the field.
1% — The amount of money you can shave off your heating bill for every degree you turn your thermostat down during the winter, according to the Department of Energy. The DOE estimates turning your thermostat back 10 to 15 degrees for 8 hours can save you 5% to 15% on heating costs.
1/8-inch — Size of a gap under a 36-inch-wide door that will let in as much cold air as a 2.4-inch-diameter hole punched in the wall.
$1,000 — The amount one Utah home saves on winter energy costs by using a wood burning stove. Authorities are cracking down on this practice because of its negative impact on air quality.
Read Next:
Beat the Winter Chill Without Breaking the Bank
7 Easy Ways to Lower Winter Energy Costs