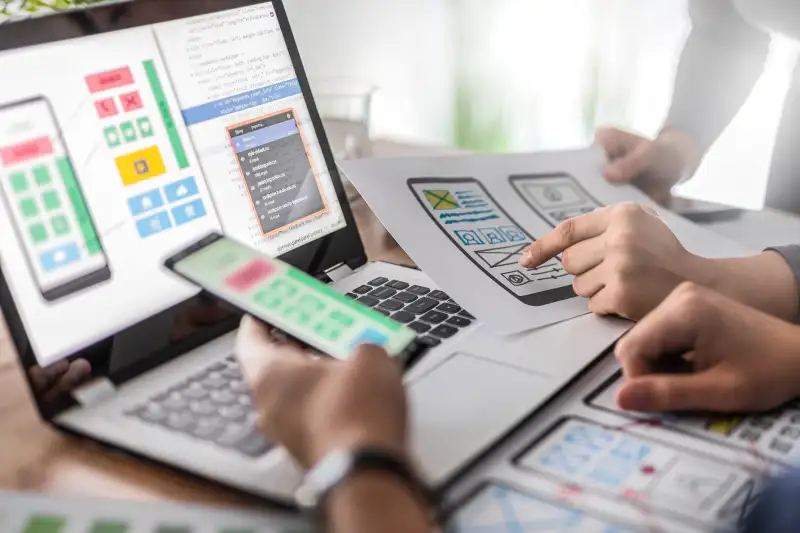 Wix and Squarespace are two of the most popular website-building platforms available today. They offer intuitive tools, customizable features and a range of payment plans to help your small business take off.
Which option is better depends on what you're looking for. This guide will walk you through the differences between Wix and Squarespace, including the highlights, pros and cons of each platform.
What are Wix and Squarespace?
Wix and Squarespace are full-service website builders. They provide customizable templates and tools for business owners to design and publish their own websites. You don't need to code or design your own site with either of these platforms.
If you've looked into how to start a business, you already know that a well-designed website is a crucial first step. It's the best way for your customers to find you and learn more about your services. And it doesn't have to be complicated — even a landing page with basic features will boost your business's reach.
Whether you want a simple, informative website or a retail site for advanced commerce, both Wix and Squarespace are valid options. But they have their differences. Take some time to compare website platforms and make sure you pick the best option for your needs.
What are the biggest differences between the two?
The key difference between Wix and Squarespace is their ease of use. Wix is a more beginner-friendly platform with affordable pricing plans and straightforward templates. Squarespace, on the other hand, is better for online stores or more complex sites.
There are other noticeable differences, like blogging tools and customizable options. The rest of this article will break down each platform's pros and cons in more detail.
Comparing Wix and Squarespace
Both of these website-building platforms get good reviews and are used by business owners around the world. They offer similar features, including SEO tools and templates. Where they differ is in their complexity, pricing and customer service.
Neither would be a bad choice, but one is probably better for your business's needs. Here's what you need to know before you buy a subscription with either Squarespace or Wix.
Wix pros
A Wix website is a great choice for a new business owner. This platform is affordable, easy to use and has responsive customer service to help you get started. If you're learning how to make money from home, Wix might be the right platform to start your blog or promote your freelance business.
Budget-friendly
If you're debating between Squarespace versus Wix in terms of pricing, Wix is the way to go. This platform has a free plan for people just getting started. Its pricing structure is transparent and offers a variety of options for all types of businesses.
Wix plans are split into "Website" plans and "Business and E-commerce" plans. There is a third level, "Enterprise" plans, but corporations, not small business owners, mainly use these options.
The free plan can be a good learning tool if you've never designed a website. But this plan will include ads on your site and doesn't offer a custom domain. If you're serious about growing your business, you'll probably want to upgrade to one of Wix's paid plans, starting at $16 monthly.
It's worth noting that Squarespace also offers its Personal plan for $16 per month, but it does not offer a free plan. A premium or e-commerce plan with Squarespace will cost a few dollars more per month than with Wix.
Great customer service
Wix has an A+ rating from the BBB. Reviews of this platform report a friendly, helpful customer service experience. The top-rated customer service is another feature that makes Wix ideal for a website beginner.
You can call the 24/7 customer helpline any time to get assistance. According to reviews, Wix customer service representatives usually respond right away and are willing to help. They might send a recorded video through live chat to walk you through a solution to your problem.
Templates are well-designed and user-friendly
Wix offers 500 design themes that can be customized with simple drag-and-drop tools. Not all Wix templates are available for everyone — higher payment plans provide access to more design options.
However, even the free template options are unique and easy to use. Templates are carefully designed for various industries. You can pick a soft, neutral design for a wellness business or an eye-catching landing page for a blog. Additionally, if you have a Wix E-commerce plan, you can access customizable payment features and links to third-party apps.
Wix cons
Wix is best for beginners but has its limitations for advanced website designers. Limited storage, restricted changes for live sites and paid analytics make Wix impractical for some businesses.
Storage limitations
Wix does not offer unlimited storage. The free plan comes with 500 MB of storage, and paid plans range from 2 GB to 100 GB if you're willing to pay significantly more. Those limits can be a problem if you want to upload a lot of photos and video content on your site.
For reference, 500 MB is about an hour of standard-definition video. That means Wix's free plan will not have enough storage for a blog that posts regular video updates. Other solutions include linking to your video content on other apps, but that limit can be annoying as your website grows.
Lack of flexibility after your site is live
Even though Wix's templates are easy to customize, they offer less flexibility after the site is published. Squarespace and other website builders allow users to switch themes at any time. With Wix, you can edit certain features of your live website, but you can't switch to a new template. This might be a problem if you ever want to rebrand your business.
You have to pay for analytics
Wix offers analytics to track your website's growth and see how many customers you're reaching. Unfortunately, this feature isn't free.
Access to Wix's visitor analytics app is available starting with the Unlimited plan at $22 per month. The app is only included for the first year, even with more expensive plans. After that, there will be an extra charge.
Do you need the visitor analytics app to grow your reach? No. Other options exist, like Google Analytics, with even more tools and features. But free access to an analytics service would make Wix more appealing to a new business owner.
Squarespace pros
Squarespace is a popular online website platform used by bloggers, online retailers and small business owners. Like Wix, this is a full-service website builder that comes with a wide range of functions.
Although it doesn't offer a free plan, Squarespace is affordable and easy to use. You can edit your website at any time and set up customized product pages. The intuitive editing tools, e-commerce features and flexible designs make this a great platform for a growing business.
Intuitive, easy-to-use edits
Squarespace templates are designed for maximum customizability. While Wix offers more templates for a quick-launch website, Squarespace makes it easier to design a more personal website.
You can choose from one of Squarespace's 100 template options, then use the simple editing tools to adjust fonts, add images and video, change your color palette and insert your own logos. It takes a little longer than Wix's drag-and-drop website editor, but it might be worth it if you value a unique look. On top of that, Squarespace's templates are easy to adapt for mobile devices.
Good for e-commerce marketplace
A Squarespace website is the best choice for someone who wants to sell their products online. It offers retail templates and allows integration with point-of-sale systems for online payments.
With plenty of storage space and unlimited pages for every account, this platform is well-suited for digital products like photography, music or e-books. Squarespace also permits the sale of services so that you can use it as your home base for a design or content creation business.
Third-party services like Mailchimp can be connected to your Squarespace site as add-ons. This makes it easy to integrate your online sales, bookkeeping, shipping and marketing. The ability to monitor everything in one place is a huge benefit for a single-person business.
Easy to make changes over time
Another benefit of Squarespace is the ability to change your website at any time. All Squarespace plans allow you to redesign pages while the site is live. If you want to re-brand, change your logo or add another product, you don't have to start from the beginning.
Squarespace's flexibility makes it a good website platform for a blog. As you add new posts to your blog, you can moderate comments, add contact forms and link to your social accounts. While Wix's blogging features have improved over the years, Squarespace is still considered the better platform for a blogger.
Squarespace cons
Squarespace is notably less beginner-friendly than Wix. It has no free plan and limited navigation features. On top of that, Squarespace customer service isn't as responsive as Wix. This platform might not be the right choice if you've never worked on a website.
No free plan offered
Wix and Squarespace are fairly similar when it comes to pricing. Most of Squarespace's paid plans are a few dollars more expensive than Wix's options, but the higher price might be worth it if you're looking for the best e-commerce and blogging futures.
However, there is one crucial difference: Squarespace does not offer a free plan. To build your website with this platform, you'll have to start with the $16 monthly Personal plan. And even that plan is limited, with only 500 MB of storage and no analytics tools.
The upside to this is that you'll always have a custom domain name with Squarespace. But if you want to learn the ropes of web design with a free plan, Squarespace is not the way to go. A basic account from Wix or WordPress would be a better place to start.
The navigation menu is limited
One area where Squarespace receives negative reviews is its navigation menus. This platform offers unlimited pages, but it doesn't make it easy for visitors to navigate those pages.
Squarespace only allows two levels of navigation. In other words, you can select a page, then a subpage on the navigation bar. (For example, the menu selection "Blog" can lead to a drop-down selection of "Posts," but you cannot add a further drop-down for "Last Year's Posts.")
The two-level navigation isn't an issue for most sites. But it can be frustrating if you are running an e-commerce platform on Squarespace and want to guide your customers through multiple product categories.
Find the best web bundle for your business
Starting a business? You have a lot of entries on your to-do list, from finding the best small business loans to picking a great domain name.
But here's the good news: with all the intuitive platforms out there today, building a website for your new business is easier than ever before. Whether you choose Wix or Squarespace, you can design and launch your site without hiring an expert.
Wix is a better platform for beginners. It offers a free plan, simple drag-and-drop templates and helpful customer service.
Squarespace is a better platform for e-commerce and blogs. You can integrate with third-party apps, add unlimited pages and change your website design at any time. Whatever platform you choose, be sure to take your time and make it your own. Don't hesitate to take advantage of every extra feature, from analytics to POS integration. A well-designed, functional website is the best way to set your new business up for success.