LifeLock Identity Theft Protection Review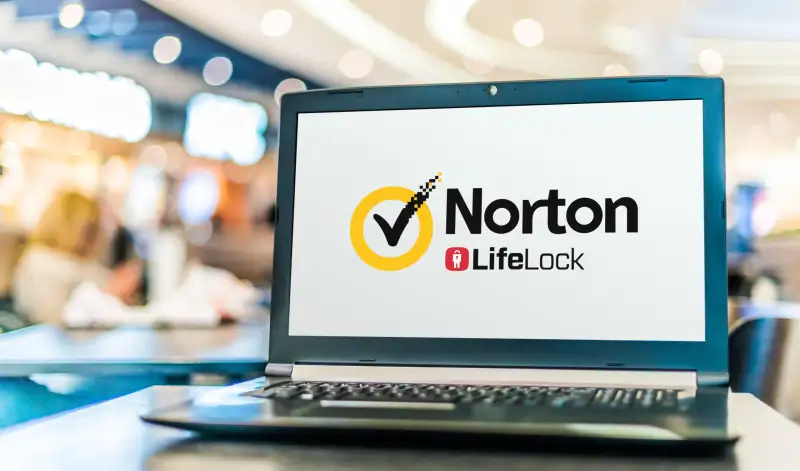 Shutterstock—Copyright (c) 2020 monticello/Shutterstock. No use without permission.
Key Takeaways
Comprehensive identity theft monitoring and recovery services

Instant fraud alerts via the LifeLock Identity app

Annual plans with a 60-day money-back guarantee

U.S.-based agents to restore your identity

All plans have $1 million coverage for lawyers and experts to fix identity theft while a member
Reimbursement from 25,000 to 1 million dollars for stolen funds depending on package
Identity theft monitoring and recovery
In a 2021 report, the Federal Trade Commission revealed that between 2019 and 2020, identity theft cases in the U.S. have doubled This spike in stolen identities during the COVID-19 pandemic prompted many people to be more vigilant about their personal information and online presence. But, if you have a busy lifestyle, it can be difficult to find the time to fully monitor your profile.
Enter identity theft protection services. These firms keep track of your personal data, alert you to suspicious activity and help restore your compromised identity if necessary. It's important to note, however, that they can't prevent identity theft from happening. Their role is to discover it quicker than you would yourself, in places you wouldn't think to look, and to help you stop it in its tracks.
Because the range of companies operating in this space and the variety of services they offer can be overwhelming, this post provides a review of a major player in the industry: LifeLock. Read on to find out if outsourcing your personal identity protection to LifeLock is the right choice for you.
About LifeLock
Operating since 2005, LifeLock has its headquarters in Tempe, Arizona. It has 4.4 million members and helps countless individuals and businesses with identity theft protection and recovery. Its association with Norton since 2017 means that it also offers cybersecurity services as an added layer of defense against potential fraud.
LifeLock's services include:
Monitoring your identity
Tracking activities related to your identity and Social Security number(s)

Verifying changes to your USPS addresses

Scanning dark web content

Monitoring public records

Detecting crimes committed in your name

Analyzing social media for suspicious activity related to your identity
Monitoring your credit
Tracking your credit profiles with the three main credit bureaus

Providing credit score updates

Supplying credit reports

Locking your credit files if someone steals your identity
Monitoring your finances
Tracking applications for checking and savings accounts in your name

Monitoring activity on your investment accounts and your 401(k)

Analyzing changes in your property titles

Checking for takeovers on your bank accounts
Plenty of feedback from LifeLock members is available to view online — unsurprising given the company's many years of operation — with the bulk of comments being positive. Customers talk about the speedy alerts they receive and the added sense of security they get from their membership. They also appreciate getting updates on their credit profiles, and some people describe how efficient the identity recovery process is.
There are a few negative reviews about the quality of customer service. Overall, however, in the eyes of consumers, LifeLock seems to be performing well.
LifeLock offers annual and monthly packages. Annual plans have a 60-day money-back guarantee. Memberships consist of standalone identity theft protection or a combination of this service with Norton 360 device security and VPN software. LifeLock's options cover individuals and families; you can include children and spouses at an additional cost.
Rates are as follows:
| | | | |
| --- | --- | --- | --- |
| Plans | Select | Advantage | Ultimate Plus |
| Anual | $7.50/month | $14.99/month | $19.99/month |
| Monthly | $8.99/month | $17.99/month | $23.99/month |
| Premium Plans | Select with Norton360 | Advantage with Norton360 | Ultimate Plus with Norton360 |
| Annual | $8.29/month | $15.99/month | $24.99/month |
| Monthly | $9.99/month | $19.99/month | $29.99 |
| Stolen Funds Reimbursement | Up to $25,000 | Up to $100,000 | Up to $1 million |
| Consultant's fees | Up to $1 million | Up to $1 million | Up to $1 million |
*All rates listed are accurate at the time of writing and are for one adult only. For the most up-to-date rates and details on family packages and options, please refer to the LifeLock website.
LifeLock unique features
LifeLock distinguishes itself from similar service providers by offering extra features that simplify the process for the consumer. These include:
Identity lock
This allows you to instantly lock your credit file with the Transunion bureau or lock a payday loan, preventing unauthorized account openings. It doesn't affect your credit score, and lenders can still run checks on your credit if needed.
Million-dollar protection package
Available on all plans, this package provides financial assistance in the event of identity theft. Protection can range from $25,000 to $1 million and covers stolen funds reimbursement, personal expense compensation and the services of specialist lawyers and experts.
LifeLock Identity app
This app allows you to receive instant alerts of suspicious activities on your profile. This means you can respond immediately, and the LifeLock team can act promptly on serious threats.
Who LifeLock is best for
Customers who use antivirus protection
If you're already considering adding a VPN and/or antivirus protection to your devices, then LifeLock may be a good fit for you. Its relationship with Norton allows you to pay just one fee for combined identity protection and cybersecurity services.
Customers who aren't quite sure
LifeLock offers a 60-day money-back guarantee on all their annual packages. If you're not happy with the service, you can reclaim your payment and move on.
Customers with busy lives
If you need to save time while safeguarding your profile, then LifeLock will benefit you. It performs complex monitoring and detection functions that many people can't fit into their day. These include scanning the dark web and monitoring court records, sex offender registries and social media to track your Social Security number, credit profile and financial accounts.
Customers on the move
LifeLock's Identity app provides you with on-the-go updates and fraud alerts. This means a quicker response time to threats and a better chance of avoiding financial losses altogether.
LifeLock versus competing identity theft protection providers
If you're comparing service providers to find the most effective, cost-efficient and reputable option, then consider the table below. It compares LifeLock with two competing companies.
| | | | |
| --- | --- | --- | --- |
| Brand Name | Identity Guard | LifeLock | ReliaShield |
| Best For | Fast Alerts | Features | Family Plans |
| Individual Monthly Cost (billed annually) | $5.39 - $17.99 | $8.29 - $24.99 | $7.99 - $21.99 |
| Family Monthly Cost (billed annually) | $8.99 - $23.99 | $18.99 - $40.99 | $14.99 - $34.99 |
| Features | Credit/Debt monitoring, 401(k) and investment monitoring, sex offender monitoring, USPS address change monitoring, home title monitoring, and more. | Credit/Debit monitoring, ID verification monitoring, 401(k) and investment monitoring, USPS address change monitoring, home title monitoring, and more. | Personal information and dark web monitoring, neighborhood predator monitoring, non-credit loan monitoring, new bank account application notifications, bank account takeover notifications, court records monitoring, and more. |
| 3-Bureau Credit Monitoring | Yes, on the Ultra Plan | Yes, on the Ultimate Plus Plan | Yes, on the Elite Plan |
| Restoration Services Available | Yes, with a personal case manager | Yes, with US-based agents | Yes, with customer service and recovery assistance |
| Insurance (Stolen Funds Reimbursement) | $1 million (subject to terms and conditions) | $25K – $1 million depending on plan | $1 million on all plans |
| TrustPilot Rating | 4.5 out of 5 stars | 4 out of 5 stars | Not reviewed on TrustPilot |
What to know about identity theft protection
Given the increase in identity theft, it's wise to do everything possible to safeguard yourself and your family's personal, financial and credit information. The cost of outsourcing this protection is nothing compared to the financial losses you could suffer if someone steals your identity. Bear in mind that having a reliable identity theft protection firm monitor your profile can be very affordable. It may also offer insurance coverage in case the worst happens and identity restoration services if it does.
Affordability
Many companies provide affordable services or offer plans with basic coverage, starting from as little as $10 per month.
Insurance
If you become a victim of identity theft, you'll still need to pay your bills and put food on the table while you resolve the problem. You may also require money to pay attorneys or financial experts. For this, you should select a company that offers insurance for stolen funds reimbursement and coverage for expert services. Most firms in the industry provide these policies as part of their packages.
Restoration
Being truly prepared for the worst means having access to identity restoration services, so if you do fall prey to identity theft, you'll have the necessary support and assistance to use your accounts safely again. Most identity theft protection providers also offer recovery services and dedicated agents to help you with the process from start to finish.
The bottom line
This post gives you a lot of information on LifeLock's services. In short, it's a reputable firm with a long track record of success that offers a wide range of plans for families and individuals. With LifeLock, you can get the extensive coverage and protection you need for your personal profile.
This is a detailed overview of LifeLock, but it's important to shop around and compare service providers. If you're unsure of any information disclosed on company websites, reach out to them directly. They can ease your concerns and help you decide if they're the right fit for you.
Update: This article has been updated to reflect current prices and benefits of LifeLock.
Disclaimer: This story was originally published on July 19, 2019, on BetterCreditBlog.org. To find the most relevant information concerning LifeLock Identity Theft Protection, please visit their website: https://lifelock.norton.com/.