The WNBA Reverses Fine for Black Lives Matter Warm Up Shirts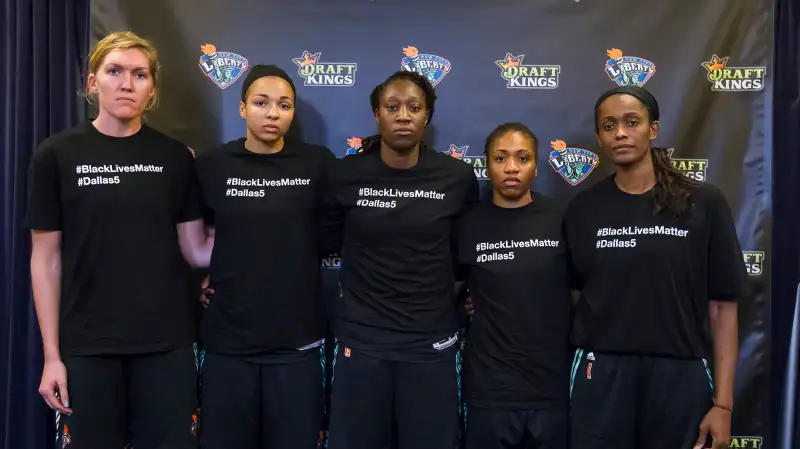 After NBA star Carmelo Anthony became the latest athlete to join the wave of criticism over the WNBA's fine of three teams and their individual players for wearing black warm-up shirts -- some with the #BlackLivesMatter and #Dallas5 hashtags printed on the front -- the league reversed the fine on Saturday. WNBA President Lisa Borders announced the news in a tweet:
The league had fined the New York Liberty, Phoenix Mercury and Indiana Fever $5,000 each, and their players $500 each for donning the shirts. The players wore them in the wake of shootings of black men and police officers in the country in the past few weeks.
When the fines were announced, the WNBA president told Associated Press, "we are proud of WNBA players' engagement and passionate advocacy for non-violent solutions to difficult social issues but expect them to comply with the league's uniform guidelines."
Borders' position contrasted that of NBA Commissioner Adam Silver, who said after the Minnesota Lynx wore similar shirts, "I actually think it demonstrates that these are multidimensional people. They live in this society, and they have strong views about how things should be. So I'm very encouraging of that," the News Tribune reported.
Ironically, Lynx coach Cheryl Reeve said at the time that she appreciated the amount of support the team had received, "particularly from the league." Players also noted that the league encourages them to speak up and be engaged in issues outside of the court.
The fine was also a departure from how the NBA handled similar athlete activism. Back in 2014, Cleveland Cavaliers players LeBron James and Kyrie Irving, as well as some Brooklyn Nets players, wore T-shirts that read "I Can't Breathe" in the wake of the death of Eric Garner, an unarmed black man who was killed by police in New York City. The players were not fined.
WNBA players spoke out on social media about the discrepancy.
Excelle Sports pointed out the disparity in responses by the leagues is even more striking when you consider that top players in the WNBA make around $111,500 per year, while the minimum rookie salary in the NBA was $525,093 for the past season.
Update: This story has been updated with the WNBA's reversal of the fines.