How World Cup Soccer Puts the Squeeze on Fans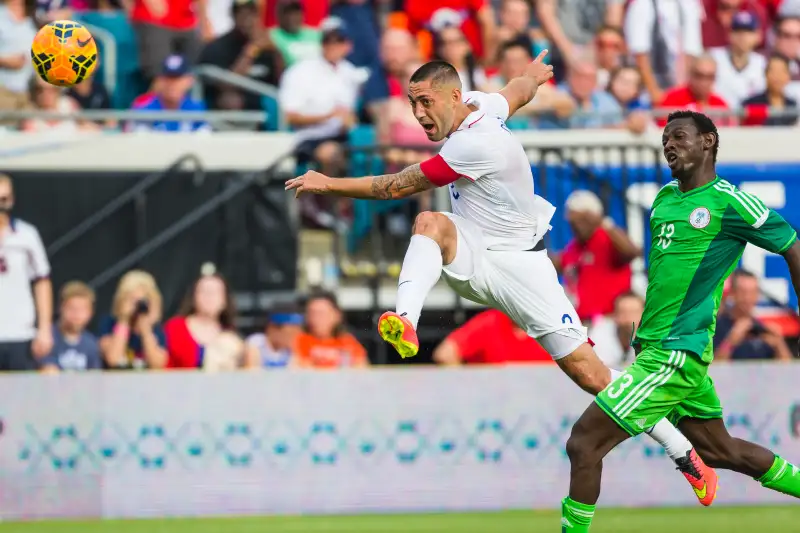 Watching the 2014 World Cup in Brazil doesn't have to cost anything. Ten matches are being aired on public television (ABC), and the rest are available for pay-TV subscribers via ESPN's streaming services and plain old ESPN TV channels. (Many other streaming options are available as well for online viewing.)
But for those who want the full fanatical World Cup experience—and who are willing to pay for it—there's no shortage of options for enhancing one's enjoyment of the beautiful game on its biggest stage. Here's a look at some of the costs confronting fans:
$0 The cost of a special temporary visa for U.S. citizens going to Brazil specifically for the World Cup. A normal tourist visa for entrance to Brazil is $160, but the fee has been waived by the Brazilian consulate for American travelers who already have tickets to one or more World Cup match. Be sure you qualify and all your paperwork is in order before applying. Mind you, the cost of a flight to Brazil will run in the thousands for the foreseeable future.
$1.25 Cost of a World Cup-theme "designer temporary tattoo" from Gumtoo, after a special coupon code (BRASIL2014) is entered at checkout, giving a 50% discount on the regular $2.50 price. International shipping is free on orders of $20 and up. It's a far cheaper, less regrettable, less fanatical alternative to the real tattoos sported by World Cup superfans.
$1.29 Price to download "We Are One (Ole Ola)," the official 2014 FIFA World Cup song by Pitbull, featuring Jennifer Lopez and Claudia Leitte. It costs $9.99 to download the entire 2014 FIFA World Cup official album, "One Love, One Rhythm," with songs from Shakira, Ricky Martin, Santana & Wyclef, the Isley Brothers, and Baha Men.
$10 Difference between the cost of a three-piece infant World Cup soccer outfit featuring England ($74.99) and USA ($64.99), at the official FIFA online store. The site also sells onesies with the logos of every country in the tournament, from Algeria to Uruguay, and no matter what the team, they cost a flat $16.99 apiece.
The Asahi Shimbun—Getty Images
$13.99 The price listed on FIFA's website for a caxirola, a hand-held noisemaker in your choice of yellow or red that sounds like a traditional South American rainstick when rattled. It's being marketed as Brazil's answer to the vuvuzela, the annoying plastic horn that blared nonstop during the 2010 World Cup in South Africa. Though World Cup marketers are presenting the caxirola as a "must have" for any fan, the noisemakers are actually banned inside soccer stadiums for safety reasons. They've been "likened to a hand grenade with brass knuckles," as the Wall Street Journal put it.
$15 The cheapest World Cup ticket available on the secondary market after prices crashed in late May, according to Bloomberg News. Tickets for a matchup of Greece vs. Ivory Coast with a face value of $135 were selling for as little as $15.48. Last week, FIFA released nearly 180,000 more early-round tickets for sale starting officially at $90. You don't want to know how much sellers have been asking on the secondary market for prime tickets to the final match, but scroll down and you'll see.
Lonely Planet—Getty Images
$17 Price for a cheeseburger in Rio in advance of tourists arriving for the World Cup. A pepperoni pizza, meanwhile, is running at the inflated price of roughly $35.
$35 to $50 The range of what you'll pay (in the U.S.) for a bottle of cachaca, the sugar cane-based Brazilian liquor described as "halfway between rum and tequila" sure to get you in the spirit, so to speak, for enthusiastic 2014 World Cup viewing.
$48 Amount being charged to soccer fans in China (which is apparently wild about the World Cup even though the national team isn't involved), when they need a fake medical note in order to be excused from work the day after watching a late-night match.
$90 The price of a particularly popular white replica Team USA soccer jersey on Fanatics.com. (For a while, the item was sold, but has been restocked to meet demand.) Some sports apparel sites are also still selling USA jerseys featuring the name and #10 of Landon Donovan, one of the best American soccer players ever—who was shockingly cut from the 2014 World Cup team in May.
$120 Minimum extra being charged, on top of a customer's existing pay TV package, by a TV provider in the United Arab Emirates for access to all of the tournament's 64 matches. The cheapest package showing the World Cup runs Dh440, or around $120—nearly 50% higher than all-access World Cup viewing four years ago. It's not the only place where fans must pay up to watch: In Singapore, for instance, a package with all 64 matches is running about $88.
Andrea Pistolesi—Getty Images
$487 to $682 Range of estimated daily expenditures by travelers visiting World Cup host cities, according to TripAdvisor data, with Cuiaba at the low end and Rio de Janeiro, unsurprisingly, as the most expensive option. The average hotel room rate in Rio is $445 during the World Cup, roughly double the price at the same time last year.
$714 The average amount Chileans would pay out of their own savings to see their team win the World Cup, according to an ING Direct survey. That's the highest of any country in the survey—Italy came in second, with the average fan willing to part with €464 ($630) to be guaranteed the national team would win. America's less-than-crazed soccer "fans," by contrast would pay a mere $50, on average, to win the World Cup.
$40,000+ Despite FIFA's warnings that resold tickets will not be honored at stadiums, sellers have been advertising tickets to the World Cup finals for upwards of $40,000. At the ticket resale site StubHub, the starting price for World Cup finals tickets was around $6,600 on the eve of the tournament kickoff.
$650 Million Rough estimate for how much Adidas will make selling various versions of the official 2014 World Cup soccer ball.
$900 Million Estimated collective worth of Spain's World Cup team, after tallying up the market value of its 23 players. That's the highest of all the 32 World Cup teams. Spain is followed by Germany (players' market value: $828 million), Brazil ($689 million), and France ($607 million), all the way down to Honduras ($31.1 million). Team USA's players have a total value of $84.3 million, ranking it #26 on the list. All of the players in the tournament combined have a value of $9.69 billion, according to Transfermarkt, the trading site that put together the study.
Hey fans around the globe: In one way or another, we're all collectively paying their salaries!