He Started Running His Own Pet Store at Age 22, and Business Is Booming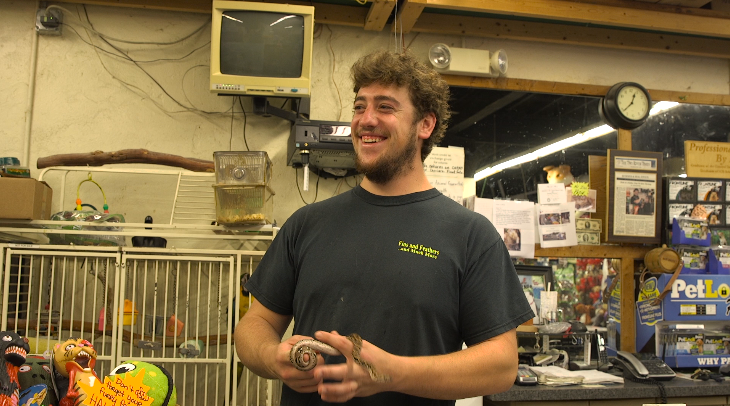 As a child, T.J. Moss's hobbies included tending to his fish tank and selling shaved ice outside of his parents' New Jersey home.
So it was the fulfillment of a childhood dream when he took over the management of Fins & Feathers, a long-standing pet shop in Red Bank, N.J., at the age of 22.
"I knew from the time that I was 15 and 16 that I wanted to own Fins & Feathers one day," Moss recently told Money. "I didn't know how it was going to happen, how we were going to make it work, but it was always my drive and my passion."
So, how did he accomplish this? T.J. credits his family—not only for his love of animals (his parents bought him that first fish tank), but for giving him the emotional and financial support necessary to follow his dream.
The pet store he took over is nothing new in town. Fins & Feathers has been a mainstay in Red Bank for over 32 years. The streets of Red Bank are lined with small, independent businesses, including barber shops, clothing stores, bars and restaurants, and delis. The citizens of this community love, trust, and are loyal to their local businesses.
And to the local shoppers, Fins & Feathers offers much more than fins and feathers.
"We have a full line dog food, cat food, bird supplies, rabbit supplies..." said T.J. "We have a full stock of live inventory. We have reptiles. We have rabbits, hamsters, guinea pigs. We do kitten adoptions, a full line of fish, we do dog grooming, pet boarding."
Dog grooming is its most lucrative service, bringing in 25 to 30 dogs a week, and around 110 a week around the holiday season.
Business has been booming since T.J. took over. He added a pet food delivery service to a local retirement community. He also bought the rest of the building so that he can expand his pet boarding service. With the track he's currently on, he is slated to hit a million dollars in sales within two years.
His advice for young people looking to start their own businesses? Follow your dreams: "Where there's a will, there's a way. As long as you have the drive and the passion, you can do it."