All the Places Selling Cold Refreshing Beverages for $1 (or Less) This Summer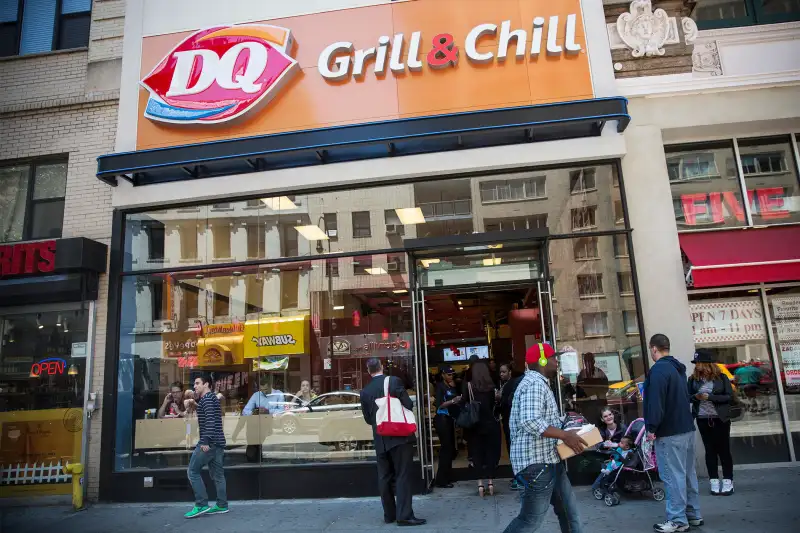 Andrew Burton—Getty Images
It's easy to see why fast food chains and convenience stores roll out cold drink deals as soon as the weather warms up: They're hoping to get customers in the habit of swinging by whenever they're in need of some cool refreshment this summer.
Selling fountain sodas or iced coffees for $1 might not yield big profits for 7-Eleven, Taco Bell, or Dairy Queen, but these special deals increase foot traffic during the busy summer season—and more store visits means more opportunity for customers to buy stuff other than the $1 drink that drew them in.
So by all means take advantage of these cheap ways to cool off this summer. Just be mindful of what else you're buying. Sometimes, a quick stop for an inexpensive refreshing beverage can wind up costing you. Enough with the lecture! Here are some cool drink deals to consider this summer, all priced at $1 apiece or less.
Cumberland Farms: Now through Labor Day, Cumberland Farms convenience stores offer 49¢ refills of its Chug Jugs. You do have to purchase one of the insulated jugs initially, though, for $1.99.
Dairy Queen: From 2 p.m. to 5 p.m. all summer long, participating Dairy Queens are hosting happy hours with ice coffees for $1 in vanilla, salted caramel, or mocha flavors, as well as Oreo, caramel chip, or mocha frappes for $2.
Kum & Go: All summer long, fountain drinks and Koolee frozen beverages in any size are priced at $1 each.
7-Eleven: Medium-size iced coffees are priced at 99¢.
Sheetz: OK, so it's not cool and refreshing, but the $1 small (hot) coffee offer for Sheetz loyalty card holders is a good deal, and it's valid through the end of September.
Sonic Drive-in: All shakes are half-price after 8 p.m., so they'll run you about $1 apiece since some cost $1.99 or $2.49 normally.
Read Next: 10 Great Freebie Days to Look Out for This Summer
Taco Bell: From 2 p.m. to 5 p.m. daily, Taco Bell restaurants host "Happier Hour," when a wide range of cold beverages—fountain sodas, iced teas, lemonades, freezes, and blasts—are priced at a flat $1.
Wawa: At Wawa convenience stores in Florida, coffee is priced at $1 and fountain drinks are just 89¢, though check your nearby store for deals because promotions vary based on location.