10 Free Airline Amenities That Make Flying Fun Again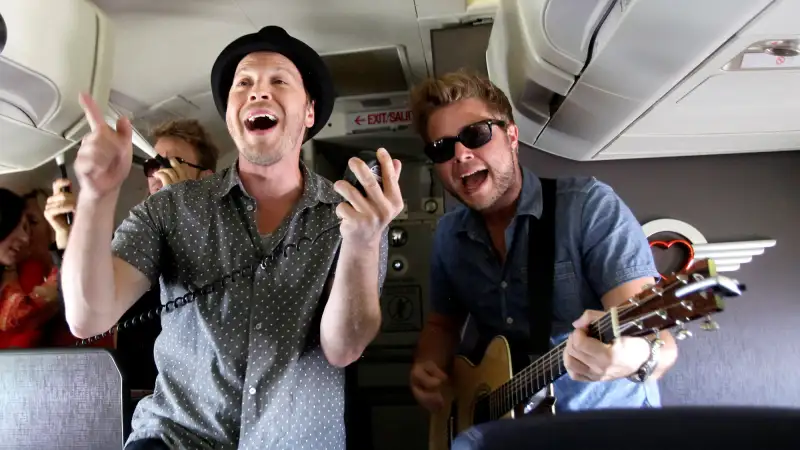 With all the airline fees adding up, it's hard to remember what perks you get as a passenger. However, there are still some airlines that show their appreciation for customers, dishing out amenities that make them stand out from the rest. These airlines have come up with everything from free alcoholic beverages and DirecTV to slippers and playing cards. Want to catch a surprise Imagine Dragons flight? Dying to flirt with that person you met at the gate? These amenities aren't just available to first-class passengers either — they're available to all passengers throughout the cabin. Now that's something that stands out!
1. Free beer, wine, and snacks with Porter Airlines
Had a long day and need to unwind? You can do that at no charge on Porter Airlines, who fly throughout Eastern Canada and the Eastern United States. The airline offers free local Canadian beer, wine and snacks to all passengers. The luxury treatment continues with drinks served in real glassware and no middle seats. The amenities start before the flight, too, as the airline's airport lounges are open to all passengers and provide free newspapers, snacks and Wi-Fi.
2. Live at 35 with Southwest
Imagine flying at 35,000 feet when your favorite band takes the stage — well, the aisle. As part of Southwest Airlines' Live at 35 program, passengers have seen popular bands such as Imagine Dragons, Echosmith and Better Than Ezra perform a surprise concert on their flight. In addition to surprise shoes aboard Southwest flights, the Live at 35 program also offers passengers exclusive access to music festivals and events across the country. The airline also has Southwest-branded venues in New York, Denver, Dallas and Atlanta for loyal fans to watch live entertainment.
3. DirecTV on JetBlue
Travelers no longer have to worry about missing important television events such as the Super Bowl, the Academy Awards or a Real Housewives of Atlanta marathon when flying on JetBlue. The airline offers free DirecTV for all passengers who want to choose between ESPN, NBC, Bravo, Food Network, VH1 and even the Disney Channel. On the airline's E190 and A320 planes, passengers have access to 36 channels, while the A321 planes offer more than 100 channels.
4. Slippers on Japan Airlines
Travelers fly in comfort on Japan Airlines: The airline provides slippers — in yellow, blue or pink — to all passengers looking to get a bit more relaxed on their long flight. Amenity kits with a toothbrush set, earplugs and eye mask are also available for passengers on longer routes. Flight attendants have pain relievers, motion sickness medicine, nasal sprays, bandages and more for passengers who are feeling under the weather. For those looking to send a note home, postcards and ballpoint pens are also available upon request. Talk about good service!
5. Do not disturb/wake me up sleep mask on Etihad
On board Etihad Airways, even economy passengers are sure to get a good night's sleep. The airline offers a Sleep Tight amenity kit that includes socks, a toothbrush and earplugs as well as an eye mask that passengers can wear to notify flight attendants not to disturb them or wake them for meals! Etihad also give each passenger a full-sized fleece blanket, and on longer flights, the airline designed a pillow that converts from a standard pillow to a neck pillow for easy sleep.
6. Turkish coffee and Turkish Delight on Turkish Airlines
Whether you're flying to or from Turkey, Turkish Airlines bring Turkish culture to the air. It's the only airline that offers Turkish cuisine to all its passengers. Additionally, Business Class passengers will get the opportunity to nosh on Turkish Delight and Turkish coffee. The hors d'oeuvres and soup service are equally authentic, as they're an important part of any Turkish meal. In both the Business and Comfort classes, meals are also served in porcelain dishes.
7. Seat-to-seat chat and ordering on Virgin America
Virgin America's fleet of planes represent the new age of flying — from the colorful overhead lights to the personal screen available to each passenger. The personal touchscreen allows passengers to choose their own in-flight entertainment as well as order drinks and food at the touch of a button. Even cooler, the system allows passengers to send an ice-breaking drink, meal or snack to another passenger. It also features a chat room for co-workers to connect or for passengers to send a flirty message.
8. Playing cards and writing kits on Singapore Airlines
Singapore Airlines take the in-flight amenity offerings to a new level. They, too, offer a toothbrush, toothpaste, eyeshades, earplugs and knitted socks to each passenger. However, they also offer a complimentary set of Singapore Airlines postcards, playing cards and writing kits upon request. Travelers under the age of 12 are also treated to exclusive Cartoon Network collectible items on certain flights. Each passenger also gets a video monitor and handheld control unit to browse the entertainment offerings on KrisWorld, the airline's famous in-flight entertainment system.
9. Celeb chef children's meals on Virgin Atlantic
Virgin Atlantic tasked TV chef Lorraine Pascale with the job of creating signature dishes for the airline's Upper Class passengers as well as a variety of children's meals served throughout the entire cabin. Pascale created healthy dishes featuring fresh, nutritious and simple ingredients. Upper Class passengers can enjoy dishes such as a Thai beef salad with roasted pine nuts and chili dressing or a salmon, lentil and chorizo dish served with asparagus. The children's meals include a macaroni-and-cheese dish with pancetta and chicken strips with potato wedges and crushed peas. Oh, to be a kid again.
10. Free Wi-Fi on Emirates
No matter how much you'd like to escape the office during your flight, there's always some crisis that needs to be averted. On Emirates, passengers can stay connected for free with the airline's free onboard Wi-Fi. Passengers can enjoy 10 MB of data for free or buy 500 MB for just $1. The airline offers each passenger an in-seat satellite phone and on-screen SMS and email services. Travelers can also follow the up-to-date flight progress via the airline's map channel, Airshow. That way, you'll know exactly when you're landing to schedule any post-flight meetings or activities.