10 Highly Successful People on How They Negotiated Raises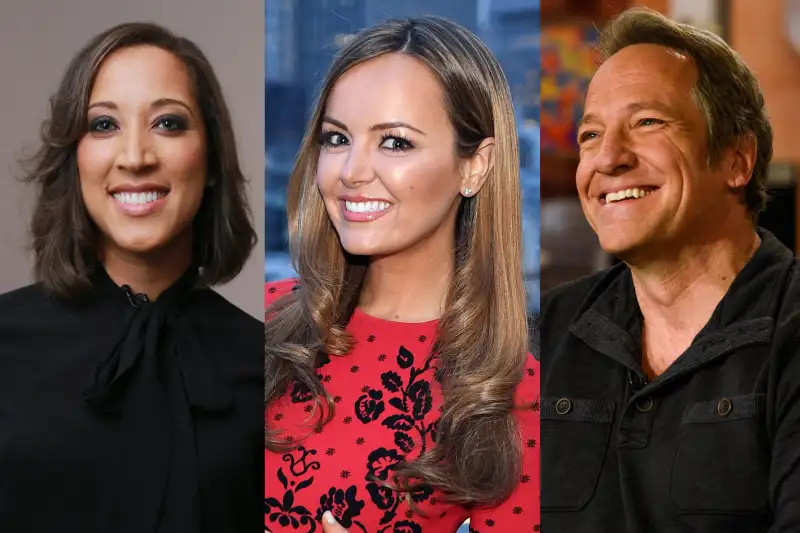 Picture this: You walk into your boss's office, calmly lay out a case for why you deserve more money, and—poof! Your take home pay increases just like that.
If only it was that easy.
Asking for a raise can be one of the more anxiety-inducing parts of any job. Money conversations are never fun when it comes to one's own personal worth, yet according to a February survey from the compensation firm PayScale, only 20% of employees feel that they are paid fairly.
Money asked 10 highly successful people about their own success stories in getting their pay bumped up. Take inspiration for the next time you want to hard sell yourself.
---
Stefanie Keenan—Getty Images for Girlboss
I used to get so nervous before my year-end reviews that my neck would flush red and break out in welts. One time, it was so bad that someone asked if I wanted to stop the conversation. So humiliating.
But then I started practicing with my husband. I asked him to take the other side, and to be hard on me to see how I would handle it. I also stopped waiting until the end of the year to talk about raises. Ideally, you have that conversation at the beginning of the year to talk about what's important to the department, to the company, and what will drive a raise." —Sallie Krawcheck, CEO and cofounder of Ellevest
---
William B. Plowman—via Getty Images
Not long after Season 1 of Dirty Jobs premiered, Discovery ordered an additional 39 episodes. This was a pleasant, yet terrifying surprise. Pleasant, because it never occurred to me that Discovery would want more episodes of the show I had just begged them to buy, and terrifying, because the terms of my contract I had agreed to were not only inconsistent with those of a hit show, they were totally at odds with a hosting job whose primary hallmarks were pain and humiliation. So I arranged a meeting with my boss, to discuss a better deal.
It was a tricky conversation on several levels. At base, I needed to convince her that the show's success was the result of my willingness to act outside the bounds of my contract. However, I was already under contract, so Discovery had no legal obligation to give me more money. Secondly, I didn't want to appear ungrateful, or sound like a whiner who had second thoughts about living up to the terms of a deal I had already agreed to.
I thought very carefully about what I wanted, and formed an argument that I believed was reasonable and persuasive. But I did something else that turned out to be pivotal; I drove to the negotiation directly after shooting an episode of the show. On that particular day, Dirty Jobs had filmed in a septic tank not far from Discovery headquarters. In other words, I showed up to my meeting smelling very much like the inside of a sewer.
To be clear, I'm not suggesting that people should wallow around in other people's crap before asking for a raise. All I know is, on that particular day, I got everything I asked for with a level of speed and enthusiasm I'd never before seen. And as much as I'd like to tell you it was my reasonable demeanor and logical arguments that won the day, I'm pretty sure my boss just wanted me to get out of her office." —Mike Rowe, TV host of Dirty Jobs (Discovery Channel) and Somebody's Gotta Do It (CNN), podcast host of The Way I Heard It with Mike Rowe
---
In my first job out of business school, I learned a tough lesson about negotiating salary: Keep your "bottom line" to yourself. I was negotiating a prospective job offer and was drawn into revealing my student loan burden and the baseline salary I would need to survive. Before I knew it, that was the salary offered to me. After that experience, I knew to keep financial details to myself.
I always tell people that compensation increases are seldom handed out; instead, they are asked for and earned. There is nothing wrong with proactively seeking an increase, but make sure you are justifying your "ask." —Paddy Spence, CEO of Zevia soft drink company
---
I worked at a small digital marketing agency developing websites and realized there was a need for an office manager and bookkeeper. I knew the company inside and out, and the workload would really add only an additional hour or two per day to my workload.
I took a few weekends and learned QuickBooks. Once I was sure I could do a good enough job, I approached the owner of the company and explained that hiring me to do the extra work would save them 50% of the salary they were about to lay out. The money I made in that one move gave me a 30% to 40% raise. —Deon Douglas, CEO of men's lifestyle accessories brand 11 Industries and manager of rapper A$AP Ferg
---
I worked at an amusement park in the Florida Panhandle in the early '90s with a ragtag group of misfits. It was relatively easy for me to leverage the fact that I actually came to work sober and on time. The extra 50¢ an hour went a long way. —Kevin Boehm, cofounder of Boka Restaurant Group
---
Leon Bennett—Getty Images
When I was first starting out in the entertainment business, I would let them make an offer first, and then tell them to double it. In my experience, it was the only way to get something remotely fair. If you tell them to double it, you'll probably end up somewhere in the middle. And that extra money can mean the world. And sometimes they would just say yes. I used that technique for years. —Robin Thede, comedy writer, actress, host of BET's The Rundown With Robin Thede, premiering this fall
---
Dave Kotinsky—Getty Images.
When I was 19, I took a job for a female boss with a small salary cut. I thought that since we were both women, she was giving me the most she could possibly afford. I found out later that wasn't the case. That was my first lesson. If you don't ask, the answer is no.
Later, I started asking for other perks, like getting my cell phone paid for and more of a travel budget. You need a presentation. Literally print out an agenda for the conversation, come up with lists of your accomplishments, and lay out what your "ask" is.
This is a serious, formal thing, so don't just pop in and say, "I'm sorry, I have a question." You're not sorry for this. Never say sorry. —Nicole Lapin, host of The CW's Hatched, author of Boss Bitch (Crown Business, March 2017)
---
Courtesy of LaSalle Network
When I was a salesperson, I didn't know what the guy in the cube next to me was making, but I could find out what they were selling. I would look at the data on what other people did in the same time frame, and if I sold three times that amount, I had a good case for an increase. So I positioned it, not as a matter of what I wanted to make, but what I'm worth." —Tom Gimbel, careers expert, founder and CEO, LaSalle Network
---
Before I was a self-employed writer, I was a marketing director at a nonprofit organization. It was my first real job out of college, and I got it by emailing the founder of the organization and asked if I could help him in any way.
Over the next few years, he would ask me to do all kinds of random things, and to each request, I would say yes. Even if it didn't fit my job description. Every year, my boss would give me a promotion and a raise. I worked there for almost seven years, and he did this every single year. This was more of a mindset than a strategy, but I think it's an important one for many people, particularly those early on in their careers, to adopt. As an employer myself these days, this is the kind of attitude I am looking for. —Jeff Goins, blogger, speaker, author of Real Artists Don't Starve (Thomas Nelson Books, June 2017)
---
Jason LaVeris—FilmMagic/Getty Images
Hire someone to negotiate for you. That's how the entertainment industry works. You have a manager or agent who's willing to look like the bad guy and go to war for you and ask for more money. In exchange, you give them a cool slice of your paycheck, but you get to relax and look like a cool artist who doesn't care about money. So it actually works out perfectly. —Jimmy O. Yang, comedian and star of HBO's Silicon Valley