These 20 Apps Will Save You Money Right Away. Find the Best One for You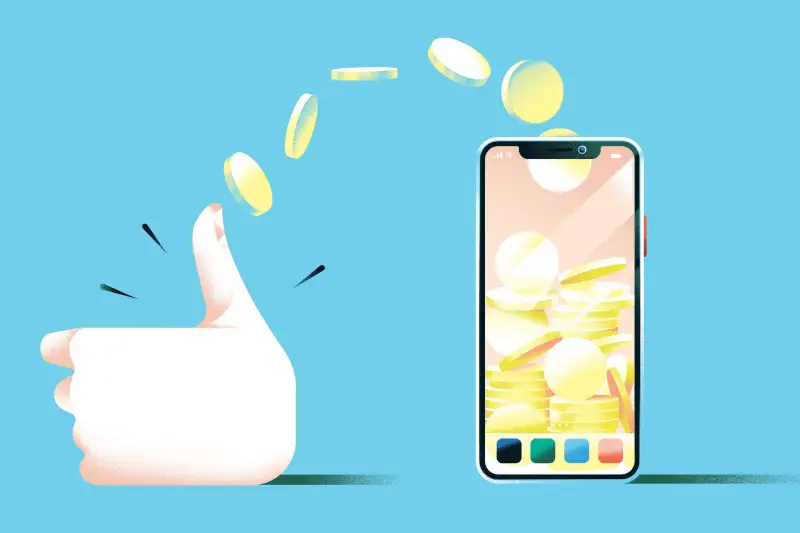 ILLUSTRATION BY MICHELE MARCONI
Learn to budget better with the aid of apps that teach you how to save your cash and how to invest it. Your smartphone will magically transform into a coach full of tips on saving more, managing your portfolio, grabbing free things, and getting money for playing games. Look at you — already on the way to funding your next vacation.
These Apps Will Help You Cut Your Spending
Learn to budget better with the aid of apps that teach you how to save your cash and how to invest it. Your smartphone will magically transform into a coach full of tips on saving more, managing your portfolio, and canceling unwanted subscriptions. Look at you—already on the way to funding your next vacation.
Joy
[iOS]
Joy is a new app that uses some of the same psychological tricks as dating apps—but in order to help out your wallet rather than your love life. Joy offers you a virtual money coach designed with insights from a team of clinical psychologists and neuroscientists, and tailored to your particular behavior. You rate purchases based on how happy or sad they make you feel, which forces you to confront whether spending $20 on eggs Benedict and mimosas at brunch was indeed worth it. The app then helps you find areas to cut back on and provides daily savings recommendations. That extra coin can also be dropped into a free FDIC-insured savings account.
Trim
[Website]
Perhaps you think it might be nice to have an assistant sort out your bills. For those of us not in the C-suite, Trim intelligently replicates the mundane but essential task of going through purchases to figure out what can be cut. It connects to your bank accounts, with encrypted security for peace of mind, and analyzes spending. Its most vital function is presenting regular payments that can be eliminated or significantly decreased. Trim also helps you identify and cancel subscriptions you no longer need or want, and it negotiates on your behalf to bring down the price of your cable bill—something that can be taxing and annoying over the phone but is one secret to saving a bit more every month. Trim doesn't have a mobile app—you sign up at go.asktrim.com, and it works through text messages to and from your phone.
Honeyfi
Financial conversations between partners can be difficult, to say the least. Honeyfi eases the pain, helping couples make smart money decisions by empowering them to reach goals together. It links to all bank accounts, joint or individual. You and your better half, working as a team, can react to transactions, comment on them, and sync up with Honeyfi's customized monthly budget and insights.
Twine
[iOS]
Similar to Honeyfi, Twine is geared toward couples. Partners create savings missions for themselves, whether it's making a down payment on a home or finally booking that dream vacation. Each user is able to contribute and track how close he or she is to the finish line. And Twine's bright, cheery design makes the process that much sweeter. Whatever you save can be converted to cash or dropped into an investment portfolio. It's also supercheap: It costs just 25¢ per every $500 invested through the service.
Libby
If you're a bookworm with a shrinking wallet, check out Libby, an app that lets you access library books and audiobooks from your phone. All you have to do is sign in using your (likely free) local library card and borrow ebooks through the digital collection. Libby will follow your reading progress, store your books on a digital shelf, and keep track of due dates. It can even send the books to your Kindle. Judgmental stares from stern librarian sold separately.
These Apps Will Help You Shop Smarter
What if the next time you were picking up bread and milk at the grocery store, you were also earning cash back? These apps make rebates simple by digitizing the process—no coupon clipping necessary. Put your scissors away and start collecting points, discounts, and gift cards galore when you buy certain items online or at the brick-and-mortar shop around the corner. Check, please.
Swagbucks
Swagbucks is a great way to earn free gift cards by doing a bit of work online. Fill out surveys, watch videos, use specific websites, and shop at certain retailers to rack up Swagbucks points. Then redeem points for gift cards at places like Amazon and Target or take the cash—and we're not talking pennies. Swagbucks brags that it has given away more than $285 million since its 2008 debut.
Checkout 51
This rebate app offers a way for you to save while still completing your weekly shopping. Just make sure to follow all the steps, and you can earn some extra cash. Simply make an account, browse new offers every Thursday morning, and head to the store. Then upload a photo of your receipt, claim your offers, and watch your balance grow. Once you hit $20, Checkout 51 will send you a check.
Paribus
Usually when you buy something, you never have a clue once the product has dropped in price at the same retailer. Paribus aims to solve that problem with little effort. Download the app and connect it to your email, and it automatically searches for any receipts eligible for a refund based on a decreased price. It claims to have earned more than $24 million in savings for users and tracks more than 25 major retailers, including Walmart, Nordstrom, and Target. While Amazon no longer offers price-drop refunds, Paribus will scan for late deliveries from the company to get money back. It's easy cash and a smart safety net for your wallet.
Orbitz
This app is a multipurpose travel tool that you can use to receive updates on flight delays, check out hotel reviews, reserve theme park tickets, browse money-saving packages, or rent a car for your next vacation. Users also get exclusive deals and—as an added bonus—a convenient way to earn more Orbucks, which can be redeemed for free hotel stays. Safe travels!
These Apps Will Give You Sweet Freebies
You could fill a closet with the goodies you can get from these apps, which offer everything from free ice cream to free mascara to free sneakers. (Yes, really.) In some cases, you'll need to be quick to claim the rewards, which come from brands like Marc Jacobs and Supreme. But in others you score points simply by visiting your favorite fast-food restaurants at your leisure—and cash out for freebies. This is one time you shouldn't put your phone away at dinner.
AMC Theatres
Tuesdays are your time if you're on the hunt for perks. If you live near an AMC theater, sign up for the free AMC Stubs program online to access $5 Ticket Tuesdays. Then download the AMC Theatres app, where you can access Stubs points that add up to rewards like free large popcorn refills.
Chick-fil-A
Chick-fil-A advertises that its app will help you skip the lines at restaurants and make pickup easier, but the true value lies in its Chick-fil-A One program. Each mobile order helps you earn complimentary rewards, which can include everything from Chick-n-Minis to Icedream Cones. The more money you spend, the more points you earn, and the more free treats you eat.
McDonald's
The fast-food chain offers discounts that only app users can access. One recent week, for example, the app gave away an order of medium fries with the purchase of Buttermilk Crispy Tenders. The Golden Arches are coming through with some golden deals.
7-Eleven
Put your Slurpee addiction to good use with 7Rewards, 7-Eleven's loyalty program. Use the app to rack up points—earned at a rate of 10 for every $1 spent—and redeem them for snacks like taquitos and doughnuts. And be sure to fill up your digital punch card, which enables you to get every seventh cup for free, whether you're chugging a hot coffee, Big Gulp, or ice-cold Slurpee.
Influenster
Do you love social media? Love your followers? Love free stuff? If you answered yes to all three, download Influenster, which calls itself "North America's No. 1 product discovery and review platform." Link all your accounts and participate in the community, and Influenster may put you on its list to receive free boxes stocked with items from brands like Burt's Bees and Marc Jacobs to try out.
Claim It!
[iOS]
This app lets users buy, sell, and give away items like any online marketplace, but it has also earned a reputation over the past few years for giving away stuff and hosting raffles for Nike sneakers and Buffalo Wild Wings gift cards. Keep an eye out, too, for users who are giving away things to their followers—your next pair of shoes could come courtesy of some generous millennial.
Suprize
[iOS]
On its website, Suprize describes itself as "an app where you win sick s--t all day, every day." Download it and keep tabs on the countdown—once it reaches 30 seconds, the app will give you instructions for a mini-game. Be the first to complete it when the timer reaches zero, and you'll win whatever prize is up for grabs. It can be anything from clothes to beauty products to concert tickets. If you lose, though, don't worry—drops happen constantly.
These Apps Will Help You Save While You Play
News flash: Saving money can and should be fun. Start with these apps. Whether you're using a service that reinforces good behavior with money from your checking account, comparing your savings with Warren Buffett's, or playing an in-app game that enables you to earn cash rewards, you end up a winner. Work hard, and both your brain and your bank account just might thank you.
Tip Yourself
Instead of getting a dopamine rush from a shopping spree, Tip Yourself enables you to pat yourself on the back by stashing away coins. The free app acts as a savings account in which you set up a goal—say, hitting the treadmill that week—and every time you achieve it, you move money over from your checking account. By linking positive actions to more positive actions, Tip Yourself gets users to alter their daily habits without turning it into a grind.
WinWin Saving
[iOS]
There are ample opportunities to distract yourself with games on your phone: on the train, while grabbing coffee, during a commercial break. WinWin Saving adds bonuses to beef up your savings. The app lets you play daily games with cash rewards. The catch is that you set up automatic savings in your linked bank account, and the more you save, the bigger the prizes. If you saved $5, you can play to win $5, but if you put away $100 on your own, you can match it with arcade-style entertainment. WinWin Saving allows you to take out the money anytime. It's free for the first two months, but after that, the app charges $2 a month.
Qapital
Qapital, like Tip Yourself, sets up actions that, when completed, trigger savings—but it's slightly more robust. Create a goal for yourself like completing a big project at work, or punish yourself when you've overspent on new shoes. The app will either reinforce or discourage your behavior by transferring money to savings. You can also set up regular rules for saving, like rounding up to the nearest dollar on transactions and putting away the difference. Think of it as a life coach for your cash.
iBillionaire
A billion dollars may be cooler than a million, but making your way there generally involves a lot of arduous work. You can at least get some superstar motivation from iBillionaire, which tracks in real time the financial moves of moguls like Warren Buffett and enables users to replicate them in their own lives with various suggested investment strategies. The app, which charges $1 a month, will open an investment account and automatically drop your savings into it.