Why 2014 Was a Turbulent Year for Travelers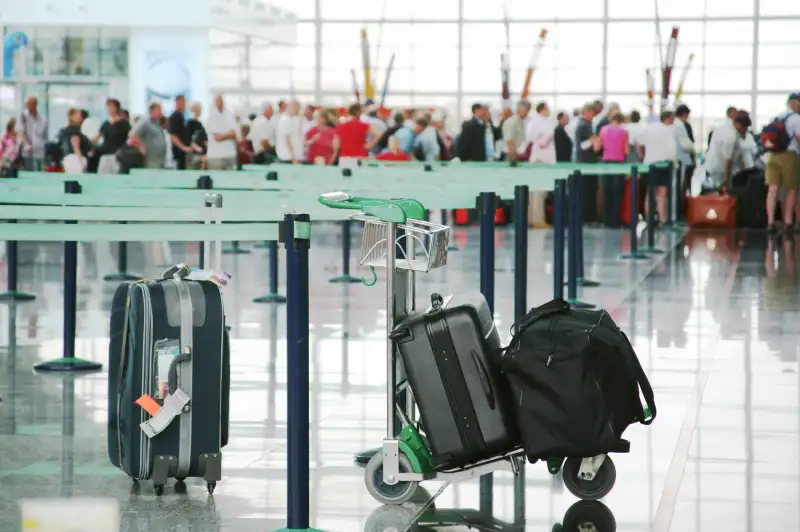 The year 2014 comes to a close soon after a monumental decision by the U.S. government to loosen restrictions for Americans hoping to visit Cuba in the future. The year also ended on a positive note for travelers eager to see one highly annoying hotel fee finally disappear (see below), and with some hope that airfares could at long last decrease in the months ahead. All of these bits of news are extremely welcome in light of how, overall, life became more expensive and less comfortable for travelers over the past year.
Airfare Soared
The average cost of a flight within the U.S. has risen year after year, far outpacing inflation and reaching $500 (perhaps a little more) in 2015. While that would be frustrating enough on its own, pricier airfare has been a trend during the same period when higher fees on all manner of formerly included amenities have become the norm, and, more recently, when fuel costs has plummeted.
Unsurprisingly, 2014 was a great year for airline stocks, and industry profits are expected to surge even higher in 2015. In its 2015 forecast, IATA, the International Air Transport Association, predicted global net profits will hit $25 billion next year, up from $20 billion in 2014. But there is some hope that at long last flight prices could decrease in the near future. As the IATA report summed up:
Recently, Japan Airlines became the first carrier to do the right thing and cut its fuel surcharges to reflect the decreasing cost of oil. Travelers should hope that other carriers are pressured into following in that airline's footsteps.
Budget Airlines Broke Hearts
Travelers know not to expect much in the way of free amenities and services from today's true low-fare carriers, including Frontier Airlines, Allegient Air, and Spirit Airlines. The latter has led the charge toward a business model in which up-front prices are low but cover only the extreme bare minimum, and even basics like bottled water, a carry-on bag, and a seat assignment cost extra. It's not just the small carriers heading down this path. Recently, Delta Airlines expanded "Basic Economy," a category of airline ticket that's arguably worse than any low-fare carrier product in that seat reservations and itinerary changes are not allowed, even for an extra fee.
Yet it's impossible to break customers' hearts if they were never really in love with you in the first place. That's why the changes introduced by JetBlue and Southwest Airlines—regularly rated highest in customer satisfaction of late—hurt the most. Southwest, now the nation's largest domestic carrier, has consciously been spreading the message that it's not simply a low-cost upstart anymore. Over the past year, the vaunted "Southwest Effect," in which an airport's fares drop across the board when Southwest Airlines enters the market, no longer holds up because the carrier's prices just don't stand out as cheap like they used to. Likewise, many customers felt betrayed by JetBlue—once the industry darling known for eminently reasonable fares and great amenities—when the airline announced it was cramming more seats on planes and adding fees for checked baggage.
Fees Multiplied—But One is Disappearing
As hinted at above, airline travelers encountered more (and pricier) fees in 2014. A la carte fees above and beyond the base cost of flights were projected at $28.5 billion in 2014, up from $23.7 billion a year ago. Another study showed that travelers saw a 17% increase in airline fees in 2014.
It's not just the airlines making fee structures more troublesome for travelers. Several major hotel companies, including Marriott and Hilton, are tweaking their cancellation policies: Guests who need to cancel will be charged one night's stay if they fail to cancel a reservation by midnight the day before expected check-in. In the past, many hotels allowed guests to cancel as late as 6 p.m. on the day of arrival without incurring a penalty.
Meanwhile, another hated hotel policy--charging for wi-fi—is increasingly on its way out. Hyatt, Marriott, and Starwood all recently announced guests would have access to free on-site wi-fi (the latter two only for members of its free loyalty club), while the boutique Provenance Hotels chain will also eliminate wi-fi fees in 2015.
To which virtually all travelers say: It's about darn time. Free wi-fi became more or less standard at U.S. airports a couple of years ago, and there are so many other places to get fast free wi-fi that it seems nonsensical and annoying for hotels to gouge guests.
Unofficial Fees Rose Too
In September, Marriott stirred up controversy when it launched a seemingly generous campaign encouraging guests to tip hotel housekeepers. Why the controversy? Some felt that Marriott should simply pay housekeepers more rather than passing on the responsibility to hotel guests.
Tenser Travel Overall
Remember the Knee Defender incident and all the discussion that the passive-aggressive flight survival product inspired? Obviously, the episode struck a chord among a nation of cramped, tense, beleaguered travelers, who feel forced to vigilantly protect every last inch of "private" space they've paid for on flights—sometimes even including the precious carry-on luggage space they're paying for in one way or another.
A recent survey asked travelers to rank the worst kinds of airline passengers, and seat kickers and inattentive parents grabbed the top two spots. And while rude and insensitive travelers surely factor into the tense atmosphere on flights today, the cramped quarters, tough restrictions, and abundant fees pushed by the airlines should get much of the blame for widespread stress and agitation in the air.