2016 Camaro Gives You Plenty of Muscle for Your Money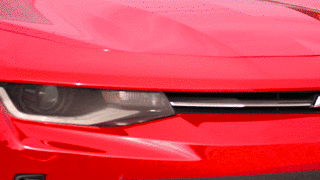 Camaro's value proposition is relatively straightforward: How much muscle would you like in your muscle car, and how much are you willing to pay for it? It's been that way forever. But the 2016 redesign, like its breakthrough 2010 predecessor, is emblematic of a Chevy division that has been able to create a complete package of styling and performance to go with the oomph. The 2016 Camaro is a little lower, a little sleeker and has a lot to admire.
Like all car companies today, GM mixes and matches platforms and engines to optimize parts and manufacturability. This invariably means some models get what amounts to leftovers. That's not the case with Camaro. It gets to share parts from some of its higher-priced sibs. For instance, it uses the same platform as the luxury Cadillac ATS and CTS, which adds stability and lowers vibrations. It also gives the Camaro unexpectedly comfortable handling. You don't have to hang on tight around a curve. The steering wheel is borrowed from the Corvette; the SS model grabs a V-8 from the Corvette, too, adding to its racing cred. This is a little like getting unused hand-me-downs from your wealthy relatives.
The engine on our test model also shows up in some Caddys, but in the confines of the Camaro—and tied to an impressively slick 6-speed manual—you've got a V-6 outputting 335 horsepower, able to get you from zero to 60 miles per hour in just over 5 seconds. Yes, that's not Corvette speed, but the SS V-8 version will do that for you in 4 ticks flat.
Of course, you pay for that power surge. In Camaro's version of regular, premium, and super premium, the standard 4-cylinder version, starting under $30,000, lets you drive a Camaro with ample power and good gas mileage, helped along by the fact that the 2016 model is a couple of hundred pounds lighter than the prior year's. Our test model, an RS version with the V-6 ($1,500 additional), tuned exhaust ($900), and a few other extras, came in at $35,000. The V-8 version starts at about $37,000.
Inside, the Camaro has some definite Batmobile characteristics. Forget about glancing back to check your blind spot, you won't see anything—there's too much pillar and metal in the way. This car is screaming for blind-spot warning mirrors. Then again, you are also feeling fighter-pilot cocky in the cockpit, and the manual gearbox, dark interior and sloping infotainment panel doesn't dispel that idea either. You also get a tunable ride in three modes: tour, sport, and snow/ice.
It's this combination of a little Caddy cushy and mean 'Vette sprinkled over what's already an attractive automobile that still makes me smile when I spot a Camaro on the road. It's matured nicely, which can't be said of a lot of us.