Do Olympic Athletes Win in the Real World, Too?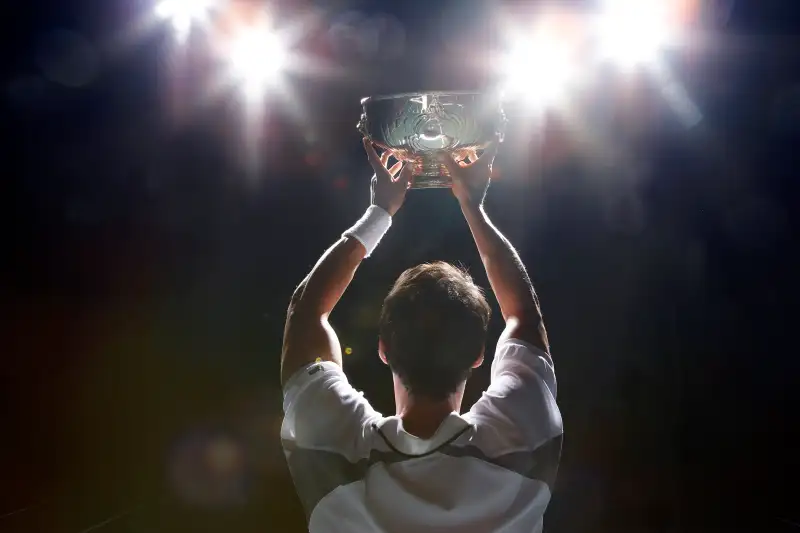 Whit Preston—Getty Images
As the 2016 Summer Olympics wind down, it's hard not to wonder what's next for many of the athletes. Numerous medalists have spoken openly of retirement. Less successful competitors will have little choice but to move on to other pursuits. And win or lose, it's the rare Olympian—even among those competing in commercially viable sports—who can hope to make a living playing their game over the long-term.
Are these extraordinary competitors likely to fare as well in the modern economy as they did on the athletic field?
You'd certainly think so if you buy into the notion of "grit"—the idea that success in life has more to do with qualities like perseverance, stick-to-it-iveness, and self-control than with innate ones like talent and intelligence. Indeed, those ubiquitous behind-the-scenes vignettes sprinkled throughout the television coverage of the Olympics relentlessly sell the idea that winning athletes gain their edge by training a little longer, working a little harder, and dedicating themselves to greatness a little more single-mindedly.
If that's the case, is stands to reason that many of the same qualities that enable athletes to win races, games, and meets would help them succeed at the proverbial rat race as well. But is the mythology borne out by the facts?
The question has been studied—and the answer is a tentative yes.
To start with, multiple reports have found that people who played sports in their youth are more likely than those who did not to exhibit leadership, confidence, collaboration, and dedication later in life—all valuable traits in today's economy.
Read Next: Want Your Kid to Be an Olympian? Here Are the Sports You Should Choose
For example, a study called "Sports at Work," published in the Journal of Leadership & Organizational Studies in 2015, analyzed longitudinal data on men who had served in the military and been out of high school for at least 55 years. It concluded, among other things, that those who participated in high school sports demonstrate significantly higher levels of self-confidence, self-respect, leadership, and prosocial behavior, when compared to non-athletes. The high school athletes were also more likely to volunteer time, donate to charitable organizations, and have jobs in upper management.
And a Peterson Institute policy brief commissioned by Ernst & Young and ESPNw for a 2015 report found that "the annual wages of former athletes are on average about 7% higher than those of non-athletes."
Says Kevin Kniffin, a Cornell University researcher and the lead author of "Sports at Work," wrote in an email: "For parents, the research supports the investments of time and energy in their kids participating in youth sports."
That may be especially true for girls. Women who were athletes in high school tend to earn more money than non-athletes, according to a report by Betsey Stevenson, a former chief economist at the U.S. Department of Labor and a professor of public policy at the University of Michigan, that compared outcomes before and after the introduction of Title IX, the federal law that bans gender discrimination in federally funded education programs and activities.
One notable facet of Stevenson's research is that it proved not just a correlation between athletic success and life success, but a degree of causation. It's possible that playing sports actually helps develop valuable life skills, after all, but it also may be the case that those same skills (self-confidence, leadership, etc.) simply happen to boost performance in both spheres. But the sudden introduction in the 1970s of Title IX—which banned gender discrimination in federally-funded educational institutions and dramatically increased the participation of women in school sports—enabled Stevenson to establish the former. To some extent, playing sports actually does tend to lead to greater life success.
Read Next: Want Your Kid to Be an Olympian? Here Are the Sports You Should Choose
The reason for the wage boost among women? Stevenson found that participation in sports increased the chance that a women would enter traditionally male-dominated, high-skilled occupations that typically have higher wages. "The fact that athletic participation (and only athletic participation among all extra-curricular activities) is associated with higher wages suggests that sports have an especially strong correlation with a type of ability that is both an important determinant of wages and is not measured by other observable variables," Stevenson writes.
Other researchers have tried to tease out further explanations. The E&Y/ESPNw report quotes Katty Kay, co-author of The Confidence Code, pointing to the benefits of the emotional resilience built up through athletics: "Playing competitive sports embodies the experience not just of winning, but the experience of losing. The losing is almost as critical. When you're playing sports and you do badly, you have no choice but to pick yourself up and carry on. That process really builds confidence. It's an incredibly useful proving ground for business and leadership."
Vin McCaffrey, a former college baseball player and the founder of Game Plan, a company that helps athletes find employment off the field, agrees. "[Female athletes] are very used to working in a male-dominated environment. They're not bashful, they know how to step up, they are self-assertive," he says. "Athletes have really transferable skills: Ability to work with a team, ability to manage their time, ability to deliver on commitments."
What has not yet been closely studied, according to Cornell's Kniffen, is whether elite athletes—say, those who play in college or compete internationally—tend to perform better in the work world than whose sports careers peak in high school or Little League.
Ironically, in fact, there's reason to think that some elite athletes face a disadvantages in the professional world. It's very hard for would-be Olympians to simultaneously train with the necessary degree of single-mindedness and hold down a full-time job, let alone lay the groundwork for a career in a competitive field. Instead, many opt for a part-time job or cobble together multiple jobs to make ends meet and still compete.
As a result, their career prospects after the Games aren't necessarily bountiful. "When Olympic athletes decide they're done, and they're in their late 20s or early 30s, they're ready to hop into the working world. But their work experience is often little to none," Craig Leon of the University of Oregon's Warsaw Sports Marketing Center, told WIRED.
That said, most young athletes will hang up their cleats long before their sports careers start to interfere with their professional aspirations. When they do, they and their parents can take comfort that the time spent on the playing field (and driving carpools) wasn't wasted. "The next time a parent feels stressed shuttling to or from a child's practice," says Kniffin, they should keep in mind that "research reaffirms the value of that activity for the child's long-term benefit."