3 Ways to Make Money Playing Fortnite, the Free Online Game That's Gone Viral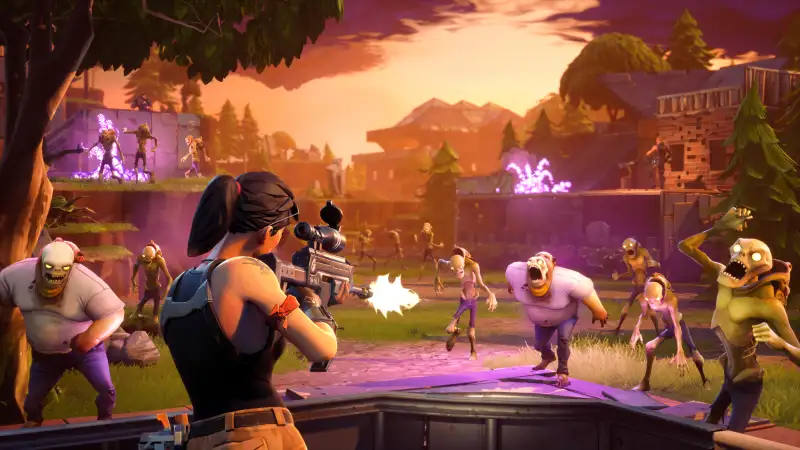 Unless you've been living under a WiFi-less rock, you've probably at least heard of Fortnite, the hugely popular battle royale game that's captured the attention and free time of more than 40 million players. But you might not not know that spending time in that virtual world can earn you very real cash.
Perhaps the best example of this so far is Tyler "Ninja" Blevins, the 26-year-old streamer who live-broadcasts himself playing Fortnite. Thousands of people pay to watch Ninja on the video platform Twitch, where he recently became the most-followed user ever, and he's gone viral as a result. As of last week, Ninja was pulling in an estimated $560,000 a month from streaming alone.
You might not immediately get a Ninja-sized paycheck, but you, too, can profit off the free game. Here's how.
Get Established on Twitch
Twitch offers users two ways to track what their favorite content creators are doing: following, which is free, and subscribing, which isn't. A basic subscription is $4.99 a month — of that, streamers generally receive half.
The bigger your fanbase, the more you earn.
Cody "BigFoltz" Foltz, who has been a full-time streamer for the past five years, tells Money that he brings in six figures from Twitch. He has more than 522,000 followers there, as well as nearly 360,000 on YouTube.
"It's definitely changed my life," he says. "I used to live with my parents. Now I have a nice house, I drive a BMW."
Try Out a Tournament
As Fortnite becomes more popular, so do 1-v-1 and 2-v-2 Fortnite tournaments. There's no official in-game tournament mode, but third-party websites host matchups that reward winners with prize money.
"The current Fortnite competitive community is enormous, mainly because the game is so popular," says Jonathan Kinloch, the managing director of The Esports Hub, a platform that hosts up to 20 tournaments a day. "We will see several thousand Fortnite participants compete with The Esports Hub on a weekly basis from across the globe."
It works like this: Players usually purchase credits on each website they can then use to pay entry fees (a typical tournament costs about five credits, or $3). The site then generates a bracket against other interested players, and everyone uses their tags to link up in Fortnite. Whoever gets the most kills wins the round and advances.
Victors can claim their prize money through Paypal. $100 and $200 tournament wins can quickly add up — Foltz said he has friends who have won $10,000 in a week playing Fortnite.
There are also leagues and ladders, which usually take weeks to complete and boast bigger prizes as a result. But Kinloch said that people who want to get into the Fortnite competitive scene should start small, trying out free-to-play tournaments and studying YouTubers' techniques.
"One piece of personal advice: the difference between a good Fortnite player and a great Fortnite player is how well you can build," he adds.
Sell Your Expertise
If you get good at the game, you may be able to make money off of the less-talented.
In the United Kingdom, pro players are using the site Bidvine to offer their services as so-called Fortnite buddies. Name your price, and amateurs hoping to train alongside you will (probably) pay for access.
"We know how popular Fortnite has become since its release, and we're hoping that our service will help out those of us who never quite finish first," Bidvine co-founder Russ Morgan told Metro. "With Fortnite there is a definite need for tactical guidance, whether you choose to fight or hide, you've got to have a plan."
In the U.S., there's a market strictly for Fortnite wins. A search of eBay turns up several players advertising victories for cash. Customers give you their log-in information so you can boost their statistics organically. User trialcarry_op, for example, promises to net clients one win for $10, three wins for $25 or five wins for $40.
Keep an Eye on The Future
There are big opportunities ahead for financially-inclined Fortnite fans.
Epic Games announced last week that it planned to release details on its first season of competitive play soon. At least two esports organizations have already begun assembling their rosters, according to DotEsports. People who make the teams — and eventually appear at gaming competitions IRL — will likely win large sums of prize money and get shots at major sponsorships, given that the esports industry as a whole was worth $1.5 billion in 2017.
Epic Games itself doesn't seem to mind if its players profit from the game. "We love to see the Epic Games community succeed in their respective crafts, be it game development, competition or playing our games," a spokesman tells Money. "We discourage misuse of our IP and only ask that people follow our fan policies and [end-user license agreement]."
The company also just released a mobile version, which players like Foltz are taking as yet another sign the game's appeal is only going to keep growing.
"Everybody is on Fortnite," he says. "It's such a different game. It's new, fresh and exciting."