4 Under-the-Radar Countries Where You Can Retire for Cheap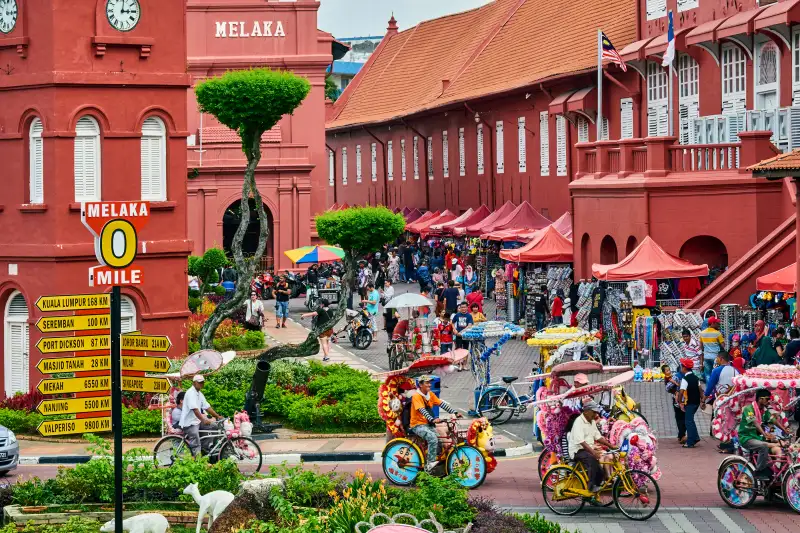 Tuul & Bruno Morandi—Getty Images
Travel tops the bucket list for many retirees. But what if your wanderlust is of the more permanent variety?
According to the Social Security Administration, some 400,000 retired workers collect their benefits abroad, with the average monthly amount among all beneficiaries landing at $1,369. But that figure can stretch a lot farther in many places outside the U.S.
So where are the next big destinations?
Money asked International Living, an Ireland-based publishing company that writes for Canadians and Americans on retiring overseas, to name four ultra-cheap, under-the-radar retirement destinations. Cost isn't their only attraction, of course. They're rich in culture and surrounded by gorgeous scenery, and some offer amenities that can't be bought in the U.S. at any price.
But just because you're retiring in a vacation spot, whether that's Fort Lauderdale or Lisbon, doesn't mean you're on a permanent vacation. You'll still have to make—and stick to—a budget (one that includes airfare home for as many trips as you plan to make). You'll still have to obtain medical care. And living abroad comes with more red tape, in terms of obtaining a visa and other requirements. Residency requirements vary greatly by country. If you're not up for leaving the country every three months to renew your visa, then maybe Vietnam isn't for you. And while Malaysia is extremely affordable by U.S. standards, you'll have a better chance of scoring a permanent residence visa if you're rich.
Here, International Living's experts give some advice for those considering retiring overseas. The U.S. State Dept. offers its own tips, including the helpful reminder that living abroad doesn't exempt you from your U.S. tax obligations. And here are International Living's picks, from least to most expensive (in relative terms, of course).
Vietnam
Robert Harding World Imagery—Getty Images
While Vietnam has long attracted budget backpackers and young techies, the Southeast Asian nation is also gaining ground among retirees. The south has warm, tropical weather year-round, while the north experiences four seasons and even occasional snow. While many foreigners have settled in Ho Chi Minh City (formerly Saigon) in the south and the capital Hanoi, in the north, smaller cities such as Da Nang in the center are also becoming popular. The country is well known for its friendly people, its healthy, inexpensive cuisine and its low cost of living: a couple can live a comfortable, middle-class lifestyle on less than $2,000 anywhere in the country, and even on less than $1,000 in smaller cities.
Vietnam does not have a retiree visa. US. Citizens are offered a one-year, multiple entry visa but are required to leave the country once every 90 days. The country offers permanent resident visas in very limited cases, such as to relatives of current permanent residents. While expats have traditionally travelled to nearby Thailand or Singapore for medical care, they now have options in the new, internationally accredited hospitals in Hanoi and Ho Chi Minh City.
Peru
Nigel Pavitt—Getty Images/AWL Images
Peru may be best known for tourist destinations like Machu Picchu, but the South American country also has plenty to offer retirees. For starters, there's the low cost of living: a retired couple can live well in Peru on $1,500 a month, especially outside major city centers, according to International Living. Then there's the varied topography, from white sand beaches to frozen Andean peaks, Amazon rainforests and more. Arequipa, Peru's second-largest city, is popular for its moderate temperatures, 300 days of sunshine a year, and walkable lifestyle. Beach lovers flock to the colonial city of Trujillo in the northwest, while history buffs love Cusco, the capital of the old Incan Empire, in the south.
To qualify for Peru's retirement visa, you need to prove a permanent monthly income of $1,000, or $1,500 for couples. The visa is indefinite and doesn't require annual renewal, but you're not allowed to earn any money professionally while on it. Medical care is generally good in Lima, the capital city, and adequate in other major Peruvian cities, according to the U.S. State Department's web site. While violence against foreigners is infrequent, violent robberies have been on the rise, the site says.
Portugal
Juliet White—Getty Images
Old-world European charm abounds in Portugal, where a couple can live comfortably from about $2,200 a month in Lisbon and just $1,7000 a month in the country's smaller cities. While it faces the Atlantic, the country has a Mediterranean heart, with a friendly, laid-back lifestyle and a delicious, seafood-based cuisine. Cascais, once dubbed the "Portuguese Riviera," offers a year-round moderate climate and some of the country's most sought-after golf resorts.
Retirees typically hold Type I visas, whose requirements include proof of private health insurance valid in Europe, as well proof of sufficient funds to support daily life and a criminal background check. After five years' residence in Portugal, you can apply for a permanent residence visa. Good medical care is available in urban areas, the State Department notes.
Malaysia
Joshua Wells Photography—Getty Images/iStockphoto
Many locals speak English in this this former British colony, whose diverse influences include Malay, Chinese and Indian cultures. Popular areas for retirees include the island of Penang, with its charming capital city of George Town; Kuala Lumpur, the national capital with a big-city feel, and the ancient trading post of Malacca, a UNESCO World Heritage site that's also home to 5-star golf resorts. In Penang, a couple can live very well on $2,500, according to International Living; if you don't need a beach view, you can live on less than $2,000 a month.
Malaysia offers a 10-year renewable visa, known as Malaysia My Second Home, to applicants who meet certain income and asset criteria: If you are age 50 and above, then you must show liquid assets of about $83,500 and a monthly income of $2,386 or better. Permanent residence is available to qualifying high net worth individuals, certain professionals and spouses of Malaysian citizens. Malaysia has long been a destination for medical tourism in Asia, with many Western-trained doctors offering care at much lower cost than in the West. A word of warning, though: U.S. citizens are advised to use caution when traveling to the eastern Sabah region of the country, because of the threat of kidnappings-for-ransom and other violence, according to the State Department.