My Teenage Dream Was to Live on a Boat. Now I'm Doing Just That — and Will Make Money in Retirement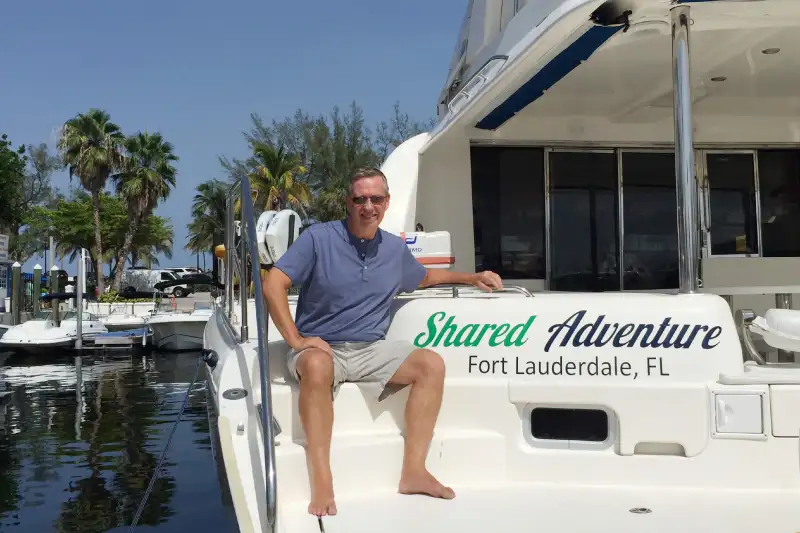 Gary Baker was sorting through memorabilia in the basement of his Ann Arbor, Mich., home about two years ago when he stumbled upon a bucket-list he wrote when he was a young teen. Now 64, Baker didn't recall making the list a half-century earlier, and he and couldn't believe what he wrote first: "Living on a boat."
At that time, the IT executive was waiting to close on the 47-foot-long catamaran that would become his permanent home in Ft. Lauderdale, Fl. He rents the yacht, named Shared Adventure, to day and overnight-trippers on weekends and vacations, with the goal of expanding his side-gig into a full-time adventure travel company when he retires from his day job within the next few years.
"I just can't imagine having nothing to do," Baker says. "This will get me out of bed in the morning."
Retirement experts often counsel folks to look back to their childhood interests for hints of what they might like to pursue as their second or third act. A lifelong sailor, Baker had followed their advice subsciously.
"I always had friends who had boats," Baker says. "Now I am that friend with a boat."
Here's how he made it happen:
Plan Meticulously
Baker had laid some of the groundwork for his second act well before he bought his boat. He grew up sailing as a boy on the Great Lakes, so he knew how to navigate on the water. He later got his pilot's license in his 30s, which required him to study weather patterns and safety measures that also come in handy on the water.
But he still didn't know the business of charter boating, so he took a strategic approach to gaining those skills.
"I moved to where I could find people to teach me the business," Baker says of his relocation to Ft. Lauderdale.
Fortunately, his company was looking to expand its presence in Florida around the same time, so Baker was able to relocate and continue working there.
Baker also studied for and passed the exam to get his captain's license, which allows him to take up to six paying passengers up to 100 miles offshore.
Set Your Price
Baker's yacht cost $315,000. He took out a $250,000 loan, and to cover the rest he sold some appreciated stock. He didn't touch his retirement accounts, in part because he didn't want to trigger the tax consequences of paying ordinary income taxes any money that he withdrew.
Tax law allows business owners to write off the cost of their assets over time, as they wear down. Baker plans to upgrade to a bigger, $639,000 boat this summer and depreciate his purchase over a period of five years, which will help offset the income he makes and reduce his tax burden.
His excursions range from $400 for two hours to $1,200 for six hours. He will expand his offerings to include week-long trips once he moves into the business full-time.
Baker plans to take some customers on maiden voyages to new places, to scope out the route and possible attractions. People have asked him if he'll charge less for those trips, which will be a trial run.
Baker plans to do just the opposite. "I'm charging a premium for those trips," he says. "It's a shared adventure."
Bake in Benefits
Baker can't wait to fill his schedule with excursions such as family weeks, scuba diving trips, and history or culinary tours. "I want to have so much business that I need more weeks of vacation time," he says.
Needless to say, he won't have any time to sit around watching cable television like the stereotypical retiree. Technically, he won't be retired at all.
Instead, he'll be reaping physical, intellectual and social rewards, all while pursuing his passion. Navigating the boat requires both both intellectual and physical feats — the map-reading skills of piloting the yacht and the strength and agility to move about it. "It's going to keep me very physically fit," he says.
Baker's 26-year-old daughter pointed out a third benefit of his second act. Being in the hospitality business, he'll enjoy plenty of socialization, "so you won't become a grumpy old man," his daughter told him.
Isolation can be very damaging to older adults. Studies have indicated that loneliness could be as harmful to your health as smoking.
But there's no danger of Baker succumbing to that. He's already got plenty of company on his boat — one luminary he entertained is Rob Gronkowski, the retired tight end for the New England Patriots, who showed up last year to tape a segment for ESPN on swimming with sharks.
He's also hosted groups of strangers who became buddies onboard. "If you're not a friend when you get on the boat," Baker says, "you will be when you leave."