The Biggest Money Mistakes of 7 Famous Billionaires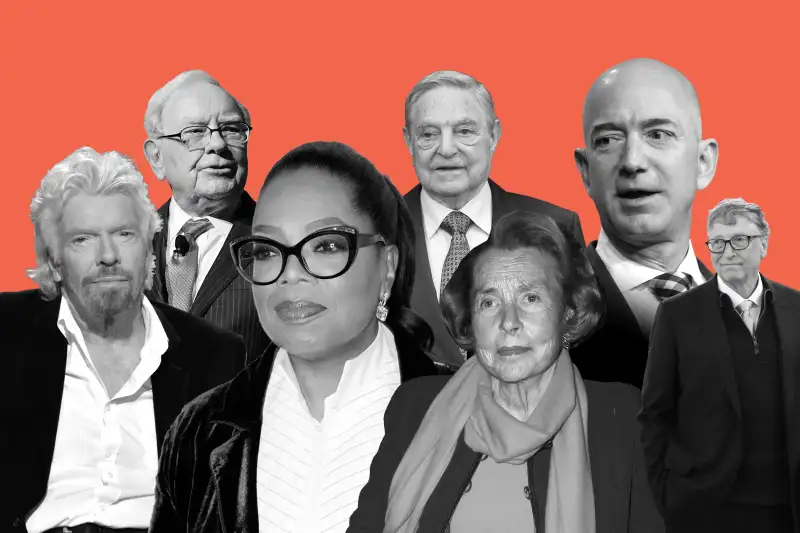 You might think that the richest people in the world have figured out exactly what works in business and their own financial life. But you'd be very wrong. Billionaires make money mistakes all the time, and even admit to doing so. Some even claim their errors actually help them learn the right ways to get ahead. From Jeff Bezos losing out on billions for Amazon to Oprah's botched TV rollout, here are 7 famous billionaires' worst money moves that you might not even realize they made.
Bill Gates' Apple assist
In 1997, when Apple was at a low point and failure looked not only possible but likely, Bill Gates' Microsoft made a $150 million investment in its rival and committed to providing software for its computers. While Gates' move was strategic at the time, helping to ease the government's worries that Microsoft was anticompetitive, many have seen it as the tech icon's ultimate blunder in retrospect. Steve Jobs not only brought Apple back from the brink but ended up dominating Microsoft in a number of realms, especially mobile phones, making Apple the most valued company in the world in 2017. One wonders what would have happened to Apple—and how valuable Microsoft and therefore Gates would be—if not for Gates' lending hand back in the day.
Jeff Bezos' leak of "billions"
It's been a banner year for Amazon head Jeff Bezos, who became the richest person in the world, surpassing Bill Gates, and even hit a net worth of $100 billion. But he admitted in 2014 that his penchant for experimentation has led to Amazon losing a lot. "I've made billions of dollars of failures at Amazon.com. Literally," Bezos told the Business Insider Ignition conference in New York City. He said that having to review them would be like "a root canal with no anesthesia." While gambles like Amazon's Kindle and Echo have paid off, one regret is surely the Fire Phone that didn't sell and forced the company to write off $170 million on losses.
Oprah's ambitious blunder
After decades as the queen of daytime TV, Oprah Winfrey could have quietly ridden off into the sunset when The Oprah Winfrey Show finished. But instead she set her sights even higher, launching her own network in 2011. But OWN struggled mightily in its early days, with a string of flops, and Oprah admitted of the project, "Had I known that it was this difficult, I might have done something else." She said she unveiled the network before it was ready, and that a book about the rollout could be called "101 Mistakes." The gambit led to losses around $330 million and in that period she nearly suffered a nervous breakdown. But in typical Oprah fashion, she rebounded and the network is now enjoying a string of scripted hits.
Warren Buffett's "$200 billion" misfire
Warren Buffett is admired for his investment savvy with his holding company Berkshire Hathaway, earning him the nickname "Oracle of Omaha." But earlier in his career, he made a rash decision that he says cost him dearly—and it goes back to the beginning of the very holding company that's made him an unbelievable fortune. In the 1960s, Buffett would buy shares of Berkshire Hathaway, a textile company, and sell them back to the company to make a small profit. After Berkshire Hathaway's CEO cut him out of 1/8 of a point on a proposed deal, however, Buffett sought to get even, so he bought a controlling interest in the company and canned the CEO. But Buffett tied himself to an ailing textile business in the process, and now says he should have instead invested elsewhere, calling the move a "$200 billion" mistake.
Richard Branson's "greatest failure"
Richard Branson, the founder of the massive Virgin Group, was unusually candid in a blog post for his company about his mistakes, saying, "Experiencing setbacks is part of the DNA of every successful entrepreneur, and I am no exception." While he may have learned valuable lessons from his failures, he cops to launching brands such as Virgin Brides and Virgin Cola that fell "flat on their face." At its peak, Virgin Cola, a Coca-Cola competitor, reached just 0.5% of market share, and the brand eventually died a quiet death. Which is lucky for Branson, since he's clearly known for his successes instead.
Liliane Bettencourt's alleged scheming gigolo
The heiress to the L'Oréal cosmetics fortune, who died earlier this year, was known as the richest woman in the world. But a scam with her at the center gripped the French public at the end of her life, though it didn't get quite so much press in the United States. Her daughter's lawsuit in 2007 alleged that a society photographer 25 years younger than her swindled her out of $1.4 billion. The complaint charged that he manipulated Bettencourt, who was no longer mentally competent, to get cash and fine art, among other assets, and divide her family. It also portrayed him as a gigolo. In 2015, he was convicted of abuse and money laundering and was ordered to pay $173 million in damages. With a net worth of about $40 billion when she passed, however, it seems Bettencourt's family will still make out just fine.
George Soros' $500 million bad bet
George Soros is an investment guru with few equals, his Soros Fund Management firm having made him billions. But only a couple years ago, Soros made a costly misstep when he put $500 million into the Quantum Partners fund managed by Bill Gross at Janus Capital. While Soros at first seemed rosy about Gross, a legend in his field, the fund was posting losses and fell well behind competitors. Less than a year after putting half a billion dollars in, Soros yanked it back, a vote of no confidence that dealt a huge blow to Janus' stock. It's a good thing Soros wised up quickly, as Janus continued to underperform in general and investors pulled more than a billion dollars from the firm.