In-N-Out's 36-Year-Old Billionaire Owner Says She Will 'Not Ever Sell' the Business and Has Even Turned Down Offers From Princes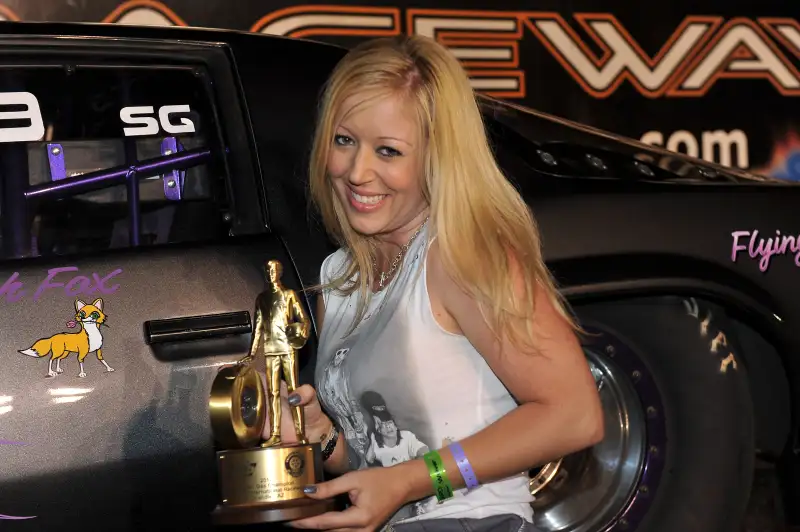 Bob Johnson—Bloomberg/Getty Images
Lynsi Snyder is not exactly most people's idea of a corporate fast-food head honcho.
The 36-year-old owner and president of the beloved West Coast burger chain In-N-Out wears "black lace-up combat boots and stacks of silver bracelets on both arms," as a new Forbes profile puts it. She's a competitive drag racing enthusiast (a hobby her late father shared). Sporting tattoos and having never graduated college, she presents an image of someone who would have to be literally dragged to a boardroom meeting.
A Young, Old-School 'Guardian'
"To be honest, I don't come here a whole lot," Snyder told Forbes while standing in the In-N-Out test kitchen outside Los Angeles. The magazine ranked her as the youngest female billionaire on its Forbes 400 list of the richest Americans. Her net worth is estimated at $3 billion, and she also sits high in other rankings of the country's wealthiest people.
Snyder has received chunks of her majority stake in the company over time from her family, taking full control in 2017. Her grandparents founded In-N-Out in 1948, and the business has remained notoriously private, refusing to go public, sell, or franchise despite steady expansion and cult status. (You may have glimpsed celebrities eagerly snacking on Double-Doubles on Oscars night.)
And despite her meager hours in the test kitchen and unorthodox lifestyle, the burger heiress falls squarely in line with family tradition. Though she has ventured beyond In-N-Out's familiar territory, adding locations in Texas and Oregon in recent years, she's not ready to take the concept from coast to coast. At least in this lifetime.
"It's not about the money for us," Snyder told Forbes, referring to the wider company culture. "Unless God sends a lightning bolt down and changes my heart miraculously, I would not ever sell."
Launched in the Baldwin Park area of Los Angeles County near the highway, In-N-Out stores have stuck almost single-mindedly to one corner of the U.S. That is in large part because of the fact that corporate rules dictate no use of freezers or microwaves. Only three central facilities grind all the meat used in products, delivering daily to 333 restaurants.
That policy could be seen as a weakness, sure, to someone looking to earn the greatest return on their investment in such a venture (even the relatively young and critically adored Shake Shack has migrated from its East Coast roots into Southern California). But to Snyder and her family predecessors, the focus has been viewed as a strength. She sees herself as a "guardian" looking after what her elder ones would want.
"I like that we're sought after when someone's coming into town. I like that we're unique," Snyder told Forbes. "That we're not on every corner. You put us in every state and it takes away some of its luster."
Even the In-N-Out menu has largely stayed the same. While there have been incremental adjustments (Forbes mentions that fries are now cooked in healthier sunflower oil), the range of options at restaurants comes down to classics including burgers (single or double-stacked patties), fries, sodas, shakes, and just-added hot chocolate. The so-called secret menu has become as famous as the listed one, with loyalists ordering "Animal Style" burgers and fries coated in a gloss of secret sauce and grilled onion. For those counting calories and carbohydrates, burgers can also be served "Protein Style" in a lettuce wrap instead of the bun. Novelties on the level of McDonald's McRib, however, are far from mind.
"It's not [about] adding new products. Or thinking of the next bacon-wrapped this or that. We're making the same burger, the same fry," Snyder adds. "We're really picky and strategic. We're not going to compromise."
The model has been a runaway success in its own way. While In-N-Out might not be a global phenomenon, it should reach more than $1 billion in revenue this year, meaning it would have doubled in eight years, according to Forbes. And the average In-N-Out is bringing in more cash than the average Golden Arches.
Snyder hasn't had the easiest route to her current position. Her father took over In-N-Out for a time before dying in 1999 as a result of prescription drug abuse. He had already suffered a heart attack and several overdoses and was once arrested on allegations of public intoxication and illegally carrying a loaded firearm, which he had along with a switchblade knife and marijuana, according to Forbes. Snyder herself has talked about navigating through a period of using alcohol and marijuana. She's also been married four times. She says Christianity has helped anchor her, and Bible verse numbers have made appearances on In-N-Out packaging.
'We've Had Some Pretty Crazy Offers'
Now Snyder spends time fending off potential In-N-Out buyers. Despite the longtime company line that things are staying in the family, she receives notice of potential buyouts every month. "We've had some pretty crazy offers," Snyder told Forbes. "There's been, like, princes and different people throwing some big numbers at us where I'm like, 'Really?'" While Wall Street would be intensely excited about an initial public offering, that doesn't seem likely to happen soon.
That's fine by the In-N-Out staff, which has shot the company up to a No. 4 ranking on the job site Glassdoor's 2018 list of the best companies to work for based on employee reviews. The average In-N-Out manager makes $163,000, according to Forbes—higher than a dentist with extensive training—and gets profit-sharing. The pay even for low-level associates is better than many competitors, and insurance options are relatively robust.
For Snyder, the sole heir to an iconic brand, the calculus suddenly makes sense: Change at your own peril.