Meet In-N-Out's Billionaire Owner, a Millennial Drag Racing Enthusiast Who Has Been Married 4 Times and Escaped Kidnapping Twice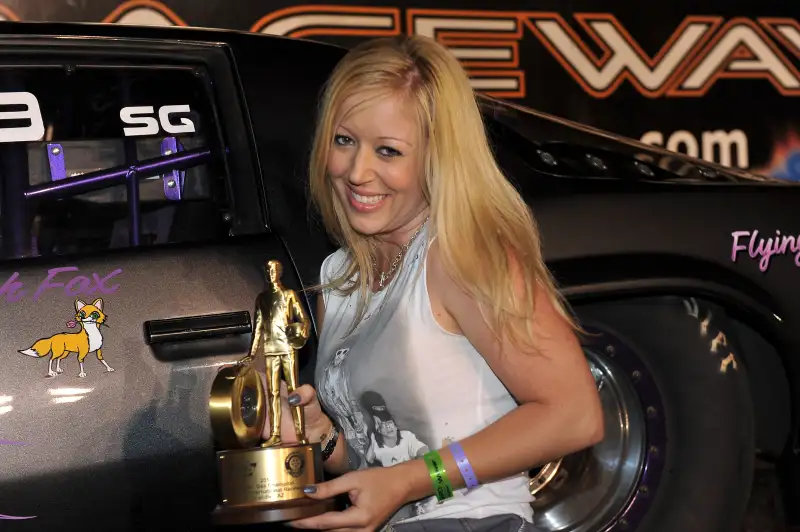 Bob Johnson—Bloomberg via Getty Images
In-N-Out Burger was founded in 1948, but new blood has recently taken over. The California-based fast-food chain is run by current owner and president Lynsi Snyder, the 35-year-old granddaughter of the couple who started it.
The In-N-Out heiress received full control of the company upon her 35th birthday in 2017, and according to Forbes' most recent ranking, has become one of the youngest billionaires in the country as a result with an estimated net worth of $1.21 billion. Like the rest of the Snyder family, she's press-shy and lives in California out of the spotlight — but over the years, sporadic interviews have popped up, where she's expressed what she believes makes her business so special. Here's what you need to know about the elusive head of arguably America's most beloved burger joint.
She's the sole heir to the In-N-Out fortune
On her 35th birthday, Snyder inherited the entirety of In-N-Out. As the sole heir to the West Coast quick-service chain, she gradually received stakes in it over a decade, the result of a trust set up by her grandparents. She accumulated the remaining portion on her latest birthday, instantly making her a millennial billionaire.
Her dad died of an overdose
Snyder's inheritance of In-N-Out came under tragic circumstances. Following her grandfather's death, her uncle helmed the company from 1976 to 1993 — he died in a plane crash. Her father then took charge until he died of a prescription-drug overdose in 1999. She was just 17 at the time. (By that point, her father had divorced from her mother.) In 2006, following the death of her grandmother, Snyder accepted control of In-N-Out. She's discussed her own battles with addiction.
She's exceptionally private
Many top names in the business world relish fame. That's never been true of the Snyder family. Lynsi explained in one rare CBS interview, "We back away from it because we don't want to be in the spotlight, we don't want a bunch of attention. And we want to do what we do best, and that's serve some good burgers to our customers," she said.
She's been married four times and lives in a lavish mansion
While shunning the public eye, Snyder has still created intrigue around her personal life. That's not just because of four marriages, but also because of an insanely enormous house in California's San Gabriel Valley that she listed in 2017. The 19,000-square-foot mansion reportedly has 10 bedrooms, 18 bathrooms, a batting cage, and a bowling alley. Modest it is not.
She's a born-again Christian
Snyder credits her faith with saving her life. After the death of her father, she attempted to "fill the void" with substances and tumultuous relationships with men, she said. Christianity helped heal her.
"I really value the love and good times I had with my dad but even that can't compare completely to the love that God has for me," she said. "God got me back up after all of these failures, and he can lift me up and see me go forward and I know that he can be glorified." She even has two tattoos dedicated to Jesus Christ.
Snyder, a mother of four, now runs the Army of Love foundation, which aims to help others with the teachings of Christ, alongside her current husband Sean Ellingson. "The Army of Love began with a vision given by the Holy Spirit to Lynsi," the group's website claims.
She loves drag-racing
Snyder may be worth at least a billion, but she's still in search of a dangerous rush. She's involved in drag-racing and once pursued a boxing career. "I'm a lot like my dad, a little bit of a daredevil," she said. "I like an adrenaline rush. My dad took me to the racetrack for the first time when I was two or three... Anything with a motor, that was in my blood." She even appeared on Jay Leno's Garage in 2015 to showcase her dad's 1941 Willys Coupe and "talk cars and burgers."
She was almost kidnapped. Twice.
Snyder has another reason for keeping to herself. She said she was nearly abducted at 17 and then again when she was 24. The second time, she was luckily clued in by kidnappers who were driving in a "van with boarded-up windows." It has left her more reticent, but she seems to have moved on. "It all helped mold me into who I am now," she said.
She keeps In-N-Out employees happy
In-N-Out has always won over an audience in its native west coast region, but it's also become arguably the best fast-food restaurant to work for. The company hit No. 4 on the job site Glassdoor's 2018 ranking of the best companies according to employees. It pays better than other fast-food chains and store managers can reportedly make six figures.
Fostering that kind of positive work environment comes down to simple rules for Snyder. "Listening to our associates is a serious priority for me," she said. "My hope is that anyone who spends time as an In-N-Out associate finds the experience valuable—an opportunity to learn and grow, and to have fun." She's a big believer in organizing activities for the In-N-Out "family."
She's serious about In-N-Out's vision and expanding
Snyder took the top job of In-N-Out president in 2010. During her time in the position, she's expanded the number of restaurants by about one-third. The chain has gone from being in four states to six. That's still a limited profile for such a well-known brand, but a marker of how she's been able to push it forward.
In-N-Out will never be the next McDonald's or even Chipotle under her watch
Despite the success of In-N-Out for many years, and the feverish following for its burgers and "Animal Style" everything, Snyder has no hopes of following in the path of previous restaurant expansions across the country. In-N-Out has just over 300 US locations, compared to several thousands for its major competitors. It has maintained a process of staying close to production facilities and never freezing or microwaving its food, limiting its potential reach.
Snyder said in an interview that she could "never" see a day when In-N-Out, still a private family business, went public or started franchising outposts. "The only reason you would do that is for the money and I, I wouldn't do it," she said. "My heart is totally connected to this company because of my family and the fact that they're not here, you know. I have a strong tie to keep this the way they would want it."
Those waiting for In-N-Out to sell out may have to wait a bit longer.