Meet the Billionaire Sheikh Who Built the World's Largest Truck and Once Carved His Name Into His Own Private Island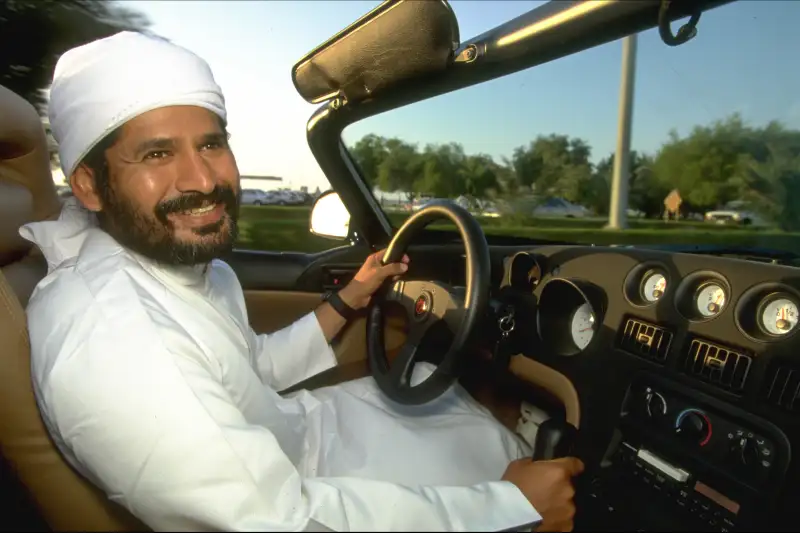 Maher Attar—Sygma via Getty Images
Hamad bin Hamdan Al Nahyan is known as the Rainbow Sheikh, but not because he's a public supporter of LGBTQ rights. The member of one of the United Arab Emirates' ruling families, the Al Nahyan clan based in Abu Dhabi, has a vast car collection that reportedly includes seven Mercedes S-Classes in different colors, and the full spectrum of light makes its way to other vehicles in his fleet.
Though he's a billionaire with major influence in the UAE's capital, Hamad is at least as well-known for his eccentric spending habits, automotive and otherwise. Not unlike a Middle Eastern Jay Leno, Hamad has spent spent recent years amassing more and more rare and esoteric vehicles. According to Business Insider, which got a look at the goods, he has several vintage Mini Coopers, what appears to be a replica of an 1885 Benz Patent Motorwagen—widely considered the first ever car—and the only SUV Lamborghini has made.
He tends to like his cars a little bigger, however. He built the largest truck in existence, a version of the Dodge Power Wagon 64 times larger than the original with an entire apartment inside, which the BBC covered. Business Insider spotted Hamad's Mercedes W128, actually the shell of that car, sitting on wheels fit for a monster truck. (He has a special fondness for Mercedes, and the brand's fans seem to be just as taken with him online.) That unlikely hybrid was discovered outside the Emirates National Auto Museum in Abu Dhabi, home to the vehicles of none other than the Rainbow Sheikh himself.
The UAE's Wheels magazine recently featured Hamad with three off-roading vehicles, customized in his own workshop, that he brought to the Gulf News Fun Drive event, in which participants show off their hulking rides in the middle of the desert. The sheikh also has a penchant for sharing his enthusiasms on his Instagram account, which is almost entirely devoted to transportation. It features everything from a massive white Ford truck in sand dunes and a 1959 Pontiac Bonneville to a sleek boat.
While Hamad stays relatively under the radar apart from his hobbies, according to The Daily Mail, his personal fortune nearly rivals the Saudi king's, and he's a medical philanthropist. But he's an icon nonetheless in his native region. With a net worth estimated at $20 billion and a castle for his home, he's not hurting. Hamad's money pile comes from his family's control over Abu Dhabi's oil deposits, which comprise 95% of the UAE's oil.
His oddball projects also extend beyond road and track. He made news across the world in 2011 when he reportedly had workmen carve his name into his own private island in the UAE called Al Futaisi, forming waterways in the sand. The Atlantic confirmed that the name's enormous letters were actually visible from space. (The display has since been scrubbed.) Apparently Hamad shares Texans' belief in making everything bigger.