The World's Youngest Male Billionaire Is a 25-Year Old Model With a Massive Fishing Fortune and a Dog That Rides Jet Skis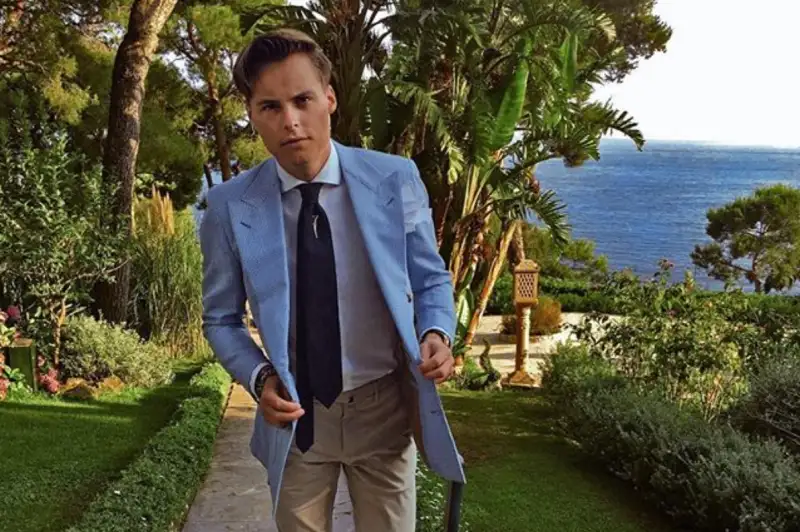 Gustav Magnar Witzøe is the third-youngest billionaire on earth, according to Forbes' 2018 ranking. But that's only part of what makes the Norwegian fish scion so fascinating.
Witzøe's estimated $3 billion net worth is a direct result of his family's salmon empire. He owns nearly half of SalMar ASA, one of the largest producers of the pink-hued fish. His stake in the Norway-based company was gifted to him in 2013 by his father, Gustav Witzøe, who founded SalMar in 1991. The company has been on the forefront of the industrialization of fish farming in Norway, now one of the country's biggest industries. In 2016, SalMar harvested close to 130,000 tons of salmon, Forbes reports.
As a result, the younger Witzøe now holds the largest fortune in Norway, at least based on capital inside the country, according to Business Insider.
The elder Witzøe, meanwhile, is still listed as one of the top executives at SalMar, serving as its director of strategic projects. Holding a degree in engineering, he co-founded another company that helped innovate styrofoam packaging for the fish farming industry before moving on to SalMar.
His millennial son has not shied away from the spotlight. Gustav Magnar is a model signed to Norway's Team Models, and he boasts over 64,000 followers on Instagram. His Instagram shows him sunning on the ocean, showing off his extensive tattoos, golfing, and hanging out in exotic locales—in addition to his professional modeling shots. He also has a cute dog that makes regular appearances.
Witzøe is from the island of Frøya outside Trondheim, and while his wealth may come from salmon, he's evidently interested in other business pursuits. Last year he invested in regionally based startups Gobi, a Snapchat competitor, and Key Butler, which aims to help Airbnb hosts with key delivery and maintenance for rentals.
And he's not necessarily angling for a top job at SalMar. "You can't just demand to be the boss of such a big organization," he told the newspaper Dagbladet. "You have be suited to it. If there are alternatives, the best man or woman must get the job. There is so much at stake: values, jobs, crucial factors."
Witzøe added that he's a "regular boy" in the newspaper interview. He also confessed that his parents have regrets about handing over control of SalMar to him when he was only 19. "They believe they should have taken more time to think it over," he said. "That's due probably to my being shoved out into the public limelight. It was very strange at first. It makes you a bit nervous about what people think." But he has come to terms with being a public figure.
While he's venturing into investing and modeling, he's still bested among the youngest rich people in the world. He's beaten in the Forbes ranking of fresh-faced billionaires by fellow Norwegians the Andresen sisters, Katharina (aged 23) and Alexandra (22), who each inherited a chunk of their family-owned investment company Ferd.