8 Start-Up CEOs on How They Unwind and Beat Stress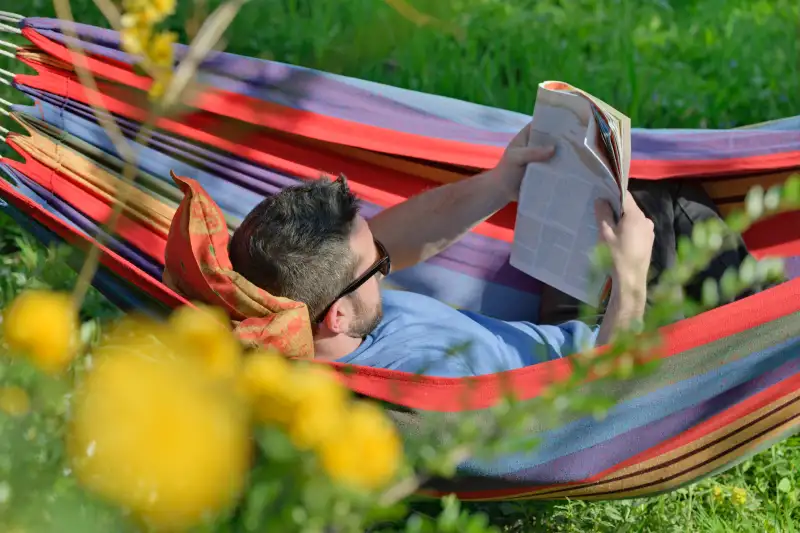 For many of us, work and life are increasingly intertwined. Our emails flash across our wrists and new mail notifications ping all night long. For startup founders, work and life is even more blurred. Their apartment may also serve as world headquarters for their company, and their best friends might double as business partners. But many of these founders, have realized that the real trick to long term growth and productivity is also having a life.
Money reached out to startup founders across the country and asked for their road-tested strategies on balancing work and life solutions. Here are some tricks to try:
1. Combine something tedious with something pleasant like walking meetings
"Every day, I'll try to schedule a few calls and I'll walk while I do those calls. It gets me out of the office and it clears my head and feels like I am doing something else even though I am still working." — Megan Smyth, CEO and co-founder, FitReserve
---
2. Escape into a world you know nothing about
courtesy of TripleMint Real Estate
"There is this one new series on Netflix, Abstract, and it is all about design. When you have had a relatively long day at work, and you intertwine some new learned perspective from a documentary, you all of a sudden see the problem that you have been thinking about all day from a new light. I watched one recently that was pretty interesting about one of the most famous designers for Nike shoes. It was interesting to see the way he works under deadlines and is at the intersection of art and creativity and business. That's something that definitely I can take away, and all entrepreneurs can take away, which is finding that balance where you can free yourself to be creative." David Walker, Triplemint Real Estate
---
3. Do something really time intensive like cooking gnocchi
"I will go back to those hobbies that I've always enjoyed doing that I no longer really have the time to do like cooking good food. I try to pick something that will take a minimum of an hour and a half to two hours. The beauty with making gnocchi is it's always best if you start from scratch first, you bake potatoes for 90 minutes, then you let them cool, grind them up into really fine pieces, add flour, and at the end of the day you form the gnocchi. It is something totally different and it takes your mind off of what you were thinking about. So when you get back in front of the laptop you have a few hours under your belt of totally clear thinking that will help you be more creative and accomplish the things that you know you need to be accomplishing. But if you don't have that time when you are putting your life ahead of the business then you are running in circles and not really accomplishing what you need to be doing." — David Comiskey, co-founder Barkly Pets.
---
4. Learn a completely new skill like repairing motorcycles
"I recently rented out a space to work on motorcycles. I'm actually a mechanical engineer by education but I've never actually built anything. I am currently working on a Triumph Bonneville, and I'm learning the mechanical systems and electrical system. There's a lot of research and planning. I'm trying to take it slow because I don't want to ruin it on my first try. It is very analogous to a company, and there are all these different systems and when they run it is beautiful, and I want to apply that same type of thinking to the bike." — Carly Strife, co-founder and COO, Bark/BarkBox
---
5. Power down your brain with meditation
"On daily basis, if I feel like I really need to reset I use the meditation app Headspace. My mind is racing twenty-five hours a day and Headspace is the time where you turn off all notifications go in a quiet room. It's trying to have a mind that is active but clear — and that has been the single most important thing over the last six months that has helped me stay sane and make sure that I reset and recharge. It's one thing to stay physically fit but sometimes we forget that mentally fit is equally, if not more so, important. Meditation is a very impactful thing. I'd heard that from a lot of people, but I didn't really believe it until I saw the fruits of it for myself." Kevin Lavelle, Founder Mizzen + Main
6. Combine thinking and intense endorphins with things like extreme hiking
"If I need alone time in the middle of the week I'll go hike one of the big mountains in my backyard in Boulder, Colorado like Mt. Sanitas. When you are on the top of the mountain, and you have the entire city of Boulder below you, you are able to see everything and take in that view. I get perspective and endorphins which are invaluable, and that helps you realize and focus on what is really important. I'm not getting distracted by my phone and I'm letting myself take all the information and having the time to think. Plus, I find that paired with exercise, it is much higher quality thinking. Hiking is also a much slower paced activity and is all about continuous movement. I take more time in my reflection when I am hiking which I don't do as much otherwise."- Michael Joseph, Founder Green Chef
---
7. Turn off your brain with relaxing activities
"Maintaining a work/life balance is an ongoing learning experience and challenge. When you start your own brand, you commit to making work your priority. However, a balance is critical to not burn out. My best piece of advice is to be self-aware and try to find an activity that forces you to unplug. For me this is yoga and cooking is also very relaxing for me – it forces me to be present, and sharing a meal with friends or family always leaves me fulfilled." Ariel Kaye, Founder, Parachute
---
8. Conquer a Fear
courtesy of Health Sherpa
"Indoor rock climbing was an activity I have never done before or really had interest in because I have a serious fear of heights, so it was something that my spouse and I decided to do as a leisure activity that helps build trust between us. It's great for so many reasons. You can't climb and check your phone. You have to be hyper focused. If there is anything I am thinking about when I am on that wall it is getting over my fear of heights — it is one of those activities where you have to be fully present, and your mind can't be anywhere else. " Cat Perez, CPO and co-founder HealthSherpa
---