A Dangerous Scam Is Lurking on Facebook. Here's How to Avoid It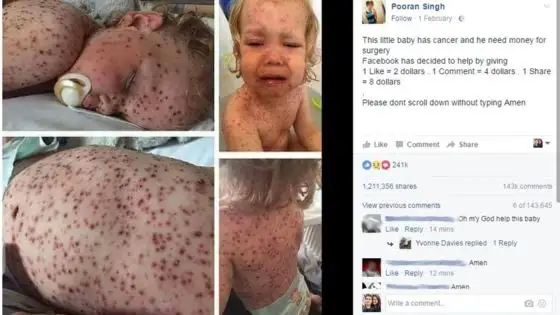 Does this sound familiar?
You sign into Facebook and see a heart-wrenching photo of a sick baby—or an injured child—in your newsfeed. The page, shared thousands of times on the social media platform, has a nebulous plea: "Every 'like' raises $1 for Emily's treatment;" "Share this image and Mark Zuckerberg will donate $5 to a children's hospital;" "Don't scroll down without typing Amen." You doubt the post's authenticity, but you engage anyway. It's probably fake, but what difference does it make?
Plenty, it turns out.
A scam called "like farming," which uses attention-grabbing photos like the one pictured above to generate a large number of likes, comments, and shares, is responsible. It's the chain letter of the 21st century, and it puts more than just your time at risk.
Here's how it works. Scammers pair fake, emotionally charged stories with stolen photos in an attempt to engage a massive number of users. Then, they collect information from users who interact with the post or page. In some cases, the perpetrators will spam users directly, or sell their name, age, and other contact information to other scammers. Sometimes, they'll scrub a page of its original content and replace it with something else, like products they're paid to promote. Or, they'll use the "new" page to spread malware or phishing scams—tactics that can result in stolen credit card numbers, according to the Better Business Bureau.
Facebook–Another example of like farming
"There are a lot of scams that use these kinds of emotional images—oftentimes it's done to make money," security blogger Graham Cluley told the BBC. "They may later post something that claims you've won a prize and try and get you to enter your mobile phone number and then sign you up for a premium rate service, or ask for other personal information."
A string of recent, high-profile scams have put this practice in the spotlight. On Wednesday, Facebook suspended a user behind several fraudulent posts—one of which falsely claimed the social media giant would donate money to a young boy with cancer if it got enough shares and likes. On Thursday, BuzzFeed reported a similar scam, which used images of sick and disabled people to attract thousands of reactions.
The fake cancer story, which was shared by more than 1 million users, allegedly lifted photos from a 2016 news story about a U.K. toddler suffering from a severe case of chicken pox. The boy's mother repeatedly messaged Facebook about the infraction, according to the BBC report. In an email response to questions on Thursday, a Facebook spokesperson says the posts have been taken down. "These posts are clearly distressing for the families and this content has now been removed," the spokesperson says. "We apologize for the delay in taking them down."
Here's the takeaway: be more discerning with your Facebook activity. Don't interact with a post unless you're sure it comes from a legitimate source. (If it claims Facebook, or any company, will donate money in exchange for likes or shares, it's probably not a legitimate source.) If you're unsure, copy and paste the post's keywords into the search engines at Snopes or HoaxSlayer—two websites with long histories of debunking social media scams.
As always, check your Facebook privacy settings. The less you've shared publicly, the less a potential scammer can find out about you. And if you come across a post you suspect is a scam, report it—if Facebook gets an influx of complaints, the company is more likely to take a fake page down.