Meet 'Fab Ab,' a Former Preschool Teacher Who Quit Her Job to Sell Clothes Online — and Now Makes Up to $3,000 a Month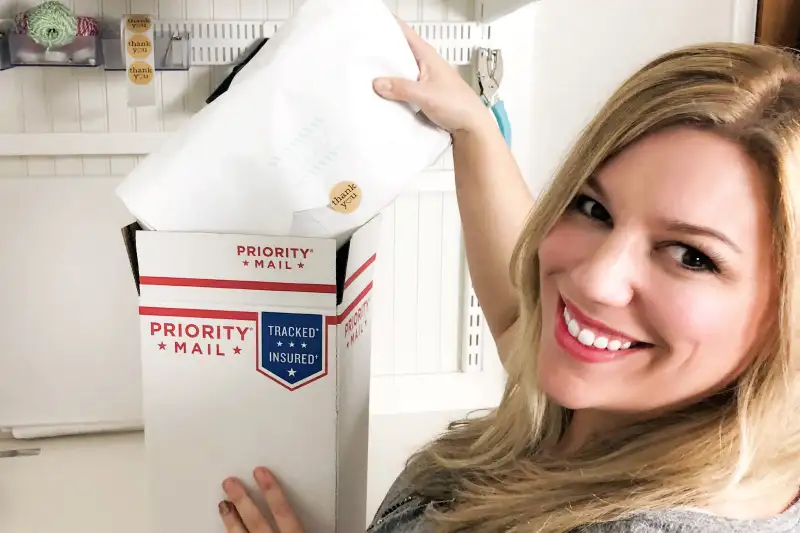 Courtesy of Abby Ferryman
You can tell Abby Ferryman Esch is a Poshmark pro just by looking around her house.
First, there's her office, where you'll often find her sitting at her desk, scrolling on a MacBook and sipping coffee from her "thrift, list, sell, ship, repeat" mug. In the backyard there's the shed, which she's made into a miniature warehouse complete with alphabetized bins. And when you leave, you'll notice the tower of priority mail boxes waiting to be shipped on the front porch.
Esch is a full-time seller on Poshmark, which calls itself "the largest social marketplace for fashion." She's one of 4 million community members who list, share and sell 14 million items every day on the website. Collectively, they make at least one sale every second, and it all adds up: Poshmark recently paid out its billionth dollar to seller stylists like Esch.
"It allows me to pay my bills, it allows me to spend time with my family, and it's actually given me a lot of confidence and independence," the 30-year-old tells Money. "That's invaluable."
Taking a Side Hustle Full-Time
Esch's Poshmark journey began back in 2013, when she was still a student at Saint Mary's College. She and her then-boyfriend moved into a new house in Pleasant Hill, California, and while unpacking she realized she had "at least 10 giant-size garbage bags full of clothes and accessories and purses and shoes."
"I thought to myself, there's gotta be something I could use to get rid of my stuff," she adds.
Poshmark was just starting then, as well. It launched in 2011; by 2012 it had over $12 million of funding from investors like Menlo Ventures and SoftTech VC. When Esch joined, the app had added smartphone compatibility and had just 350,000 sellers who were curating 1 million items a day.
She made an account, @FabAbsCloset, and offloaded her no-longer-needed clothes. Poshmark was just a way to make space in her closet — until after graduation. She now has 355,000 followers.
Esch was working as a preschool teacher, but it wasn't lucrative (the median salary for preschool teachers is $28,990, according to the Bureau for Labor Statistics). She also didn't feel like she could devote enough hours to her classroom. So when one of her parents fell ill, Esch reconsidered her career.
"I came to a crossroads where I thought, 'OK. Do I want to continue teaching full time and have a steady paycheck and be there for the kids, or can I try to make something work where I have a flexible schedule?'" she says. "I made the jump."
Treasure Hunting for Booties
Now, Esch has settled into a routine. Every weekday, she wakes up and shares her virtual closet, which is stocked with some 1,800 items. High-end brands are her specialty: Esch's "closet" includes items from Kate Spade, Calvin Klein, Anthropologie, J. Crew, Banana Republic, Sam Edelman, Free People and Michael Kors.
She sends off an average of two items a day. Esch puts a lot of effort into making her packages cute, adding a thank you note and a Fab Abs button before she sends it off to the buyer with hopes of getting a five-star rating. ("And I usually get one," she adds.)
Whenever Esch isn't Poshing, she's "sourcing," or looking for clothes to sell. She initially shook down her relatives for clothes to sell — specifically her mom and "very stylish" grandma — but she needed more stock. Esch goes to garage sales and thrift stores to build up her inventory. Once a month, she picks up clothes her neighbors want to get rid of and sorts through them herself. She compares it to a treasure hunt.
"People don't have a lot of time to run things down to the thrift store, to donate, to take to charity," she says. "It's therapeutic, flipping the things I find for profit."
Before she lists anything on Poshmark, Esch researches retail prices, snaps photos of the items with her iPhone 6S and writes interesting descriptions. She usually lists the price a little higher than she needs, so there's wiggle room if she needs to drop the cost later. Right now, she says, boots and booties "are selling like hotcakes."
Her average sale price is between $40 and $60. Esch's most expensive available item is a Jason Wu leather skirt on sale for $398 (retail price: $550). One of her cheapest pieces is a $13 pair of J. Crew jeans (retail price: $130).
Some quick back-of-the-envelope math: If Esch sells 15 items a week at $50 apiece, that's $36,000 a year. And we're now in Q4, which she says means it's about to get "crazy busy."
"I am making as much now as, if not more than, I was teaching preschool full time," Esch says.
Pursuing the Posh Path
Poshmark isn't the only digital marketplace where people make money selling clothes. Similar opportunities are available on eBay, which has 177 million buyers worldwide, and Etsy, which has a thriving vintage section. Another site, ThredUP, did a study that found the resale market is on track to pass $40 billion by 2022.
Esch says she especially loves the Poshmark community, where sellers share each other's items, comment on profiles and strategize about how to maximize profits.
She recently attended PoshFest, a two-day fashion conference in Dallas. The event included breakout sessions on "Making Posh Your New 9 to 5," "The Path to Posh Life Balance: Organizational Tips to Hack Productivity" and "Unleashing the Power of Your Closet Data." (Esch jokes that she had so much fun at PoshFest she got bronchitis.)
After PoshFest, she says she started to think seriously about what her goals are for 2019. Not only does she want to build her inventory and brand by looking for clothes that will give her a higher return on investment, but she's also considering going back to education — in a way. Esch is thinking about starting a YouTube channel where she could share tips and tricks that have helped her become so successful.
At this point, she's also a full-blown entrepreneur.
"When I was back in college, taking my child development courses and psychology classes, I never thought I would have the gumption to build my own independent business," she says. "Now I can say I have."