Watch an Angry Voter Confront Mitch McConnell Over People Losing Their Health Care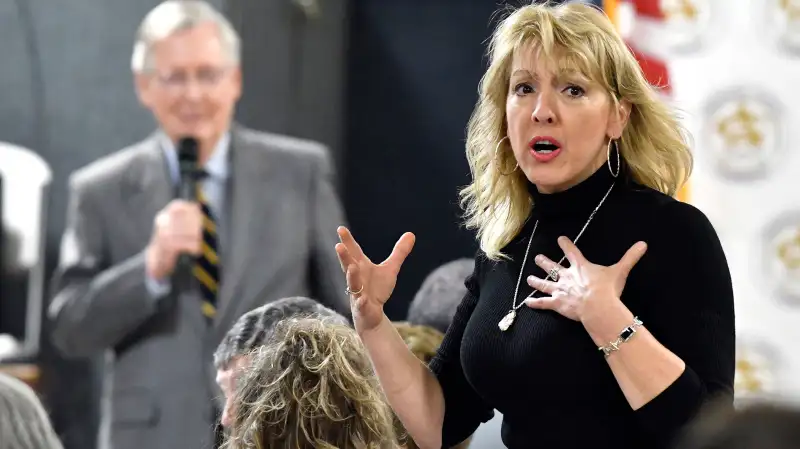 Supporters of the Affordable Care Act have been heading to town halls across the country to voice their concern over the health care law's possible repeal, and clips surfacing on social media from the events are less than complimentary for Republican legislators.
The latest to make the rounds features Senate Majority Leader Mitch McConnell on the receiving end of a blunt reprimand at an event in Kentucky yesterday.
"People don't have the insurance they need because they're poor, and they worked those coal mines, and they're sick," said constituent Rose Mudd Perkins. "The veterans are sick, the veterans are broken down, they're not getting what they need."
"If you can answer any of that, I'll sit down and shut up like Elizabeth Warren," Perkins finished, referencing McConnell's silencing of his fellow Senator earlier this month. McConnell's response isn't shown in the clip, though the Lexington Herald reports he told the woman "I hope you feel better." Her original question was about the loss of coal mining jobs in the state, which he did not answer.
It's not the first time supporters of the ACA have made their displeasure known to Republican lawmakers. Earlier this month, a video of a local teacher breaking down Obamacare at a town hall went viral.
Over in Iowa, Sen. Chuck Grassley was also met with skepticism. Chris Peterson, a farmer, told the lawmaker, "with all due respect, sir, you're the man that talked about the death panel. We're going to create one big death panel in this country if people can't afford insurance."
President Donald Trump dismissed the "angry crowds" as "planned out by liberal activists" in a tweet.