Airbus Has a New Nightmarish Airplane Seating Idea: Bench Seats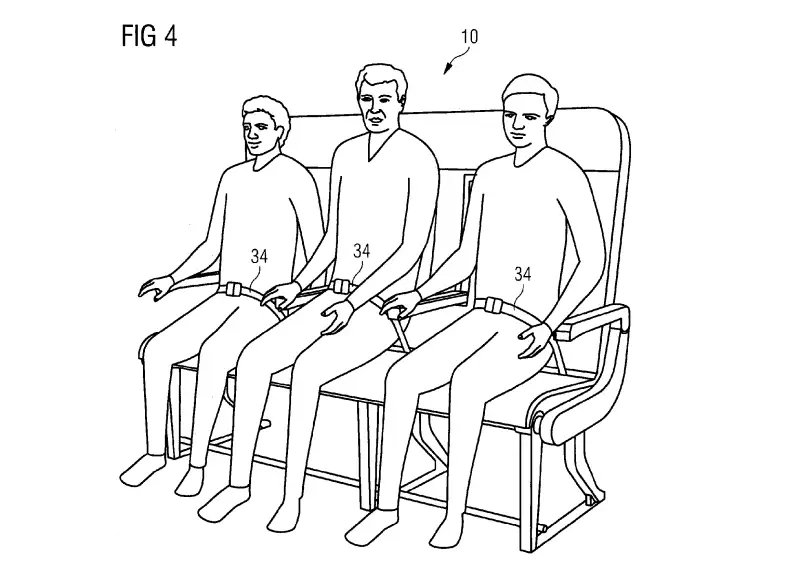 US Patent and Trademark Office
Airplane patents have considered some alarming ideas over the years -- like passenger stacking and a bizarre bicycle-seat-style system that looks like it would cause some unfortunate natural selection.
And now they've come up with a new space-saving idea. On Feb. 11, Airbus filed a new patent for a wide bench seat that can be configured in a number of ways -- at least one of which might some day serve as a new CIA interrogation technique.
For one configuration, the bench seat can be used for business class, with a single person lounging on its ample square-footage. In another, it accommodates larger people, or people with certain disabilities who need more room. In yet another it's for three passengers to be squeezed in to while sharing a single backrest. In another it's for a pair of young children to sit with their parents. Or one parent and a stranger—whatever the airline wants.
The flexibility of seats like this sounds like a good idea; there's nothing inherently inconvenient or bad about using an appropriate format for certain passengers. But there's a big catch: it's still a bench seat that does not individually recline. Yes, it's bad to fight for the armrest, but at least traditional seats have a divider that keeps you safe from further encroachment.
Who knows if this idea will ever come to pass, but in the airborne world of thin margins, airlines may be willing to try anything. And as well they should: If one thing's clear from carriers like Frontier and Spirit skimping on virtually every amenity, people will suffer through anything as long as they get to their destination in one piece for a few dollars less.