Booze-Infused Ice Cream (and We're Not Talking About Fake Rum Raisin) Is a Thing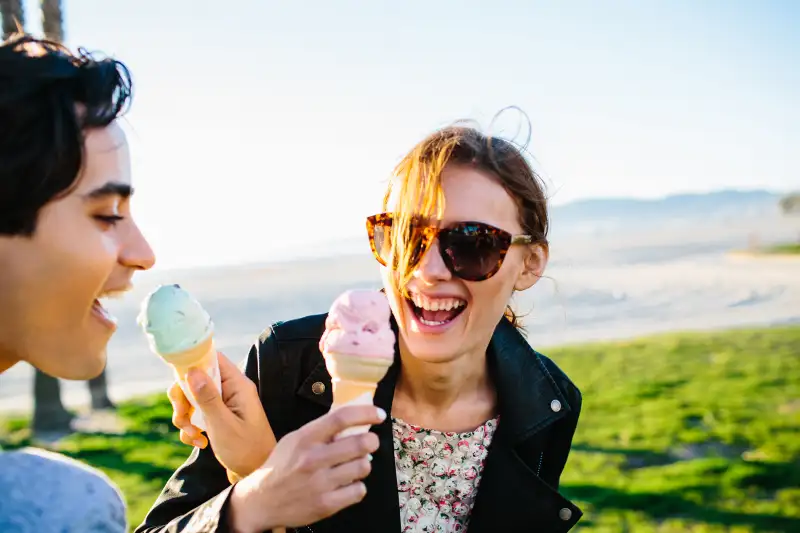 Tanveer Badal—Getty Images
Alongside the burgers, cookouts and fireworks this holiday weekend, there are two other constants: adult beverages and ice cream. And this year, you might see them combined.
Alcohol-infused frozen treats aren't exactly new. They first started appearing regionally about eight years ago - and national brands started spreading four years ago. But they're hitting their stride in 2016 - with a growing number of companies offering ice cream, sorbet and popsicles with a kick.
"It's not rum raisin from Häagen-Dazs," says Randall Freeman, co-founder of BuzzBar. "It's the real deal."
Hard statistics on alcohol-infused frozen desserts are hard to come by. In some states, the treats are considered a food product. In others they fall under the beer/wine/spirits category. (It comes down to the state's liquor laws and the amount of alcohol in each category.) And no trade organization keeps tabs on both.
But a quick look at liquor stores, some grocery stores and restaurants shows there are plenty of companies jumping onto the bandwagon.
One of the first creameries to mix the unlikely duo was New York's Mercer's Dairy. In 2004, then-Senator Hillary Clinton held a showcase of New York products in Washington, D.C. Mercer's found itself next to a New York winery - and the two began spitballing ideas. Four years later, Wine Ice Cream made its debut. Today, it's available in 27 states and exported to more than 20 countries - a number that the company expects to expand dramatically by the end of the year, thanks to the looming launch of individual cup-sized packages.
"I think the consumer is looking for innovation," says co-owner Ruthie Mignerey. "Look at the tech world. People want to constantly be stimulated with something new. They're willing to pay a bit of a premium for something unique. This is not only a novelty, it tastes good and they come back."
SnoBar, which is distributed in a half-dozen states, escalated things - opting for hard spirits, rather than wine, in its desserts. Its Cosmopolitan ice pop, for instance, has an ABV of 14.68%.
BuzzBar, which first shipped last year, quickly caught up. Focusing more on a customer base of high-end food service companies (just 10% of the sales are via retail stores), the company's ice cream and sorbet are now available in more than 20 states, say officials.
Because liquor laws vary so widely state to state, though, it has not been without its challenges.
"Finding out all the laws and how to do this the right way is the hardest thing I've ever done," says Freeman. "You're dealing with the government - and they don't give you a road map or a 'for dummies' book. Also, the federal government has its position and the states have their own positions."
Liquor laws aren't the only challenge. Alcohol doesn't freeze, so figuring out how to introduce that into frozen deserts - and, in many cases, keep the high butterfat content that makes ice cream so tasty, has proven to be a big logistical challenge for many purveyors of boozy frozen treats.
"If there's too much alcohol, it's a soupy mess," says Lynda Utterback, executive director of the National Ice Cream Retailers Association.
Interested in trying alcohol-infused treats either this weekend or, perhaps, on National Ice Cream Day (July 17)? Here are a few to keep an eye out for.
BuzzBar - Vegan-friendly and made with natural ingredients, Buzz Bar is more easily found at a restaurant, but its products are also available at some retail stores. The Buzz Cafe is infused with Irish cream liqueur. Vanilla Daze blends in cognac. And Strawberry Joy uses rum.
Mercer's Wine Ice Cream - You've got 10 choices if you're in a location served by Mercer's. Big sellers vary by region, but it's hard to go wrong with Strawberry Sparkling, which is infused with champagne, Cherry Merlot or Chocolate Cabernet.
SnoBar - With seven flavors to choose from, SnoBar leans a bit heavier on popsicles than some other alcohol infused dessert companies. The Cosmopolitan and Margarita are especially popular, as judged by remaining inventory at the stores we checked. And the Pink Squirrel ice cream has been praised by those who've tried it.
Tipsy Scoop - Widely available in New York, with two locations in Massachusetts, this company's offerings all come in at 5% ABV. Among the 19 flavors offered are Spiced Mojito sorbet, Strawberry Rhubarb Bourbon and Raspberry Limoncello.
Momenti - Currently only sold in Las Vegas, this could be the next national brand to watch. The company just opened a manufacturing facility in Sin City to expand production of its spirited ice creams. Flavors include Blackberry Cabernet Sorbet, Vanilla Vodka Cookies & Cream and White Russian.