10 Ways to Use Amazon Alexa to Make Your Life Easier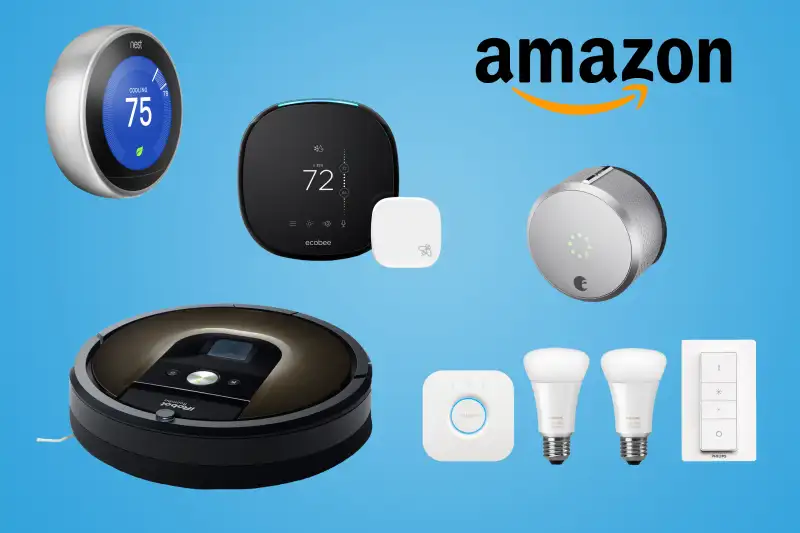 Courtesy of brands and Amazon
Amazon's family of Echo devices are great for playing music or settling arguments about Scrabble rules. But perhaps the best feature of Alexa, the voice-controlled virtual assistant available with all Echo gadgets, is that it delivers on the promise of a truly "smart" home you can control simply by talking.
Early reviews of Apple's HomePod indicate that it offers superior sound to the Echo and other smart speakers. Yet the Alexa-enabled Echo seems to still stand out for its smart features, in particular how well it can be integrated into your home. There are now whole families of devices that will respond to whatever you tell Alexa to do. Here's a roundup of the typical ones — and a couple you might not have expected.
Light, Heat, and Power
For mood lighting, this Philips Hue starter kit includes a trio of long-lasting smart LED bulbs that can create an astounding 16 million colors — including 50, 000 shades of white light — and a hub for controlling them. You can ask Alexa to tweak the bulbs to whatever shade suits your mood, and set lights to switch on or off at a set time.
Programmable thermostats like the bestselling Nest, which is owned by Google, have made it possible to warm or cool your house with a few taps on your phone. But the third-generation Nest makes it even easier, allowing you to adjust the temperature just by asking Alexa.
An Amazon top new release, the Ecobee4, one-ups The Nest by incorporating sensors you can put anywhere in your home that will detect temperature as well as occupancy. In other words, no more digging for your phone halfway through your commute because you forgot to turn down the heat before you left for work.
And unobtrusive smart plugs fit right into your existing sockets to turn on lights or devices on and off. When you do come home, you won't have to put down what you're carrying to flip the light on — just ask Alexa.
Home Security
Do you lose your keys often? Or maybe you just don't want to carry them if you're going out for a jog or to walk the dog? Look into one of the many Alexa-compatible locks on the market. This "smart deadbolt" from August automatically opens when you approach, lets you create "virtual keys" for guests, and keeps a digital log of every time your door is opened (no sneaking out for your teenager!). Some smart locks use touchscreen keypads, while others are bluetooth-activated or have fingerprint scanners. If you're looking for home security features as well, choose one with an alarm function.
With an Alexa-compatible security camera, you can use voice controls to help keep an eye on your driveway or backyard. Some of the cameras with more bells and whistles (like this one, which masquerades as an innocuous outdoor light) include high-def live or recorded video, and motion detection that will send alerts to your phone.
Household Chores
Yes, you can even ask Alexa to pick up dog hair. If you were the first person you know to buy a Roomba, check out the next generation of automatic vacuums you can order around like Cinderella. Roomba parent iRobot has rolled out an Alexa-compatible Roomba vacuum, and Samsung has a few robotic models in its POWERbot line that integrate with its own Smart Home interface and Alexa.
Want greener grass but hate the thought of wasting water? This cool gadget from Rachio lets you control your lawn sprinkler by asking Alexa. That means you can turn off the water without having to dodge the spray to reach the spigot.
We've included affiliate links into this article. Click here to learn what those are.