Why Amazon's Whole Foods Purchase Will Make Groceries Cheaper for Everyone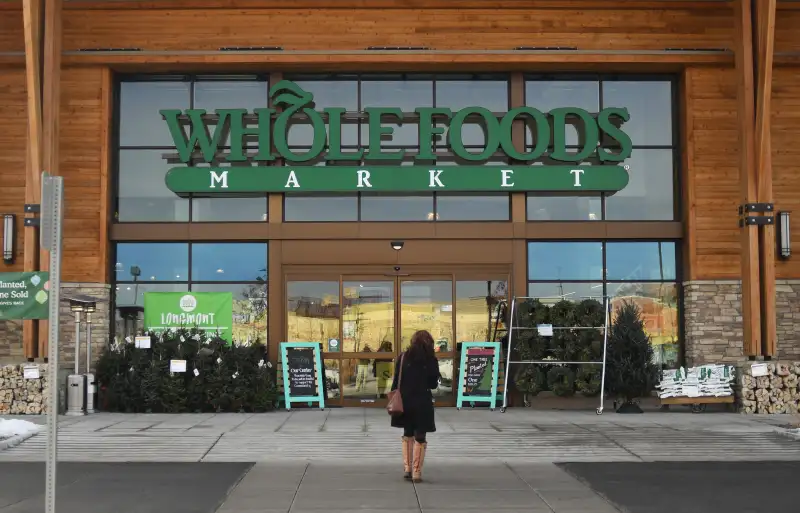 RJ Sangosti—Denver Post via Getty Images
On Friday morning, Amazon upended the grocery business—and the retail industry in general—with news that it was buying Whole Foods for $13.7 billion.
The deal is "absolutely game-changing" for Amazon, said Phil Lempert, an industry observer and the founder of SupermarketGuru.com, told Money. The acquisition of Whole Foods' 431 locations gives Amazon new access to wealthy, health-conscious, quality-seeking shoppers.
But will it make your groceries any cheaper? Many experts say yes.
"It's good news for consumers. This is going to be fabulous" for anyone hoping to save money on groceries, Lempert said.
In general, Lempert said, more competition in the grocery sector will lead to lower prices. The day before the announcement, Kroger stock plunged 19% after investors found out America's largest supermarket chain was cutting its profit outlook by 10% and is being forced to lower prices amid heightened competition. Speaking of which, this week the low-price grocery Aldi, which is owned by the same company as Trader Joe's, announced a major expansion in the U.S. Another low-cost grocer based in Europe, Lidl, also opened its first 10 U.S. locations this week, in the Carolinas and Virginia, and it has plans to have up to 100 stores in operation within a year along the East Coast.
But changes are expected to be especially noticeable at Whole Foods, the organic grocer that has been derided as "Whole Paycheck" because of high prices (remember the $6 asparagus water?). In recent years Whole Foods has attempted to stress value, and even launched a lower-priced Whole Foods 365 line of stores, but for the most part it is still thought of as an expensive place to shop for groceries.
"Amazon can be expected to work to deliver better value to grocery customers, both online and within the brick-and-mortar space," said Bankrate.com senior economic analyst Mark Hamrick. ""This will be a good deal for consumers."
Groceries tend to be a very low-margin business. The operating margin for Kroger is around 3%, and for a discounter like Supervalu it's a low as 2%. But according to Morningstar, Whole Foods' margin is more like 5% or even 6%.
Amazon is bound to change Whole Foods' margins dramatically. It is famous for undercutting the profit margins of competitors, and for its willingness to lower prices even though it's losing money—so long as doing so helps it win market share.
As Bloomberg columnist Shira Ovide put it, Amazon founder and CEO Jeff Bezos "doesn't abide by the conventional rules of business like ... turning a profit. He will slash prices and bleed money for years in groceries if that's what it takes to fuel his strategic mission to become a big player."
"It is not going to be 'Whole Paycheck' anymore," Lempert said of an Amazon-owned Whole Foods. "Amazon's intelligence and efficiencies will take a lot of the waste out of the system." Lempert also anticipates that Whole Foods' emphasis on private labels (like the 365 Value brand) will gibe well with Amazon's strategies, what with its many in-house clothing brands and its low-price Amazon Basics electronics.
As prices drop at Whole Foods, and Amazon steps up its game further in online grocery shopping, competitors in the brick-and-mortar and e-retail spaces alike will have to lower prices or risk losing customers. Amazon's purchase of Whole Foods is clearly "a warning shot for the food retail industry that competition likely heightens on top of an already challenging retail backdrop," Wells Fargo senior analyst Zachary Fadem wrote in a note to investors on Friday.
The larger battle, however, goes far beyond groceries, as the New York Times' Neil Irwin explained on Friday. Why did Amazon buy Whole Foods, and why has Walmart purchased big e-retail players like Jet.com and (just this week) men's fashion seller Bonobos? "The short answer is because they both want to sell everything," Irwin wrote.
Amazon has been called the "Everything Store," and the name rings even truer now that it will have a physical presence all over the country, in a spot that most shoppers have reason to visit once or more per week. It's not hard to imagine that Whole Foods' locations will become hubs where consumers can pick up same-day "click and collect" grocery orders, or all manner of other items available at Amazon.com. They will also just be able to go grocery shopping too, of course, at lower prices.
It's worth noting, however, that pricing is only part of the reason shoppers are drawn to Amazon. "Amazon is as much about 'value' as 'cheap,'" Stefan Weitz, executive vice president of technology services for the e-commerce management firm Radial, told Money via email. "You can often find cheaper prices on items offered from Amazon, but if you factor in free, fast, and reliable shipping and knowing that Amazon has your back in case of an issue, price is no longer the only consideration."
Soon, shoppers can factor in the convenience of a neighborhood grocery store location as a consideration for doing business with Amazon as well.