Amazon Flies Higher Than Ever One Year After Epic Flop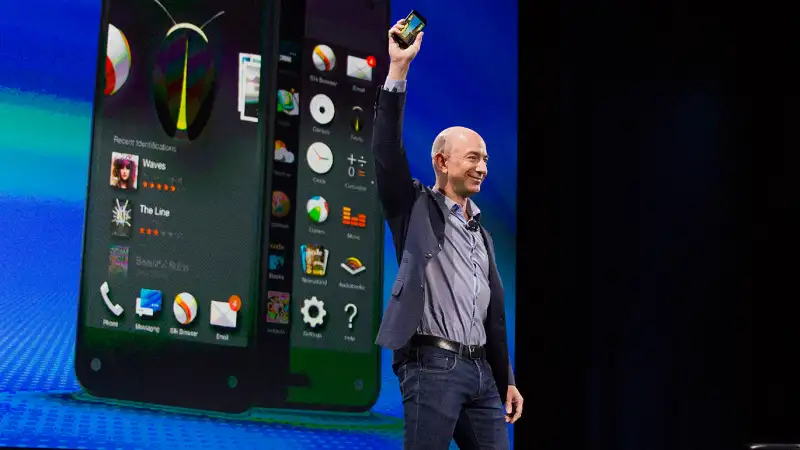 Mike Kane—Bloomberg via Getty Images
Amazon has arguably never been hotter. After posting a surprise profit for the quarter ending June 30, the company's stock surged 20% overnight on Thursday, resulting in the world's largest e-retailer being worth more than Walmart. The impressive sales figures don't even factor in last week's Prime Day, the manufactured holiday that Amazon created to juice sales in the middle of summer that wound up surpassing Black Friday in terms of orders and purchases.
What's interesting is that almost exactly one year before Amazon hit its current peak, it offered up a product for sale that is seen as one of its biggest misfires. The Amazon Fire Phone officially went on sale on July 25, 2014. It was initially offered only combined with a two-year AT&T wireless contract at a subsidized price of $199 to $299.
Even before the phone hit the market, critics bashed it as "uninspired" and "just too expensive." The smartphone's unique features—a 3-D screen and a shopping-assistance tool called Firefly—were deemed largely to be gimmicks that few people wanted, let alone needed. Critics also hated the Fire Phone's limited access to apps, and how the device's overarching purpose seemed to focus almost exclusively on getting the user to buy stuff at Amazon.
Less than two months after first going on sale, Amazon's phone was discounted to 99¢, one of the fastest price drops ever. By December, Amazon's Jeff Bezos was referring to the phone as a "bold bet" that just didn't work out, as the company took a $170 million writedown related to the flop.
How could Amazon have miscalculated so badly on the Fire Phone? And how did the company wind up shrugging off the failure and having a gangbusters 2015 anyway?
An in-depth CNET explores just this territory, and the conclusions it reaches are that even as most Fire Phone early adopters regretted their purchases and felt burned, plenty of them still shop at Amazon and pay $99 annually for Prime memberships. One of the prime (ha-ha) reasons for Amazon getting into the smartphone market was to boost sales via Amazon and Prime subscriptions. Fire Phone owners received one year of Prime membership free with their purchase, and the Firefly scanning feature made it exceptionally easy to buy almost anything via Amazon, in mere seconds.
Amazon Prime members spend far more at Amazon than nonmembers, so it makes sense that the company has been pushing Prime harder than ever over the last year. Among the strategies employed to boost Prime subscriptions in the months after the Fire Phone debuted:
• Heavily discounting Kindle and Fire tablets, which automatically come with free Prime trial subscriptions—the majority of which seem to turn into paid Prime subscriptions.
• Dropping the annual price of Prime to $72 in January to celebrate the Golden Globe nominations for "Transparent," the show starring Jeffrey Tambor that can only be streamed via Prime.
• Producing original movies that can only be seen with Prime, adding to the value of the service.
• Hosting Prime Day sales on July 15, which were available only to Prime subscribers, thereby forcing anyone who wanted in on the deals to sign up for free trial memberships, which Amazon hopes will turn into paid memberships.
While Amazon declared Prime Day a rip-roaring success that greatly increased sales and boosted Prime membership, the reviews in social media and consumer circles were mixed at best. Many thought that Walmart actually won the day because it hadn't overhyped and underdelivered on the deals like Amazon had.
Even if the consensus is that Amazon hyped Prime Day too much, it pales in comparison to how overhyped and underwhelming consumers deemed the Fire Phone to be. Amazon recently strongly hinted Prime Day would become an annual event, which didn't come as much of a surprise. Meanwhile, if Jeff Bezos suddenly announced Amazon was introducing a new Fire Phone to the market, that would be viewed not just as a bold bet, but a shocking one.