Here's Why Amazon Should Split HQ2 Into Two Cities, According to Experts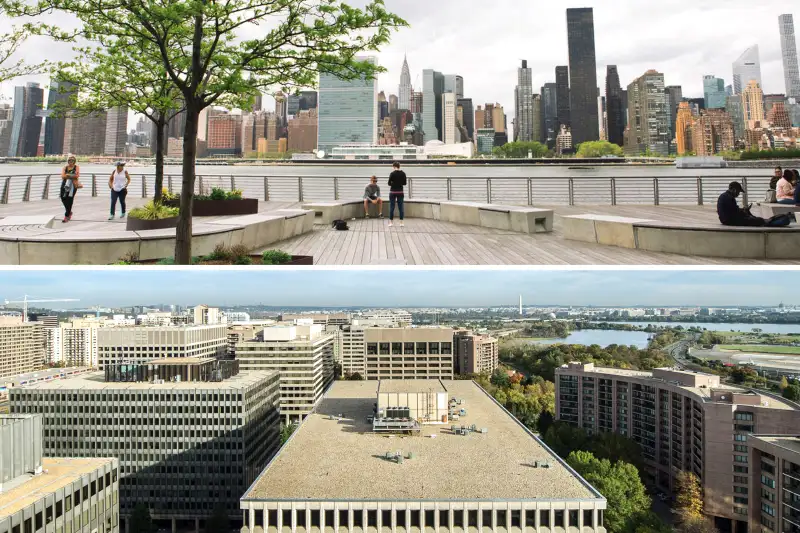 (top) Natasha Shapiro—Alamy; (bottom) Courtesy of Crystal City BID
Amazon's closely watched second headquarters project produced a late-stage plot twist this week when reports emerged that the company may end up dividing HQ2 between two locations.
Both the Wall Street Journal and New York Times reported that Amazon is in the final stages of deciding where to put its $5 billion HQ2, an announcement it's promised to make by the end of the year. Both found that the company is leaning toward changing HQ2 to HQ2s. The Times named Long Island City in Queens, New York and Crystal City in Arlington, Virginia as possible choices.
Record scratch. Freeze frame. You're probably wondering how we ended up in this situation.
The answer, according to experts, is talent. Amazon has said it plans to hire as many as 50,000 full-time workers for high-paying jobs — and the split may help spread around that burden, says John Boyd, principal at the corporate site selection firm The Boyd Company.
"For months, we've been hearing rumors that they may choose to do this because of the challenge of hiring and maintaining such a sizable workforce," he tells Money. "Even in the most optimal city with the largest labor market, that would be a challenge."
Amazon isn't commenting on the recent reports. The company has been quiet ever since it narrowed its list of HQ2 candidates to 20 metropolitan areas in January.
But — to a degree — this development isn't a complete shock.
Phil Schneider, the president of Schneider Strategy Consulting and a longtime board member of the Site Selectors Guild, says he predicted months ago that Amazon would parcel out HQ2.
Talent was one of the biggest factors in his forecast. Seattle, where Amazon has its current headquarters, has butted metaphorical heads with the company over its impact on housing prices, homelessness and taxes. Schneider says the city has struggled to keep up with the growth — so "why would [Amazon] recreate that somewhere else?"
As a tech company, he says, Amazon doesn't need a physical office. If it spreads its headquarters out and operates virtually, it can pick and choose the best workers from each regions without limiting itself geographically. It's no problem if the best research and development talent is in Location X but the best finance talent is in Location Y — it can hire from both.
"Why would they not be looking across the field and trying to draw from multiple talent pools?" Schneider says. "Why would they not be taking advantage of infrastructure at a somewhat lower capacity level across multiple great locations? And why would they not want to extend their political influence?"
From that standpoint, the locations make sense.
The Washington, D.C., area has long been considered a front-runner in the HQ2 race. As Boyd points out, CEO Jeff Bezos likely wants to be close to the nation's lawmakers.
The rationale is similar for New York City, though the whispers about Long Island City in particular caught Boyd off-guard. He says he expected Amazon to opt for a place like Newark, New Jersey, if it wanted to be near the power players in Manhattan.
Boyd's team ran the numbers. He found that if Amazon were to break up HQ2, it would cost northern Virginia about $3.9 million and New York City about $4.3 million in labor, land acquisition, construction, utilities and taxes. The cost profile for Dallas, which has also been floated as a potential HQ2 site, is about $3.5 million.
Greg LeRoy is watching the money situation closely. The executive director of Good Jobs First, says he's wary of the HQ2 locations recently named in the press because the public doesn't know much about the incentives they offered Amazon.
"We're suspicious and concerned about what's been promised and what might get rushed through special [legislative] sessions," LeRoy says.
Because the details of the proposals are under wraps, it's also unclear what HQ2's arrival means for residents who already live in these communities.
"We don't know what kind of gentrification buffers, or not, are included here," LeRoy says. "Affordable housing is already a huge issue in New York and Washington. If they're not intentional about it, it's only going to make things worse."
Bottom line? Yes, HQ2 might be two locations.
No, you shouldn't freak out.
Yes, a lot is still up in the air.
No matter which place(s) Amazon picks, it's holding onto reams of information about more than 200 North American cities — and that's going to affect its moves for the next decade, as Schneider says.
"We're looking right now at HQ2 and whether it's two or one or more, but there may be a greater split than that," he adds. "Don't think the decision is over."