This State Is Most Likely to Land HQ2, According to an Analysis of Amazon's Top Criteria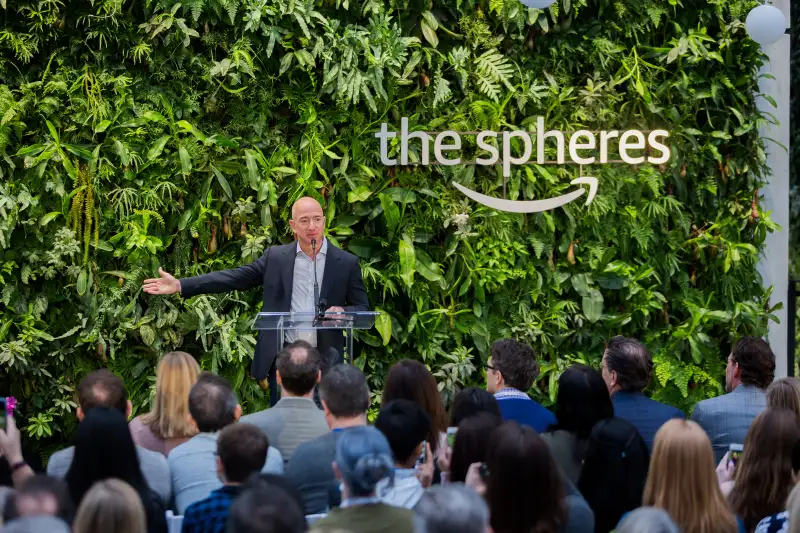 Mike Kane—Bloomberg via Getty Images
Amazon might soon be building its second headquarters where the stars at night are big and bright.
According to a recent CNBC analysis of locations in the running for HQ2, Texas may have the best shot at welcoming the tech giant. The Lone Star State is home to two of the 20 finalist cities announced earlier this year, Dallas and Austin, and both could be frontrunners.
Amazon has kept its selection process under wraps ever since last September, when the company revealed it was seeking a spot to put a new $5 billion facility. Nobody knows which way CEO Jeff Bezos is leaning, but CNBC evaluated the candidates based on the crumbs of information Amazon has released. Amazon has said it would prefer metropolitan areas that have over 1 million people, a "stable and business-friendly environment," urban or suburban locations that could attract "strong technical talent," and communities ready to "think big and creatively when considering locations and real estate options."
If graded under the assumption that each of those factors gets equal weight, Dallas and Austin both get A-minuses — the two highest scores in CNBC's analysis.
"Texas seems to have many attributes that align well with Amazon's needs," CNBC's Scott Cohn wrote. "No state has a better infrastructure, and the state's business climate is the picture of stability, thanks to the nation's best all-around state economy."
He's right: According to Forbes, Texas' gross state product in 2017 was nearly $1.6 trillion. That's thanks in part to the oil boom and the fact that companies like AT&T and Dell that have their corporate headquarters there.
Austin, the state capital, is known for its culture. It's also home to the 51,000-student University of Texas at Austin, which Money just named the No. 27 best college in the country. In a study of HQ2 finalist locations published in the Housing News Report, the city came in fifth place based on factors like median home price, average school score and crime rate.
Dallas could also be a good option. CNBC pointed out that it features the Dallas-Fort Worth Airport, which would undoubtedly be convenient for Amazon executives and the 50,000 employees HQ2 is expected to hire. Its unemployment rate is 3.8%, which is about on par with the national average, and has 22 companies on the Fortune 500 list.
But neither city is perfect.
Dallas is still trying to bring down its notoriously high crime rates. Mayor Steve Adler told the Texas Tribune earlier this year that Austin had "really severe traffic issues and really severe affordability issues."
Texas isn't the only state with two HQ2 finalists: In Pennsylvania, Pittsburgh and Philadelphia are up for consideration. But CNBC gave both B-minuses.