People Bought Thousands of Hammocks and Crockpots on Amazon Prime Day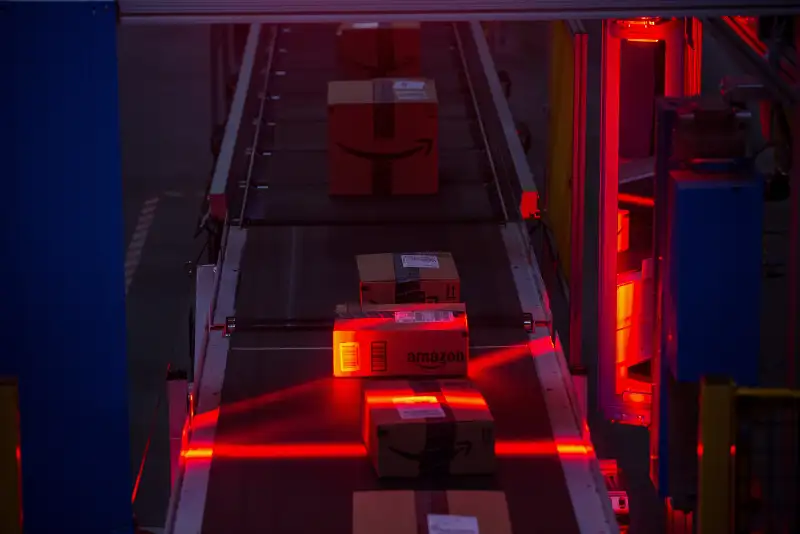 Bloomberg via Getty Images
Maybe Amazon heard all of the complaints about Prime Day from last year and really took them to heart. Some combination of more competitive pricing, a better selection of deals, more awareness among shoppers, and the fact that there are simply way more Amazon Prime members compared with a year ago appears to have made the second edition of Prime Day, held on July 12, a huge success in terms of generating sales.
On Wednesday, Amazon announced, "The second annual Prime Day was the biggest day ever for Amazon," with sales rising 60% worldwide and 50% in the U.S. compared with the first Prime Day. "It was also the biggest day ever for Amazon devices globally and record Prime Day for each Amazon device category including Fire TV, Fire tablets, Kindle e-readers and Alexa-enabled devices. Prime Day was a great savings day too – members globally saved more than double on deals over Prime Day 2015."
Amazon said it sold three times as many Amazon devices in the U.S. yesterday as it did on the original Prime Day. U.S. customers purchased more than 14,000 Lenovo laptops, 23,000 iRobot Roomba 614 cleaning robots, 24,000 Vivere double hammocks, and 200,000 headphones, among other deals. Globally, shoppers bought more than 2 million toys and a million pairs of shoes. All in all, it was an epic day for global consumption.
Here are some takeaways from the big day, which, love it or hate it, will surely be a summertime fixture for years to come.
Prices and selection were much better. The overarching gripe about the first Prime Day was that it amounted to a "crappy yard sale," with loads of random, unwanted merchandise mixed in with a scant few legitimately good deals—which sold out so quickly only a few could take advantage. This year, people complained about a checkout glitch early in the day that stopped them from making purchases, but there didn't appear to be any widespread problem with items selling out too quickly.
Read Next: 8 Retailers Hosting Big Sales to Compete with Amazon Prime Day
What's more, the prices on Prime Day 2016 were generally very competitive, especially for Amazon devices, which were priced at levels cheaper than last year's Black Friday and Prime Day. Whereas last year Amazon took a beating on social media for Prime Day, the Prime Day mentions yesterday on Twitter and Facebook were overwhelmingly positive.
There were still weird deals and haters. While acknowledging that patient shoppers with hours to burn could find "some sweet, sweet deals amongst the pages of dog food and baby monitors," Gizmodo noted that Prime Day 2016 had plenty of "items that would be better relegated to an 'everything must go' sale in a dusty warehouse off of I-95." Yesterday you could have purchased a plaque featuring "Derek Jeter Dirt," for instance, for the special Lightning Deal Prime Day price of $19.99 (normally $79.99?!?), or a "Car Purr Therapy" CD for 20% off.
Beyond the weird stuff, there was a sense of déjà vu about Prime Day 2016. "It seemed a lot like every other sale Amazon has ever had. In fact, it seemed like many of the already discounted prices they usually have," a PCMag review stated, pronouncing the sales event as "meh" overall. Amazon said that U.S. shoppers purchased over 215,000 of the special crockpot that was on sale yesterday. Yet as PCMag's John C. Dvorak pointed out, "I do not recall ever NOT seeing a crock pot on sale. Then there were some useless DVDs and even tents on sale, as well as the kind of junk you'd find at a yard sale."
It was easy to get confused and overwhelmed. Retailers make the atmosphere on Black Friday confusing and competitive by design. The idea is that in the frantic, pressure-cooker frenzy of Black Friday crowds—with the clock ticking and the best deals available in very limited supply—shoppers will snatch up goods willy-nilly, without regard to wanting them or considering them good values.
For the most part, the same mentality hits Amazon Prime Day shoppers, as Slate's Henry Grabar wrote: "It compresses all the anxiety, urgency, competition, panic, and doubt of brick-and-mortar retail's big day into your computer screen."
Amazon bragged that it offered over 100,000 deals on Prime Day, with new ones popping up as rapidly as every 5 minutes. It has also been eliminating some (but not all) list prices, so that some items have only one price, while others have three—a list price, a sale price, and a Lightning Deal price. Plus there is a line showing how much you would save with a sale item, plus the site shows the percentage of how many customers have claimed the deal, plus there's a clock showing when the deal will end … and by now your pulse is probably racing a little because of how much pressure and confusion is baked into the shopping experience. It's all done purposefully to get you to buy.
Read Next: Why Amazon Prime Is Pretty Much Already Unstoppable
The way that Amazon released Prime Day 2016 data is also a little confusing. For example, last year Amazon said it sold 47,000 TVs on Prime Day in the U.S. But instead of providing an apples-to-apples comparison, this year Amazon selectively announced that it had sold more than 90,000 TVs worldwide on Prime Day 2016. Last year, Amazon said right away that Prime Day was the biggest day ever for new Prime member signups. The company made no mention in today's press release of how many new Prime subscriptions were inspired by Prime Day 2016, however. Speaking of which …
One overlooked reason why Prime Day sales soared. While better selection and pricing certainly boosted Prime Day sales this year, it should be noted that there's another simple reason sales took off: Millions more people were actually able to make purchases.
Prime Day is an event that only Amazon Prime members can participate in, and right now there are an estimated 63 million Prime members in the U.S., a 43% increase from the 44 million subscribers who were eligible for 2015's Prime Day deals. Of course, Amazon had to have deals that were tempting enough to get subscribers to bite on Prime Day. But as we've seen, once customers become Prime members, they're inclined to spend a lot more money at Amazon.