Amazon Will Give You $10 to Spend on Prime Day Just for Shopping at Whole Foods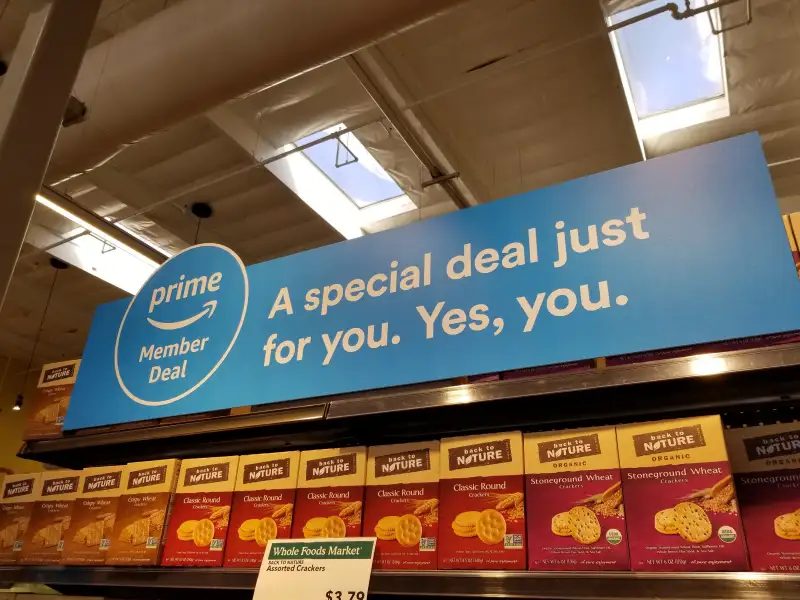 Smith Collection/Gado—Getty Images
Whole Foods may be a pretty expensive place to buy groceries, but shopping there this week could score you an easy $10 in free money at Amazon.
Amazon, which purchased Whole Foods in 2017 and is hosting its annual Prime Day sales-a-thon next week, just launched an early Prime Day promotion for Whole Foods shoppers.
If you're an Amazon Prime subscriber, you'll get a $10 credit added to your account to spend during Amazon Prime Day 2019 when you spend at least $10 in a Whole Foods store anytime now through Tuesday, July 16. The Whole Foods-Prime Day deal is essentially a repeat of an early Prime Day promotion Amazon offered last year around this time.
You can also get the $10 Amazon credit for Prime Day 2019 by spending at least $10 this week at Prime Now, the service available to Prime members in select locations that lets you order grocery deliveries from Whole Foods.
Note that in both cases, the $10 Amazon bonus must be used during Amazon Prime Day (which, despite the name, actually takes place over two days next week). In other words, you can't hang onto the $10 Amazon credit indefinitely.
Prime Day 2019 takes place on Monday, July 15, and Tuesday, July 16. To take advantage of the deals on Amazon Prime Day, you must be a member of Prime, the subscription service that includes free two-day (or faster) shipping on most Amazon purchases, as well as perks like unlimited streaming of certain Amazon Video and Amazon Music content. A subscription generally costs $119 per year or $12.99 per month, after a free 30-day Amazon Prime trial for new subscribers.
While many of the specifics haven't been released yet, Amazon Prime Day 2019 is bound to feature a dizzying number of deals on tech (Amazon devices in particular), home goods, clothing (look for tons of back-to-school sales), outdoor gear, toys, and more.
Amazon Prime Day has only been around since 2015, but it's more or less become standard for the big online summer sale to have cheap deals on Instant Pots, KitchenAid mixers, Dyson vacuums and fans, Amazon devices like Echo speakers and Fire tablets, and lots and lots of TVs. In fact, Amazon launched a Toshiba 43-inch Fire Edition TV sale for $180 as an early Prime Day deal last week.
There are more early Prime Day deals available at Amazon right now. Among them, a TCL 40-inch LED TV (2017) is on sale for $129.99 today (down from a rather inflated list price of $299.99).
Also, there's a 100-piece set of magnetic Picasso Tiles that's listed as a Lightning Deal, on sale for $39.99 ($49.99 regularly):
And several DOSS wireless Bluetooth portable speakers are on sale for 30% to 60% off, like this V4.0 device offered for just $19.59 (list price: $39.99) as of Tuesday.
Most, if not all of these special prices, are available only for Amazon Prime members. With these deals and other Amazon Prime Day deals to come, all the usual disclaimers apply: Prices were valid as of our publishing time but are subject to change, and availability may be limited.
We've included affiliate links into this article. Click here to learn what those are.