Amazon Is Giving Select Prime Members a 5% Discount at Whole Foods Now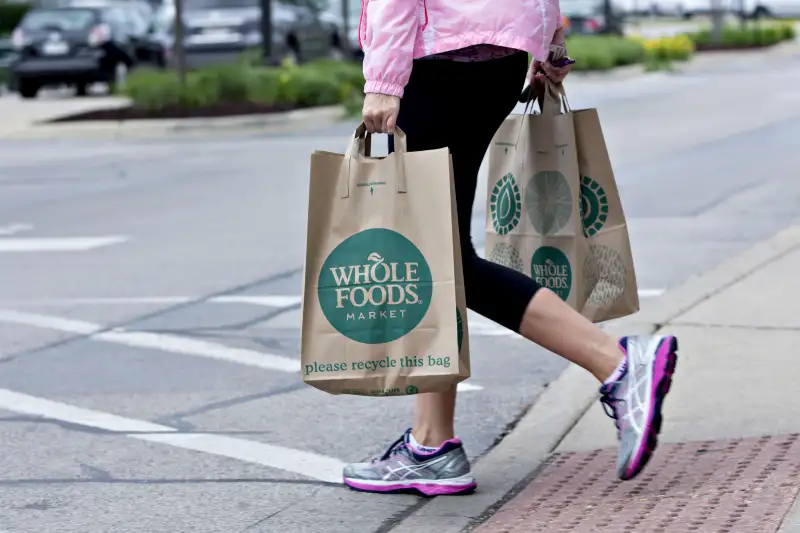 Bloomberg—Bloomberg via Getty Images
For some Amazon customers, the company's Whole Foods acquisition is the gift that keeps on giving.
Amazon Prime members with Visa rewards cards will now get 5% back when they use the cards to purchase groceries at Whole Foods, the company announced Tuesday. Customers with the non-Prime version of the card will also get 3% back at the popular grocery chain.
Owners of the Amazon Prime Rewards Visa card from Chase will still reap the benefits of other card perks, like 5% back at Amazon.com and 2% back at restaurants, gas stations and drugstores, among other benefits.
The new perk marks another step Amazon has made to entice its most loyal customers to shop for groceries at Whole Foods. Just last week Amazon announced it would add Whole Foods groceries to its Prime Now delivery service, which transports groceries to a customer's door in under two hours. And two months after Amazon's high-profile purchase of Whole Foods for $13.7 billion in June 2017, items like salmon, avocados, apples, rotisserie chicken and more were marked down at the chain's stores around the country.
Before the Whole Foods perks were announced, the no-fee Amazon Prime Rewards Visa card was named one of Money's best credit cards, thanks to its low APR and big rewards. (Of course, only Prime members who pay $99 for the service have access to this rewards card.)
"We are excited to launch the Amazon Rewards Visa Card in our stores, offering benefits to our customers on all of their purchases at Whole Foods Market," said John Mackey, the co-founder and CEO of Whole Foods.