Here's the Truth About Those $7,000 Tiny Houses for Sale on Amazon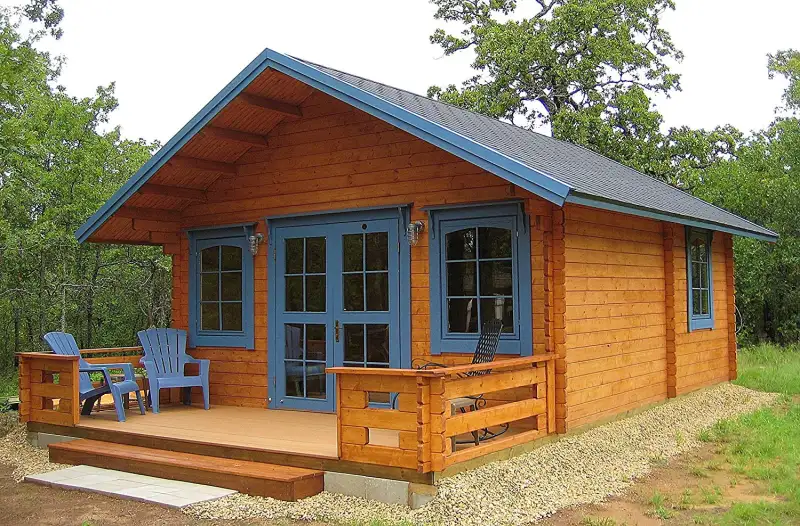 If Amazon doesn't sell it, do you really need it? So goes the joke that highlights how Amazon sells pretty much everything under the sun, from pants to puppy chow to picnic baskets.
But Amazon doesn't merely sell everything you need to fill up a house; now you can actually buy the house from Amazon, too.
Amazon has a whole category of modular and kit-style "tiny house" structures in the styles that have been made popular thanks to HGTV shows like Tiny House Hunters and Tiny House, Big Living. Amazon's small homes and cabins come with correspondingly tiny prices — albeit probably more than you're used to spending on your usual Amazon shopping cart.
For example, the 172-square-foot Allwood Solvalla, with a price tag of $7,250, rose to viral fame and almost immediately sold out in May. But it's back in stock now — and shipping is free.
If you prefer more of a traditional cabin look, there's the Lillevilla Allwood Getaway Cabin, a cute three-room cabin with a wooden deck that includes a sleeping loft in addition to its 292 square feet of floor space. It is priced at $18,800 (with free shipping included).
There are other charming options: The Lillevilla Escape costs under $5,000 and has a wide overhanging awning that gives it a fairy-tale look, which the Allwood Arlanda — which is also comfortably under five figures at just $7,590 — has a surprisingly modern look and an optional divider to create a separate bedroom.
And — heading out of tiny house territory — Allwood also sells the Eagle Point model, which clocks in at 1,108 square feet and costs $46,900. Larger yet is the Eagle Vista, at 1,336 square feet and $64,650.
Tiny homes for sale on Amazon do have some detractors — we've noticed that they tend to be people who build or sell regular houses. Critics point out that these kit tiny homes do have their limitations. For instance, there are no bathrooms in these cozy abodes. Sure, you could add one, but plumbing can be complicated, and it isn't cheap. These tiny homes also don't come with materials for a foundation — and if you want to add one, that could make you subject to building and zoning codes, taxes, and permitting requirements.
These cabins also don't come with electrical wiring. Rooftop solar panels are an obvious solution, as fans of the episodes about off-grid tiny houses know — and some Amazon tiny home kits even come with solar power included.
You're probably not going to call these your full-time digs. But if it's a backyard retreat you're after, you really can't beat the appeal of these modular kits. You can use them to create a quiet workspace for work-from-home days, a sweet pool cabana for water toys and supplies, a gardening hub to give your green thumb room to grow, a workout room that's infinitely more motivating than a windowless basement — the possibilities are as endless as your imagination.
We've included affiliate links into this article. Click here to learn what those are.