Amazon's New 'Treasure Truck' Will Sell One Discounted Item Daily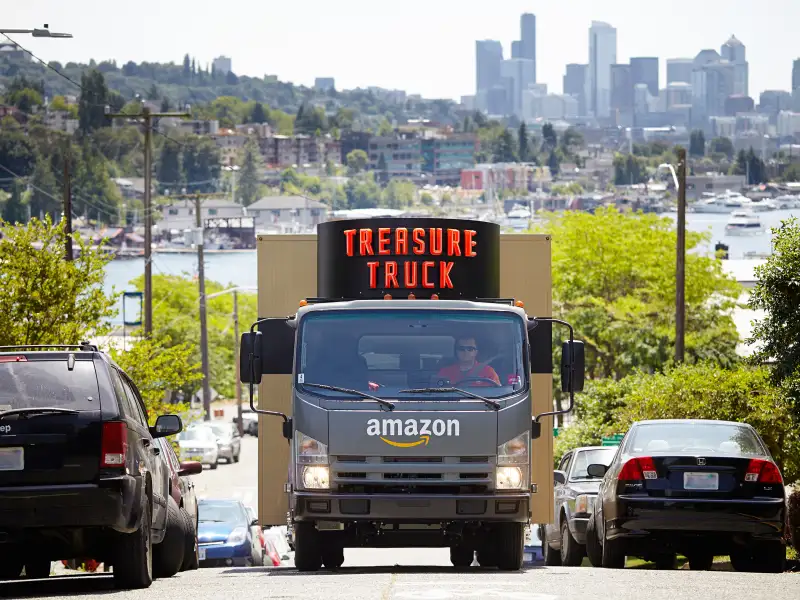 If residents of the greater Seattle area spot a giant brown Amazon package on wheels in the coming days, it's not a hallucination. (Well, it's probably not a hallucination.)
The world's biggest e-retailer is introducing something called the Treasure Truck. It's a basically a standard delivery truck tricked out to look like a typical Amazon package—oversized Amazon logo and icons, brown cardboard box appearance, thick black line encircling the whole thing.
Starting this weekend, the truck will set up shop somewhere in Seattle—that's the only location, for now at least—and offer a single item for sale. The goods will run the gamut of merchandise sold by Amazon.
"Each day the truck drives around Seattle parking in neighborhoods filled with but one highly desirable item exclusively for you," the ad posted by Amazon on YouTube explains. Among the first items for sale at deeply discounted prices are paddleboards, professional knife sets, and porterhouse steaks.
Amazon doesn't seem to expect all that many customers to walk up to the truck and impulsively buy inflatable paddleboards or steaks like they might pick up a fish taco or a Sno-Cone. Instead, the idea is that people will use Amazon's mobile shopping app to scope out where the truck is and what's for sale that day, and then purchase and pick it up later.
Why this process is any easier than using one's Amazon Prime membership and having the item delivered to your home is something of a mystery. Presumably, you'd be able to get the goods sooner—you know, in case the immediate emergency need of a paddleboard arises.
From the consumer point of view, the main draw is that the prices are supposedly phenomenal. The item on sale on Saturday, the Solstice Bali inflatable paddleboard set, is priced at $99 on the Treasure Truck, nearly 80% lower than the retail price of $477. Another item coming soon, the Firmstrong Beach Cruiser bicycle, will be priced at $99 too. Amazon says the list price of this item is $299, but it looks like the bike is sold fairly regularly for around $200. Even if Amazon is exaggerating how big the discounts are, it sure looks like the deals are pretty terrific.
On the other hand, the selection and availability leaves something to be desired—just one item for sale daily, in just one city.