Amazon and Walmart Are Duking It Out Over Fast Free Shipping. Here's Who Truly Has the Best Deal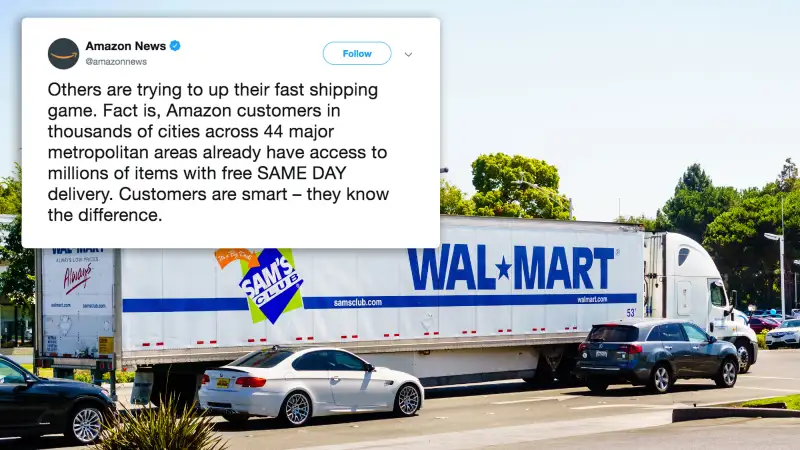 If there's one thing online shoppers love more than free shipping on their orders, it's fast free shipping. That helps explain why Amazon and Walmart are duking it out right now to gain a reputation for having the best fast free shipping deals in retail.
One-day or even same-day free shipping for online orders at Walmart, Amazon, or both will be available around the country soon — and many shoppers can take advantage of these super fast free shipping deals right now.
Two-day free shipping has more or less been the standard shoppers have come to expect. Since the creation of Amazon Prime, members have received two-day shipping for free on most orders, and this core perk has resulted in sharply increased spending at Amazon among those who pay for Prime subscriptions ($119 a year or $12.99 per month).
Two years ago, Walmart upped its game by introducing free two-day shipping for orders of $35 or more, with no membership fees. It's also fairly easy to figure out a strategy to get free two-day shipping from retailers like Target and Best Buy, or from from ShopRunner, a service that provides free two-day shipping for dozens of retailers and waives its membership fee if you register with an American Express card.
Now, Walmart and Amazon are pushing things to the next level with deals that will make two-day shipping seem slow. At the end of April, Amazon announced that it was working towards making its core Amazon Prime two-day shipping deal into one-day shipping, and the service would still be free for all Prime members.
This week, Walmart followed suit by promoting its own one-day free shipping offer — and this is the critical point in Walmart's showdown with Amazon — all "Without a Membership Fee" for online shoppers.
Specifically, Walmart says that "free NextDay delivery" will be available first for shoppers in Las Vegas, Phoenix, and southern California, and that 75% of shoppers around the country will get free one-day shopping by the end of the year for "a wide range of general merchandise from Walmart.com, without a membership fee." As was standard in the past, Walmart's online shoppers must spend at least $35 (before tax) to get free shipping.
Amazon has a long history of remaining quiet and understated in the face of competition. Amazon founder and CEO Jeff Bezos has often stressed that the company is always focused on the customer rather than competitors. But when confronted with Walmart's new one-day free shipping policy — and the way it was announced, which was clearly a swipe at Amazon Prime and its membership fees — Amazon sniped back on social media.
"Others are trying to up their fast free shipping game," Amazon wrote in a tweet that snidely avoided Walmart by name but was obviously aimed at the retail giant. Yet Amazon boasted that it already offered "free SAME DAY delivery" to many Prime members, and that, "Customers are smart – they know the difference."
So, which retailer truly has the best fast free shipping deals right now?
The answer depends partly on what kind of shopper you are — in particular, if you are already an Amazon Prime member and think the service is well worth the membership fees.
Amazon Prime subscriptions come with more than just free shipping; members get unlimited free streaming of video content as well and special discounts at Whole Foods, among other perks. So if you're happy with the proposition of Amazon Prime and its fee structure, then it's pretty awesome that the two-day free shipping you've been enjoying will soon be a faster and even better benefit. Amazon's selection of merchandise is astounding as well, including the millions of products available from third-party sellers, which often come with free shipping for Prime members to boot.
On the other hand, there's a good argument to be made that Amazon Prime free shipping isn't really free. Why? Because you only get "free" shipping after paying for it, by way of monthly or annual fees.
That's why, overall, we'd give the edge to Walmart for having the best fast free shipping proposition in retail right now. Yes, you must hit the minimum-purchase requirement to take advantage of Walmart's free shipping deal, but it isn't that difficult for most people to find $35 worth of stuff worth buying at Walmart. More importantly, as Walmart pumped up this week, its free shipping policy is truly free, with no membership fees. And as Walmart's free two-day shipping becomes free one-day shipping, it will become an even better deal for shoppers.