Here's a Genius Way to Save Money at Every Major Retailer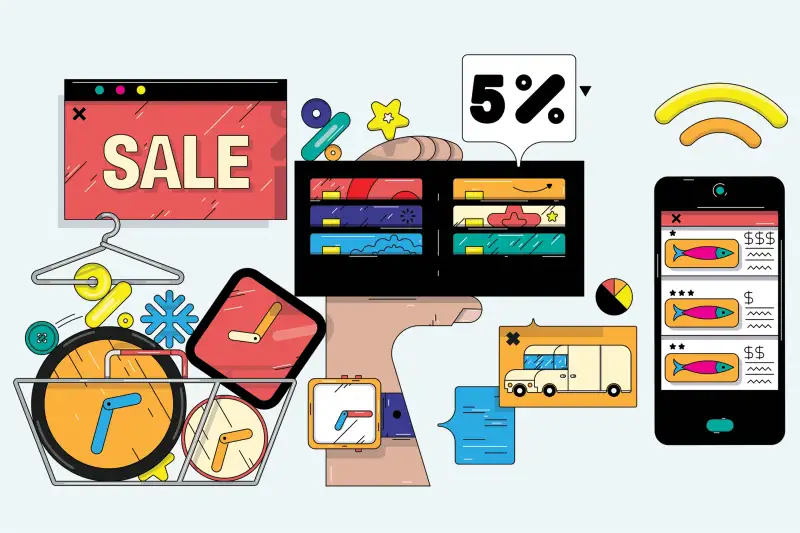 Illustration by Jamie Cullen for Money
If you're trying to save money—and who isn't?—it's key to shop strategically at the stores where you spend the most. That likely means some combination of Walmart, Amazon, Costco, and Target—the four all-purpose retailers biggest by sales, in that order, in the U.S.
Given how easy it is to whip out a smartphone and see what multiple retailers charge for the same item, cheap prices are critical to win over your valuable shopping dollars. "A low price is the beginning of the conversation, but it can't be the whole conversation," says Rachel McGuire, director of shopper insights at Kantar Consulting. "Shoppers have a more holistic understanding of value."
So how do you maximize getting that value? Here's a handy checklist of hassle-free ways to ensure you'll save at these spots and others.
Get Your Favorite Store's Credit Card
The Target RedCard (which is available as a debit or credit card), Lowe's Advantage card, and Amazon Prime Rewards card give a flat 5% discount on all purchases at their respective retailers. Target cards also come with free shipping for all online purchases, with no minimum purchase. Scope out the rewards policies for cards affiliated with the stores you visit most, and compare them with the rewards for the credit cards you use regularly.
Bear in mind that you should probably skip retailer cards if you don't always pay off your balance in full or if you're the type who goes overboard when shopping with plastic. Whatever the savings you'd get from the cards would be outweighed by fees or additional purchases.
Time Your Purchases Wisely
Sales can and do happen at any moment, in countless forms—from Walmart's Rollback pricing to weekly specials at Target to random one-day flash sales at Amazon and beyond. It's impossible to keep up with all the discounting, much less to figure out with certainty if the latest "deal" is truly a deal.
Here are some guidelines to help you out: Generally speaking, shoppers pay less when demand is lowest—or retailer competition is fiercest—for the products they want. Shopper interest in barbecue grills, for example, decreases sharply at the end of summer, and that's when stores tend to roll out lower prices. Stores also try to beat their competitors to the market with cheap prices on electronics, winter clothing, and toys around Black Friday and the winter holiday season, so that's when shoppers should be ready to scoop up bargains.
One way to evaluate whether the latest sale represents an amazing or a merely mediocre value is by plugging items into CamelCamelCamel.com. This free service tracks pricing history at Amazon, and it will reveal how and when Amazon adjusted pricing for the item two weeks, two months, or two years ago. Because Amazon sells almost everything and often matches sales prices of competitors, the pricing history at CamelCamelCamel can serve as a proxy for what other stores have charged in the past for the item. That gives you some sense of whether the current price is a true deal.
Always Get Free Shipping
There is rarely any reason to pay for shipping if you're shopping online with a major retailer and not in a big hurry to receive your order. Target, Walmart, and Best Buy provide free shipping on most purchases of $35 or more, and even if you're not an Amazon Prime member, it's easy to get free shipping at Amazon, where the minimum threshold for free delivery is just $25.
Free shipping tends to be on the slow side, so check each retailer's policies before ordering. Amazon, for example, says it takes five to eight business days to deliver items that qualify for free shipping on $25-plus purchases. Walmart, on the other hand, offers free two-day shipping on thousands of items at walmart.com.
If you need expedited shipping or you haven't hit the minimum purchase requirements, check out free pickup options. You can often have orders shipped to your local store (or Amazon pickup location) and ready for pickup within 24 hours, with no delivery fees.
Note that some stores haven't exactly mastered the art of quick pickup for online orders. Our advice is to try to schedule your pickup when the store is likely to be least crowded—say, right when it opens—making it easier for customer service to speed you along.
Seek Out the Store's House Brands
More often than not, a retailer's house brands feature the ideal combination of solid quality and low prices on items you need regularly—olive oil, coffee, T-shirts, batteries, and much more. The special brands we're talking about are those developed by retailers and sold exclusively in their stores, such as Kirkland Signature at Costco; Merona, Cherokee, and Market Pantry at Target; and AmazonBasics, which includes everything from phone chargers and paper shredders to yoga mats and fire pits.
Unlike widely available national brands, which are more expensive because of high marketing and distribution costs, a retailer's house brands are relatively cheap to produce and stock in stores. Those savings are passed along to shoppers by posting lower retail prices compared with the big brands seen in major advertising campaigns. What's more, stores have a special incentive for their house brands to be decent if not excellent quality: Remember, these brands are sold by a single retailer alone, so when the products are good, they serve as a magnet for shoppers who have only one place to buy them.
Shop Around and Use Price Matching
Before bringing your purchase up to a store register, take a moment to see what competing retailers are charging for the same item. An app like ShopSavvy lets you quickly scan items and find price comparisons with other stores.
If the item is cheaper elsewhere, request a price match at the register or customer service. This can be tricky because each retailer's policies are different—and they're often confusing. Best Buy typically allows price matching only at the time of purchase. But if Best Buy lowers prices online or in-store during the refund and exchange period, you can get the cost difference refunded.
Target will match prices with a competitor if the shopper alerts the store to a lower price on an identical item within 14 days of the purchase.
Read the fine print on price matching policies, and prepare for some frustration. Ultimately, it's often easier to order the item from the retailer that's listing lower prices than to ask for a match.