Austin Is the Perfect Choice for Apple's $1 Billion New Campus. Here's Why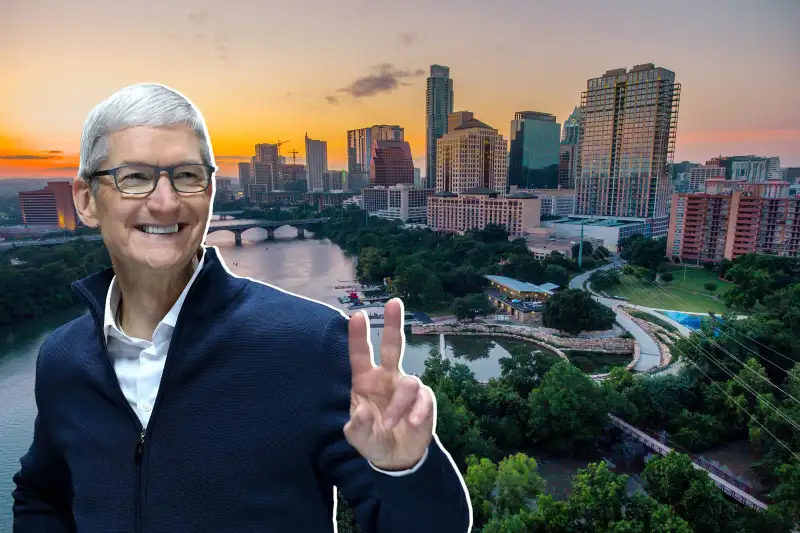 Photo illustration by Sarina Finkelstein for Money; (Austin) Geoff Duncan; (Tim Cook) Stephanie Keith—Getty Images)
The biggest Apple announcement this week isn't a new iPhone or MacBook Air. On Thursday morning, the tech company announced plans to build a new $1 billion campus in Austin, Texas.
Austin isn't the only city where Apple is investing. The company says it will also expand operations in Pittsburgh, New York and Boulder, Colo., and build new sites in Seattle, Wash., and two California cities, San Diego and Culver City. But Austin does represent the largest new investment. Apple, which already has a presence in the city, says the campus will make room for an additional 5,000 Austin workers with the potential to grow to 15,000 over time.
So, why Austin? While we don't know Apple's exact motives for moving to the city, there are a couple reasons why Austin is a good pick for the tech company.
Housing is more affordable than California
To be clear, homes in Austin are not cheap, relative to the rest of the country. The median Austin home sold for $327,000 in the first quarter of 2018, a price well above the national median.
But, when compared to homes in other Apple hubs, living in Austin is still relatively affordable — especially when you consider the average Apple employee earns a comfortable $121,000 annually, according to Payscale.
That six-figure salary stretches much further in Austin than in Cupertino, Calif., the site of Apple's national headquarters, where the median house sells for a whopping $2.1 million. In fact, of the seven cities in which Apple plans to expand or invest in new operations, Austin's homes are among the most affordable, second only to Pittsburgh.
Employment is booming — especially for tech workers
Austin's lower cost of living is not due to lack of industry. In fact, Austin jobs are projected to grow by nearly 11% cumulatively over the next four years.
That's faster than the 4.6% national average for cities and large suburbs, but it's not necessarily out of place in the Lone Star State, which we named one of the best places to live in the country for 2018 due, in part, to its high job growth.
In Austin, much of that growth is in the technology sector, which employs 14% of the area's workers, according to the city's Chamber of Commerce. Dell, IBM and Amazon are among numerous other technology companies with an Austin presence, and nearly 6,500 high-tech companies call the Austin metropolitan area home, the Chamber says.
Moving there? You're not alone
Texas is one of the fastest-growing states in America, and Austin is no exception. The metropolitan area grew by 55,300 people in 2017 alone, according to an Austin Business Journal analysis of Census data —that's more than the entire population of Olympia, Wash.
For job-hunters, that means you never have to be the only new kid on the block. Austin welcomes approximately 151 brand-new residents every day.