Apple Just Unleashed Its Venmo Killer. Here's What You Need To Know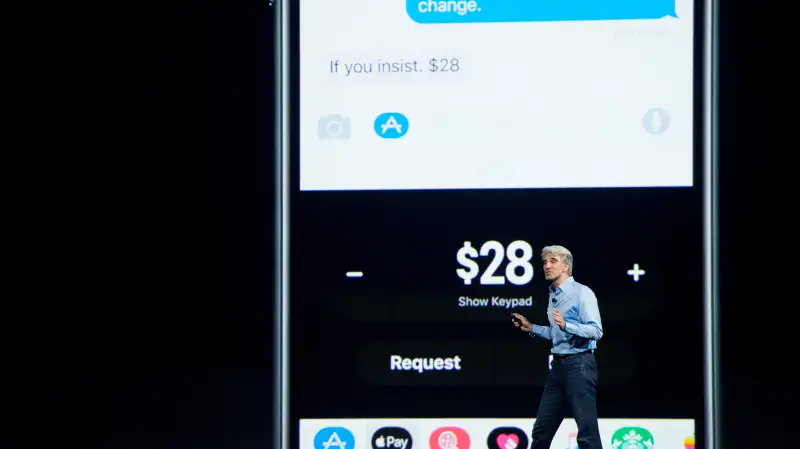 Josh Edelson—AFP/Getty Images
You now have even less of an excuse to delay paying back your friends.
Apple's newly launched software update, iOS 11, includes a new feature that allows users to send or request money through iMessage, Apple's texting app, rather than using a separate app like Venmo or Square Cash. It's also sometimes referred as the 'Venmo killer.'
Using the new mobile peer-to-peer payment system is simple. If you use Apple Pay, you can complete a transaction with a friend over iMessage — and it will appear within your text conversation. Users can send money with their credit or debit cards, and can authenticate their transactions through a password or TouchID. If they receive money, it will appear virtually as an Apple Pay Cash card in their Wallet app. They can then use it instantly to pay at stores and for online purchases or transfer the money to their bank accounts.
The new feature was announced in June at Apple's Worldwide Developer Conference, but will be available for iPhone, iPad and second-generation Apple Watch users as an update to the iOS 11 sometime in the fall. The iOS 11 will be available starting Sept. 19.
Apple first launched its Apple Pay system in 2014 as an option for consumers to purchase items without the swipe of a credit card. Since then, the digital payment system expanded to desktops and grew to be an option at millions of U.S. retailers.
While other competitive apps like Venmo and Square Cash already have features that allow users to send money through iMessage, Apple's new feature differs from its competition in that it doesn't require users to download a new app — it's something that will already be embedded in the software update. There also doesn't appear to be an additional fee for credit card transactions made with the payment tool. On Venmo and Square Cash, users who link up their credit cards to the app instead of their bank accounts pay a 3% fee on the money they send through the app.
It is unclear if there will be a quick option to glance at your payment history, as you can with other apps. That's because the payments exist within an iMessage thread, which would likely become littered with conversations and messages between payments.
But Apple's addition of a peer-to-peer payment plan comes as more people in the U.S. are turning to such services for exchanging money. According to recent research, the number of people using money-sharing apps in the U.S. is expected to double by 2020, jumping from 69 million to 126 million.
The iOS 11 launch, which included a slew of other new features, happened Tuesday as the highly anticipated next iteration of the iPhone was announced at Apple's new Steve Jobs Theater in Cupertino, Calif.
Correction: The original version of this story misstated when Apple Pay Cash is coming to the iPhone. It will happen with an update to iOS 11 some time this fall, not on Sept. 19.