Is It Worth Paying $369 For the New Apple Watch?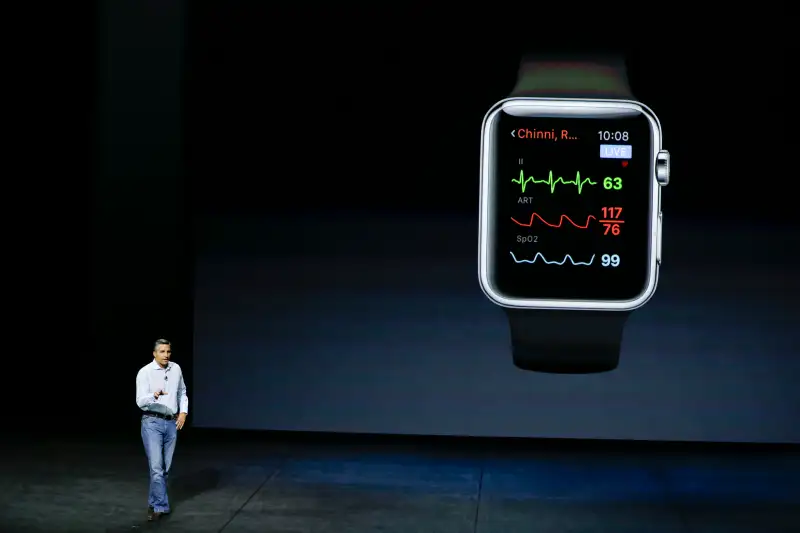 At the Apple event early in September, the tech company made it clear that its newest iteration of the Apple Watch, dubbed Series 2, is less fashion accessory, as the Series 1 was marketed, and more fitness companion.
The new and improved watch includes a heart rate monitor, step counter, built-in GPS, Nike-branded interface aimed at runners, and water-proof capabilities for swimmers. With the fitness tracker market expected to reach $5 billion by 2019, Apple is wisely trying to cash in on the most popular feature of the original watch.
But does spending $369 for a glorified step-counter make sense? Or are you better off with one of the lower-cost options out there, like the $80 to $150 FitBit and $30 Jawbone?
If you're buying a wearable in the hopes that it will help transform you into the next Jillian Michaels, preliminary evidence indicates you'll be disappointed. Mitesh Patel, assistant professor of medicine and healthcare management at the University of Pennsylvania, has studied various fitness trackers to see how accurate they are at collecting information.
Read Next: Here's How Much You Can Save By Slimming Down
Patel says wearables are most useful for consumers who are already focused on their fitness. Simply giving someone a new gizmo isn't enough to change behaviors in a sustained way, particularly if the user has low motivation to begin with. A study that was published in the Journal of the American Medical Association at the end of September doubles down on Patel's findings: After analyzing the weight loss of 471 adult, some who used a fitness tracker and some who did not, the study concluded that "the addition of a wearable technology device to a standard behavioral intervention resulted in less weight loss over 24 months" (emphasis ours).
"If you're really engaged in your health, you go on runs everyday, a wearable is probably a good fit for you," Patel says. "But if you're someone who's less engaged, I still think there's value in a wearable device, but only if you pair it with something else."
That something else could include going to the gym with a partner (to hold you accountable), or participating in a workplace wellness program or team competition.
Read Next: The Financial Rewards of Working Out
But there are other benefits, and shelling out close to $400 could make sense. Liz Plosser, a deputy editor at Self magazine, says she found her Series 2 Apple Watch to be "worth every penny," mainly due to productivity factors that have little to do with exercising.
"I was happily surprised that it un-tethered me from my phone," Plosser writes in an email. "Because I knew I wouldn't miss an important email or text, I could be more in the moment with kids and husband...I think all types of women and men, whether or not they're athletes, would find it to be a game-changer."
To see if buying a wearable makes sense for your needs, Patel suggests first using your smartphone to track your activity for a few weeks, either through the Health app or by downloading one of countless free trackers in the app store. If you find you're lacking sufficient data—sleep and heart rate are harder to track—or checking email on your wrist is appealing, then investing in a FitBit, Jawbone, or Apple Watch may make sense.