This Military Money Trick Improved My Financial Life. Here's How to Adopt It Yourself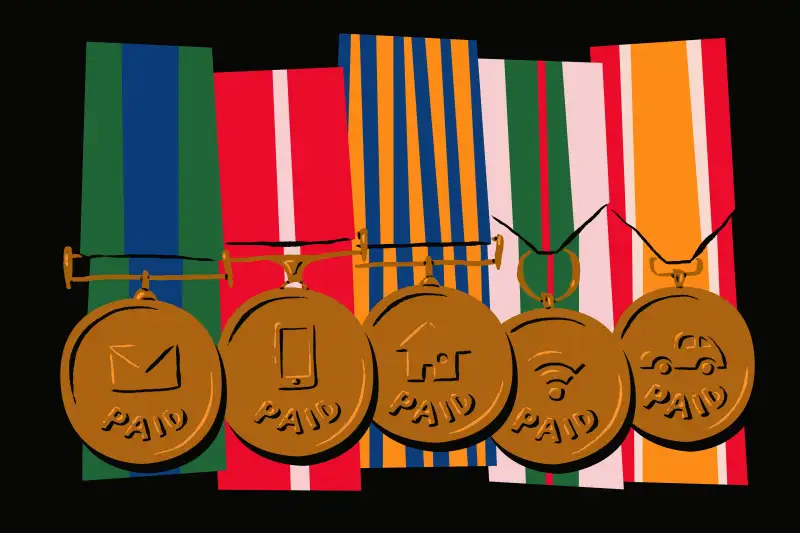 Illustration for Money by Tania Guerra
When I left the Army three years ago, I left behind plenty of traditions that wouldn't be practical in my new life. (Saluting the flag for a 6:30 a.m. reveille bugle call, and marching in formation to start.)
But recently, after blocking off half a day for small but irritating money-related tasks, I realized I had resurfaced one that still served me well: payday activities.
In the past, payday activities meant soldiers were dismissed early once a month — after payday, when they were handed cash — so that they had time to travel around town and settle bills, like rent and utilities, in person. I served as an officer from 2011 to 2016, a time when digital payment was already common. But we decided to bring back this old tradition back to life anyway.
At Fort Riley, Kansas in my First Infantry Division brigade, it was a chance to go over all your bills, head to the post office, review budgets, and take care of other life admin that's often shoved aside to nights and weekends (and sometimes never). Everyone loved payday activities because it was a chance to spend time on your own to-do's, not the Army's.
How I adopted payday activities for my life
Now that I'm a civilian, my day-to-day looks different but my payday activities are pretty much the same. For a recent one, I tackled every annoying phone-related task on my agenda. First up was calling my bank and fixing wrong addresses; I moved in December and had updated my mailing address online. Somehow, the system hadn't transferred the change to my personal property, car, and rental insurance or IRA. Months later, my mail was getting lost between post office forwarding and wrong addresses.
While I was on the phone with the insurance rep, I asked her to walk me through the coverage I was paying for to see if it was still applicable. Sure enough, we found a few areas to cut, which saved me $30 a year.
Next on my list was calling Amazon to get a refund on a lost order. After that, I researched dentists on Zocdoc before calling to set up an appointment for a cleaning.
I've also used dedicated "payday activity" time to write a negotiation script. Neighbors had clued me in to a $100 discount they received on rent each month because our laundry facilities and backyard access were still under construction. I wanted the same deal, but I knew my landlord wouldn't concede money without a fight, so I prepped what I wanted to say (after some back-and-forth, I got it, in no small part thanks to my script!).
During another payday activity sprint, I combed through my savings accounts, Roth IRA, and thrift savings plan to see if I was getting the best return on my money. My findings led me to open a high yield savings account at another bank, since my bank couldn't compete with the interest offered.
And after seeing I had maxed out my Roth IRA contributions for the past three years, I ended up signing up for my company's 401(k) plan as an additional money-saving measure for retirement.
Illustration for Money by Tania Guerra
How to begin your own payday activities
Grouping together tasks, which productivity experts call "batching," isn't a new concept, but sticking to a single theme is key if you want to make significant progress.
That's why payday activities, for the most part, should focus on two things: They should be money-related tasks and you should be able to accomplish them during business hours; otherwise, you may be tempted to use the dedicated time for chores like laundry or cooking which, while useful, isn't the point.
These two restrictions help you narrow down your to-do list, which brings me to the next step of starting this tradition yourself.
Gather what needs to get done — and include how long it should take.
Write down every action item you want to address. Think large and small. Maybe you want to research what credit card would get you the most points for your spending habits, or you need to check passport renewal dates for yourself and your family.
Perhaps you want to review your grocery budget and purchases to see if it would make sense to set up automatic deliveries.
Add them all to the list and estimate how many minutes you think they would take to accomplish, and add them up (Be realistic!)
Choose a day. Block off the time. Tackle your list.
If your list is light on in-person tasks, like going to the DMV or post office, see if you can squeeze in a two-hour block somewhere on your calendar this week. Two hours is short enough to fit into most schedules and long enough to accomplish a good chunk of tasks. Maybe that means coming into the office early one day, or it could mean skipping 4 p.m. happy hour on Thursday evening.
If your list has a number of items that involve going somewhere, schedule a half-day (or whatever your time estimate dictates) and put it in your calendar. Then, when the time comes, work through your list, item by item. Add undone leftover tasks to your list for the next session, which brings us to the next point.
Make payday activities a regular part of your routine.
Life is more enjoyable when you have a bucket in hand into which you can toss your inevitable to-do's.
Instead of continually carrying the load of what you should do some time in the fuzzy future, add them to your running payday activities list and trust that you'll knock them out when the next one rolls around.
Sticking to this structure has helped me, and countless soldiers, stay on top of our financial to-dos for years.