U.S. Car Sales Beat July Estimates Overall, But Some Automakers Pump the Brakes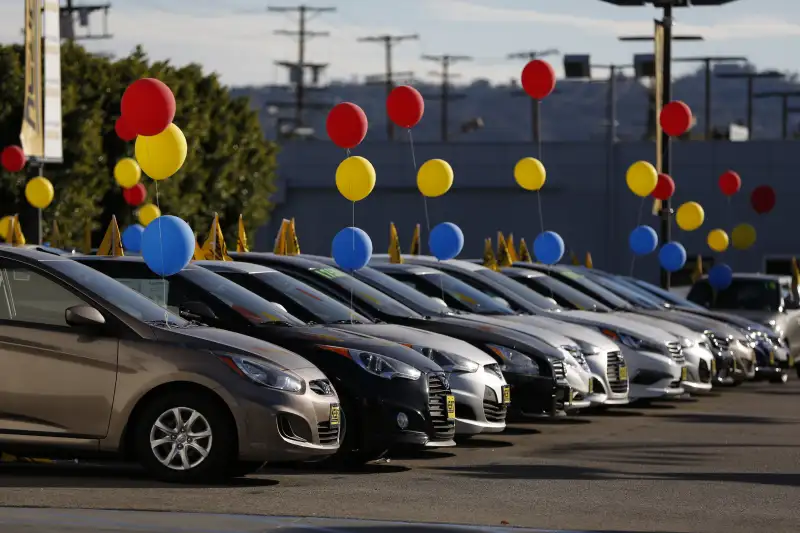 Bloomberg—Bloomberg via Getty Images
Let the good times roll, so goes the adage. But for automakers, those good times may be reaching their peak.
On Tuesday, automotive manufacturers released their sales, and the annual sales numbers beat analysts expectations. The seasonally adjusted annualized rate, which accounts for what analysts project to be the number of cars sold in a given year, reached 17.88 million, up from 17.59 million in July 2015 and up from analyst projections of 17.6 million vehicles.
Even though the industry en masse reported a good sales month, the numbers reported by each manufacturer were mixed. Notably, Ford and General Motors both reported sales numbers that were down, -2.8% and -1.9% respectively, and their stock prices also fell after the market opened in New York. Fiat Chrysler, Honda, Hyundai and Nissan both reported monthly sales increases, Toyota and Volkswagen reported a decrease in sales from the year prior.
In 2015, U.S. the annual auto sales rate reached 17.5 million, a new record indicating strong consumer spending behavior fueled by favorable financing options and cheap gas. The past month was the best July for carmakers since 2005, according to Kelley Blue Book (auto dealers often offer attractive incentives to buyers to get them into showrooms during traditionally slower months.)
The first half of 2016 was strong for automakers, and while sales are expected to maintain their pace through the end of the year, the industry likely won't see the same robustness as it has over the last year and a half. The six-year-old auto market increase is the longest since World War II, according to Bloomberg.
"It's clear the industry is plateauing," says Kelley Blue Book analyst Akshay Anand. "With incentives continuing to rise faster than ATPs combined with the slowing growth, the industry is in a tricky spot. Still, sales are near all-time highs, and should continue to remain strong regardless of the flattened growth for the rest of 2016."
While sales are increasing, so too are car prices. The average transaction price for new vehicles is up 2.5% from last year to $34,264, largely because cars are outfitted with more expensive technology, says Karl Brauer, KBB senior analyst.
"Consumers are essentially shielding themselves from higher transaction prices with leasing and longer loan periods that keep monthly payments relatively low," Brauer says.
And while some worry that the increase in prices combined with easy financing could lead to a bust in the market, Dwight Johnston, chief economist for the California and Nevada Credit Union Leagues tells MarketWatch that subprime auto loans aren't anything to worry about.
"We'd be in a bubble if you saw a sudden jump in the annual U.S. sales rate to 19 million or 20 million vehicles without a commensurate surge in the economy. There would also probably be an extraordinary increase in subprime lending."
It's worth noting that as it's become easier to finance a car purchase, delinquencies have increased marginally, according to an Experian report on the state of the industry. Plus, as Edmunds.com notes, more new vehicles were leased in the first half of 2016 than during the first half of any other year in history.
The peak may be near after all.
Update: This article was updated to reflect the final, reported seasonally adjusted annualized sales of auto manufacturers.