These Are the States Where Students Borrow the Least for College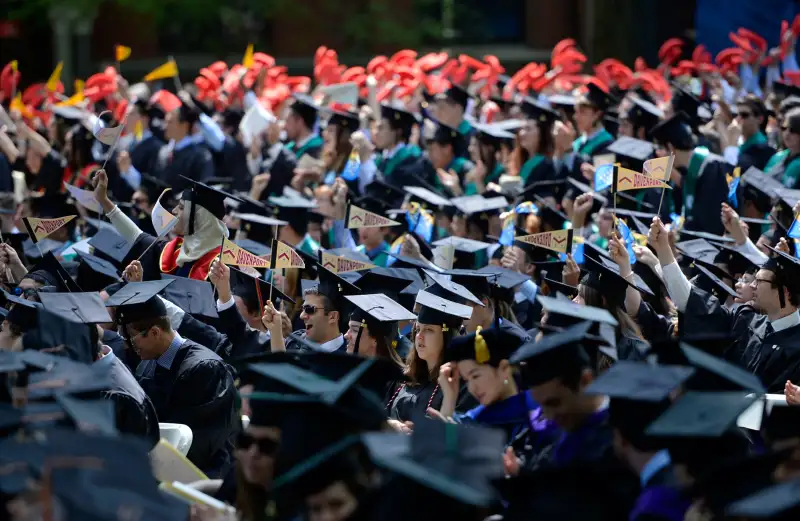 The amount of debt that students are taking on to earn a four-year degree continues to inch up, with the Class of 2014 carrying an average $28,950 per-graduate burden. That's up 2% from the previous year, according to a new report from The Institute for College Access & Success (TICAS).
Over the past decade, the average debt load has jumped 56%, or more than twice the 25% rise in inflation.
But it also turns out that debt levels vary widely by state. And because most students attend college in their home state, where you live can have a big effect on how much debt you graduate with.

NEWSLETTER: COLLEGE_PLANNERSign up for COLLEGE_PLANNER and more View Sample
The state averages range from a low of about $18,900 in Utah to $33,800 in Delaware. High-debt states tend to be concentrated in the Northeast and Midwest, while low-debt states are mostly in the West. In five states (Delaware, Hawaii, Illinois, Kentucky, and Maryland) the average debt of new graduates rose more than triple the inflation rate in the past decade.
Average Debt per Graduate by State
| Lowest | | Highest | |
| --- | --- | --- | --- |
| Utah | $18,921 | Delaware | $33,808 |
| New Mexico | $18,969 | New Hamoshire | $33,410 |
| Nevada | $20,211 | Pennsylvania | $33,264 |
| California | $21,382 | Rhode Island | $31,841 |
| Arizona | $22,609 | Minnesota | $31,579 |
| Louisiana | $23,025 | Maine | $30,908 |
| Oklahoma | $23,430 | Connecticut | $29,750 |
| Wyoming | $23,708 | Iowa | $29,732 |
| Hawaii | $24,554 | Michigan | $29,450 |
| Washington | $24,804 | Alabama | $29,425 |
Families Paying More
Nearly 7 in 10 graduates in the Class of 2014 borrowed to pay for their degree, according to the report. Yet while the rise in the sticker price of colleges has been widely reported, the major cause of climbing debt isn't solely the larger price tag. With cash-strapped states contributing less, families are shouldering a larger portion of college costs. In the past decade, states' per-student spending at public colleges dropped 12%, after adjusting for inflation, according to the report.
The majority of graduates' debt—more than 80%—is in federal loans. Yet the report suggests that the amount students take out in private loans should be even lower. That's because almost half of undergraduates who took out private loans in 2011-12 didn't use the maximum amount available to them in federal loans, according to the report.
The report's authors acknowledge a few important limitations of the data. Debt levels are voluntarily reported by colleges and aren't verified by outside sources. Just over half of four-year public and private colleges released both the average debt load and the percentage of graduates who borrowed, for example. As a result, the accuracy of each state's average debt load depends on how many of the colleges in that state reported information.
It's also worth noting that the report measures the debt level of graduates. Yet research has shown that it's actually the students who take out loans but don't graduate who have the hardest time paying back their debt.
Check out Money's Best Colleges list, which factors average student and parent borrowing into each college's affordability ranking. And for more tools and advice, visit the Money College Planner and use our college search tool to find the best school for you.