4 Tips to Avoid Road Tolls This Summer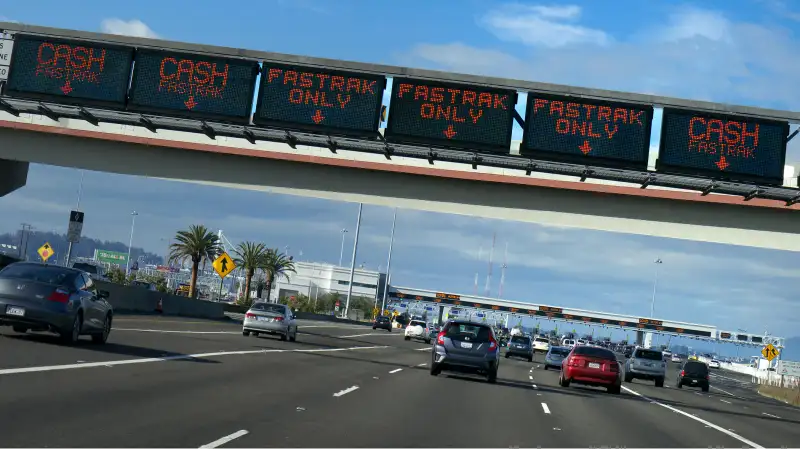 This won't come as news to commuters and frequent road trippers, but drivers are encountering more and more toll roads, as well as higher and higher tolls on the existing ones. The latest example is I-10 in Texas, where plans called for the maximum toll during peak travel hours to shoot from $7 to $10 as of May 30. [UPDATE: At the last minute, the planned road toll price hike on I-10 was suspended, though a toll increase could be implemented in the future. For now, the maximum toll remains $7.]
With road trip—and rental car—season squarely upon us, here are a few strategies that'll help keep tolls and surprise fees from ruining your vacation.
Be mindful of cashless toll roads. Along with more toll roads overall, more of them have become electronic-payment only roads, in which drivers can pay only via EZ-Pass, FasTrak, or a similar system. Those without a transponder will be captured on camera and later billed for payment—often at a higher price and perhaps with a "handling" or "administrative" fee tacked on.
It's hard to find a definitive, up-to-date list of America's cashless toll roads and bridges. PlatePass, an electronic tolling solution system that works with rental car operators to lend transponders to rental customers, lists dozens of electronic-payment-only toll roads around the country, but it's focused only on where its service works and is therefore not comprehensive. If you're planning a trip on an unfamiliar highway, bridge, or tunnel, look up the toll and payment details on the corresponding website.
Florida is notorious for having an abundance of toll roads with no humans to collect cash payments. Drivers who don't have SunPass transponders on the Florida Turnpike, for instance, are billed an extra 25¢ on every toll, plus a $2.50 fee once a month. On other roads, like the Miami-Dade Expressway, tolls are doubled for automobiles without SunPass. Northern California's famous Golden Gate Bridge is also cashless, and drivers without FasTrak tags pay $7, or $1 extra. Oh, if you're driving a rental car, expect a lot more in the way of fees on cashless toll roads (more on this below).
Get the most cost-effective EZ-Pass account. Though some drivers refuse to get on board with electronic toll payment systems due to concerns about privacy and billing mistakes, or perhaps because they're "unbanked" or simply prefer cash, the vast majority of car owners are on board. Doing so typically saves money: After a recent (surprise) toll hike, crossing New York City's Verrazano Bridge costs $16 in the cash lane, but only $11.08 with EZ-Pass.
Note that there is generally no specific requirement to sign up for the EZ-Pass or equivalent local system in the state where your car is registered. Because each state's program has its own fee structure—the cost of tags, prepaid tolls, and other fees vary widely, including some states with no upfront payments or monthly charges—it's worth shopping around for the transponder system that gives you the best combination of convenience and value for your household.
Choose your rental car company and options carefully. Most rental car agencies offer electronic toll transponders as an option, alongside insurance, car seats, extra driver charges, and a host of other fees. Getting a transponder with your rental car is a convenience if you'll be driving often on toll roads. But it can cost a bundle. The Avis e-Toll program, for instance, costs $3.95 per day, for a maximum of $16.95 per month with its rental cars.
What's gotten many customers up in arms is that Avis and other operators charge the $3.95 "convenience fee" for each day the vehicle is rented—"including any days on which e-Toll is not used," the fine print states. In other words, even if you use the transponder just once in the course of a weeklong rental, you'll be charged more than the daily fee. (In this instance, you'd be hit with the monthly maximum.) This isn't necessarily something customers would know enough to argue about when returning the vehicle, because the charge doesn't show up on a credit card bill until a few weeks have passed.
Even more egregiously, Dollar and Thrifty were hit with a class action lawsuit last year for allegedly charging customers who didn't sign up for a transponder an administrative fee of $15 or $25 for each toll, even though the tolls cost a tiny fraction of those amounts. In the past, Hertz and Fox Rent a Car have also been sued for fees related to road tolls incurred by customers.
The consumer travel blog The Points Guy recently rounded up the fees charged for transponders by the major rental companies. Only upscale Silvercar, which rents Audis and has locations in just nine airports, allows customers to use transponders without incurring extra fees. Bottom line: If you don't want to use a rental car company's transponder, don't touch it. Pay tolls in the cash lane whenever possible, and avoid cashless toll roads or expect to see fees from the rental car company pop up on your credit card statement.
Bring your own EZ-Pass when renting. There is one other option for rental car customers who don't want to pay transponder fees: BYO. Rental car operators aren't exactly forthcoming in presenting this as an option to customers for obvious reasons (it cuts down on easy profits). But we confirmed that it is indeed OK to bring your own transponder and use it in a rental car. "They just need to be sure the rental car's transponder box is closed," a Hertz representative explained via email. "If it's opened that will cause the EZ-pass transponder to be active when the customer goes through a toll and they will be charged for the EZ-Pass service."
State transponder programs generally allow this practice as well. "You can use your E-ZPass Tag in any vehicle of the same class," New York's program states. To play it safe, though, double-check the rules with your particular transponder account. In some cases, it may be recommended that you register the rental car with your electronic payment account system, which you can do online.
If you don't have a transponder tag that works in the region you're traveling, consider buying one for your trip. Signing up for a local account often costs only a few bucks and can be accomplished in minutes once you're at the destination. Doing so can save money compared with using the system that comes with the rental car.
Skip road tolls all together. The simplest way to avoid big tolls is plot a route that bypasses toll roads. Google Maps and various other online map and navigation systems give drivers the option of getting directions solely on roads, bridges, ferries, and the like with no tolls. On Google Maps, just click "Route Options" and choose according to your preference.